He's too old. His swing has been changed too much. He lost his touch. He doesn't play enough. His mock turtleneck isn't in. It's been too long since he won a Major (14 Years). He's too jacked and works out too much. He chews too much gum. His back won't hold up. His short game isn't the same. He doesn't have those same "Tiger Shots" in the bag. Too many surgeries. His ex-wife's 9-iron messed him up. He's crumbled. He just isn't good enough anymore to hang with these young bombers on the PGA.
SMELL YA, HATERS.
A live look at Eldrick Tiger Woods driving past all his haters who said he would never be the same.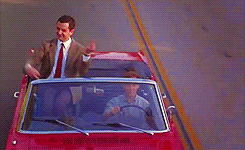 It appears Tiger's old man was also incorrect and that's totally ok by everybody including his son.
In August 1995, Tiger's father Earl Woods, who died in May 2006, eerily predicted his son would win 14 major championships. Woods has been stuck on No. 14 for nearly 11 years. pic.twitter.com/pkVIbUnxEF

— Darren Rovell (@darrenrovell) April 14, 2019
Here are some highlights from the historic day from Mr Eldrick Tiger Woods, the 5-TIME MASTERS CHAMP! 15 Majors BABY!!!
Look for an article tomorrow on what this means for Tiger Woods and the rest of the golf world.
Tiger Woods is one off the lead on Sunday at #themasters pic.twitter.com/BjdscIbbtN

— Masters Tournament (@TheMasters) April 14, 2019
He needed it.
He nailed it. @TigerWoods with a 🎯 pic.twitter.com/JC3NDCJ5rT

— Golf Channel (@GolfChannel) April 14, 2019
A lesson in trajectory.

Tiger Woods recovers with a skillful approach on No. 11. #themasters pic.twitter.com/mmfzijlDjC

— Masters Tournament (@TheMasters) April 14, 2019
Tiger Woods: tied for the lead on Masters Sunday. pic.twitter.com/7VomYEFbbQ

— CBS Sports (@CBSSports) April 14, 2019
#TigerWoods looking at long eagle putt! Let's break the log jam Tiger! #golf #TheMasters pic.twitter.com/Gg53Rc7Wd5

— james hunter (@jimhunterb1) April 14, 2019
Stop it @TigerWoods!

(🎥: @CBSSports) pic.twitter.com/BPAO3jPgYL

— SPORTbible (@sportbible) April 14, 2019
@TigerWoods that's it @TheMasters pic.twitter.com/TiEJp7QG2t

— Antonio Friday (@kingmiles75) April 14, 2019