Tiger Woods made me ugly cry last weekend and I loved every minute of it. Woods grinded it out in the bad weather and took us back to "Tiger Shot" level as Cheat Code Mode was on full display. The climax arrived on the 16 tee, where Tiger hit his mark on the green to the width of a dime, and almost didn't need his putter. The fact he almost aced 16 on Sunday while he held off a crowd of the worlds best is not being talked about enough. He brought us back to expecting perfection in high leverage situations. It's 2019 and Tiger Woods won the Masters, flex away Big Cat.
Source: Five days after Woods won the 2019 Masters at Augusta National, the newly minted 15-time major champion was spotted Friday evening dining in the iconic jacket at his Jupiter, Fla., restaurant with his girlfriend Erica Herman.Woods and Herman were at The Woods Jupiter, where Tiger wore a black hat (featuring the "Frank" headcover logo, which Woods debuted at the Masters), shorts, a long-sleeve black Nike shirt — and, yes, the fabled jacket.Every Masters champion receives a green jacket, and there are strict rules that govern its appearances. The coat must stay on property at Augusta National, although in the year after their victories reigning champions are permitted to show off the jacket as they please.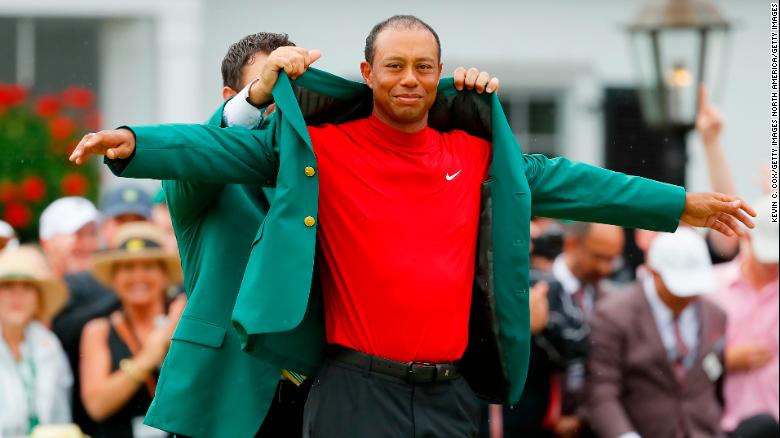 Eldrick, enjoy pulling out the green jacket for the next 11.5 months and flex as much as you like. Half of the best players in the world play golf because of you. You just took them all down. You have beat such a collection of names from so many different eras. Fashion is timeless. So is Tiger Woods.