This week's edition of the Friday Five is based on one of the infinite reasons why baseball is the best game around: awesome baseball player names. It's simply a fact that baseball players have some of the best names you'll ever come across. If you were one of those kids who liked flipping through the Yellow Pages to see all of the different names out there (which I assume there are many of you) then Baseball Reference's Encyclopedia for MLB players is like that on crack.
You'll find cool names everywhere, but for some reason all of the best ones belong to baseball players. You've got some that sound great off the tongue like Mariano Rivera, others that are just fun to read like Nomar Garciaparra, and some that are a bit of both like Coco Crisp. And those are just a few examples of guys in the Baseball Hall of Fame. Well, not Coco Crisp. But he deserves recognition in some sort of Hall of Fame for his unrivaled name/hair combo. My favourite name in the league right now is Dansby Swanson. You can't find a more baseball name than Dansby Swanson.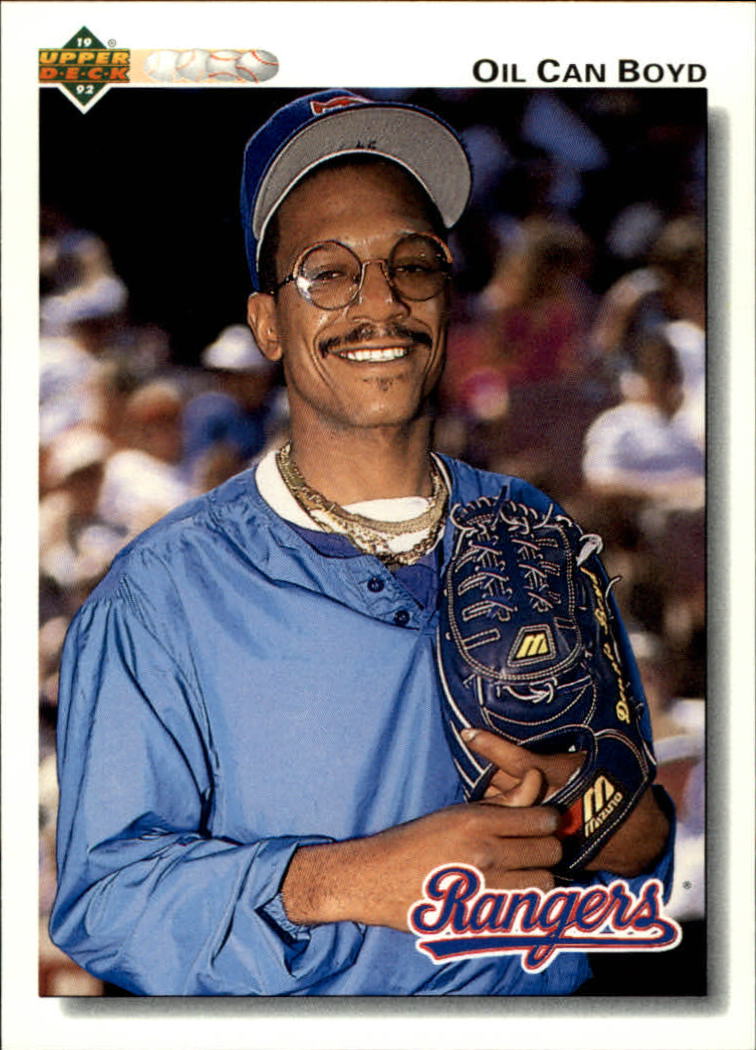 For whatever reason, there are an astounding number of players, past or present, who have names that are perfect for baseball. I don't know how to describe it, but sometimes you'll just come across a player who has a name that makes you wonder whether they became a Major League ballplayer because of skill or just straight-up destiny. Maybe it's because great baseball names have been around for centuries, dating back to Cy Young and Nap Lajoie in the late 19th/early 20th Century. But the legend of baseball names has continued through history, revived by guys like Oil Can Boyd who played for the Expos in '91. Finding his card in an old collection handed down to me was enough proof that the best names ever exist exclusively within baseball.
This edition of the Friday Five is a tribute to great baseball names, but specifically just great Toronto Blue Jays player names. The Jays have had enough memorable names in their history to put together a solid top five, plus it made it drastically easier for me to narrow it down to a handful of elite baseball names. There were a lot of candidates, but I made sure to choose guys that were actually Blue Jays and weren't with the team for a cup of coffee. Sorry, Socrates Brito.
5. Gustavo Chacin
One of my first ever baseball memories was looking at Gustavo Chacin's card and thinking, "in what world is this a name?". Here I was as a kid hanging out with other first graders with vanilla names like Michael and Emma and then all of a sudden I realize that people can be named Gustavo??  It sounded like the most made-up shit I'd ever heard.
Gustavo Chacin is such a baseball name because nowhere outside of a ball diamond are you coming across a name like that. Before I ever saw the Venezuelan native pitch he was one of my favourite players because of his sweet name. Well Chacin and Josh Towers, because Towers is the coolest last name ever to a six-year old.
As memorable as the name Gustavo Chacin is, he had a pretty middling career as a Blue Jay. Though a 25-15 record is nothing to turn your nose at during a time that the Jays weren't very good. All I know is that this dude seemed cool as hell with that name. Did you know he had his own cologne? Wild.
4. Ezequiel Carrera
Ezequiel Carrera didn't have a spectacular Blue Jays career, but those 2015/16 seasons were so electric and he was perfect for his role. Zeke was fast, usually played good defence, and wasn't the worst guy you could call upon to come in as a pinch hitter. He was great as a fourth outfielder who was pretty replacement level overall but he boasted a name that belonged in the clean-up spot.
Going to a game at the Rogers Centre and seeing Carrera was in the lineup wasn't ideal because it probably meant that Jose Bautista or Kevin Pillar was getting a day off, but hearing his name echo throughout the stadium when announcing the starting nine always made up for it. Hearing PA Tim Langton boom out the name Ezequiel then roll out those R's was music to my ears, especially at a time where the Jays were always winning and the stadium was always rocking. Damn, I need them to come back home soon.
3. Edwin Encarnacion
I could go on and on about what made Edwin Encarnacion so great, but since this is just about names I'll keep it at that. I never got tired of hearing Encarnacion over the stadium's surround sound, not just because of how important he was to the Jays' offense but because it had a great ring to it.
Every dad over the age of fifty botched the hell out of his last name when they said it. Every single one. But when properly pronounced it's one of my favourite baseball names, especially because fifty thousand people chanting "EDWIN! EDWIN" as he trotted around the bases with a parrot on his arm is one of the best home run celebrations in MLB history. That parrot circled the bases 424 times in Edwin's career, and I hope the Hall of Fame committee gives him some damn respect when the time comes.
2. Rance Mulliniks
What makes Rance Mulliniks a great baseball name is that it's so ugly it's beautiful. There's nothing sexy about the name Rance Mulliniks, especially when you just say Rance, but it sure as hell is a classic baseball name.
Imagine carrying a baby around in your stomach for nine months, and then when it pops out you take one look at it and think "yep, this little guy looks like a Rance to me" Like??? I've never known anyone else named Rance, which is fortunate because that kid woulda probably been bullied to shreds or became a supervillain. But for a corner infielder/designated hitter in the '80s, you couldn't find a better name. The glasses and mustache complete the look of Rance Mulliniks, because how can you have that name without having enormous glasses and a mustache and play baseball? You simply can't.
1. Candy Maldonado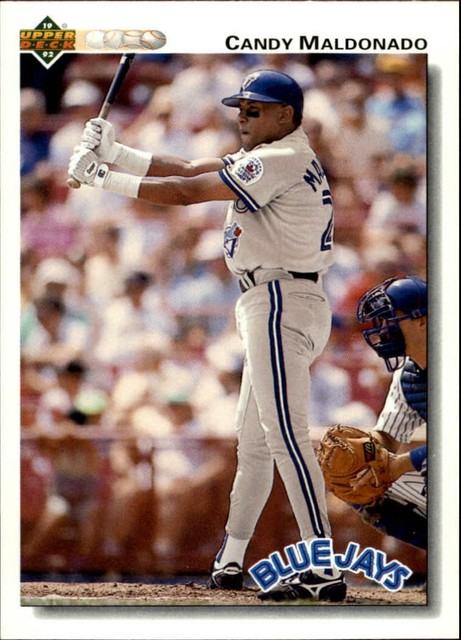 If you call yourself a life-long Blue Jays fan but you don't agree that Candy Maldonado is the best Blue Jay player name ever, then I'm sorry but you're just wrong. I wish I was around back when he played because I would have had his jersey no doubt. Talk about one of the most visually and audibly appealing names ever. Hearing his name on the broadcast of old Jays games is just as good as I had imagined.
Not only is Candy Maldonado elite based off his name alone but he was also an everyday player on the Jays' 1992 World Series team, which solidies his ranking as the best Blue Jays name of all-time. He had a walk-off single that gave Toronto the series lead, and then hit the only home run there was in Game 6 that proved crucial to the Jays becoming world champions. I'm gonna lead the campaign to have his name on the Level of Excellence at Rogers. What a stud. A stud with a fantastic name.
Make sure to check out the first two installations of The Friday Five, which you can find here and here.