Porno. And 'Flo' called his shot!
It's close to midnight, and someone strong was lurking in the park 🧟‍♂️ #WALKOFF pic.twitter.com/M5EUqUUdoa

— Toronto Blue Jays (@BlueJays) September 14, 2019
Just total and utter pornography for the rabid Blue Jays fan to see the kids beat the best team in the AL East like that.  Bo Bichette has been the most pleasant surprise in my life since finding out my liver operated in the 'normal spectrum' a couple of years ago.
UPDATE!!!!!!
Most XBH in first 41 #MLB games:
Joe DiMaggio – 30
Ryan Braun – 29
Bo Bichette – 28 with the walk-off HR and 2B tonight
Yordan Alvarez – 27
Trevor Story – 27#LetsGoBlueJays pic.twitter.com/wqYIZMZgQG

— Rodney Hiemstra (@therodbot) September 14, 2019
And the goddamned hair is perfect.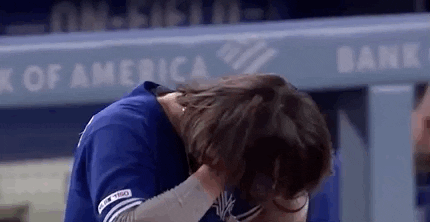 There's no one cooler in Toronto Pro Sports right now.  Especially after tonight.
#BlueJays manager Charlie Montoyo on Bo Bichette, who kind of called his shot:

"This kid's going to be a star. He's confident. Before the at-bat, he told a guy on the bench, 'If they leave the left-hander on the mound and he throws me a slider, I'm going to take him deep.'"

— Keegan Matheson (@KeeganMatheson) September 14, 2019