#FreeVladdy has been trending for over a year now,  and it's about to be spoken into existence as the blue-chip prospect is roughly a month away from being called up to the show. Marly Rivera recently sat down with baseball's top prospect to check in on how he's preparing himself for the big leagues and everything that was discussed should excite Blue Jays fans.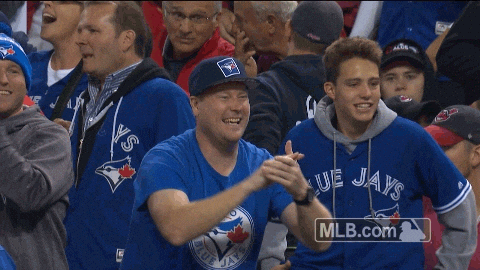 Here's what Vladdy had to say: 
"That weight is normal for me; that's what I weighed last year. But this spring training, getting in better shape is part of my job too," Guerrero said in a one-on-one interview with ESPN. "Part of the work I am focused on this spring training is to strengthen my body and be as healthy as possible. I am not killing myself to lose weight but it is my job to be in the best shape possible for when the season starts." 
"Right now I feel that I am in a good place…Since last year, I've been working on not eating fast food and making better food choices. I think that when you get more experience you know how to control your emotions more. Back in 2014 I asked my dad for advice in dropping the weight and he spoke with my grandmother and she helped me… She would prepare all my meals; she would cook the meats and sweetbreads I like in a very healthy low-fat manner. I also started eating a lot more vegetables and drinking green juices and it helped me lose those 20 pounds.
My grandma arrived on Wednesday; she'll stay with me for the duration. I, of course, enjoy her cooking and she helps me but I was here alone and I needed someone from my family, and she always spends time with me during the spring, so I am happy to have someone from my family here. It was good and I am happy about that but that kind of stuff doesn't matter to me…I think that one of the best things that ever happened to me is having grown up with my grandmother because that's how I have grown up with humility and always wanting to work hard. I did that. But it doesn't matter. I am just working hard every day and every day I'm getting better."
Toronto Blue Jays fans can rest easy knowing Vladdy's grandmother will be providing him with all his pre-game meals. Baseball's top prospect has always been on showcase because of his family ties and it appears it's not going to stop anytime soon.
Eat up kid, it's a long season.