I'd go to a Blue Jays game right when the gates opened, an hour and a half before pitch, I had a pretty standard routine. Watch batting practice, get some autographs, and get a bite to eat. Now, while my success in accruing autographs would vary, I ALWAYS had the same pre-game meal: a slice of cheese pizza from the Pizza Nova concourse behind home plate and curly fries from the Olde Spadina stand behind third base. Just one of those wasn't enough, but both ballpark foods together were just perfect to get me through a game, especially when I'd smuggle in some sunflower seeds for a snack and candy for dessert.
But my go-to Rogers Centre entrée changed when they revamped the concession stand in left field near the Sportsnet booth. I came across a buffalo cauliflower poutine there one day, and that marked the end of the pizza/curly fry combo that nourished me for years. The buffalo cauliflower poutine was cheaper than my long-heralded duo and was the right amount of food. And I can't forget to mention that it was the bomb. It was the go-to ballpark food I never knew I needed.
This edition of the Friday Five counts down the most epic ballpark foods that I've been able to try from around Major League Baseball. How do you determine what ballpark foods are epic? For me, it comes down to taste, originality, and presentation. And you can typically just tell when a ballpark concession item is epic just from looking at it. I'm missing some of the best concession offerings around the league that look epic, like the SteakOut sandwich in Atlanta and a bunch of others included in MLB's Food Fight Bracket, but I can't review 'em if I haven't tried 'em. There are still some great ones on this list.
If we're discussing ballpark food, I'm here to tell you that the Skyline Chili dogs offered at Great American Ballpark are NOT epic ballpark food. Skyline is a staple of Cincinnati, and while it's controversial whether Skyline is any good, it just isn't ballpark food. I might be in the minority of non-Ohioans who like Skyline, but then again that's coming from someone who ate pizza and curly fries for dinner once a week during the baseball season for a good five years.
5. The Boomstick – Texas Rangers
You might already know about The Boomstick, one of the most iconic ballpark foods in all of baseball. The Boomstick is a two-foot-long hotdog topped with chili, nacho cheese, caramelized onions, and jalapeńos. It weighs a couple of pounds with all of the fixings, and is as sloppy as it is hard to finish. I gotta say this concession item isn't for the faint of heart, and definitely not for those who go out to a restaurant and are already full after the appetizer.
Watching the @Rangers' "Boomstick" hot dog get made will make you want to move to Texas: http://t.co/2KsbBsWfTp pic.twitter.com/fhmb8R3EdA

— Cut4 (@Cut4) July 28, 2015
It took me just about four innings to devour 'The Boomstick', with a side of serious regret around the third, and I don't think I ate a single thing the rest of my time in the south. It's just the most Texas thing you could ever eat. And at $26, the last thing you want to do is drop this massive meat-er stick.
4. Mac & Cheese Twister – Baltimore Orioles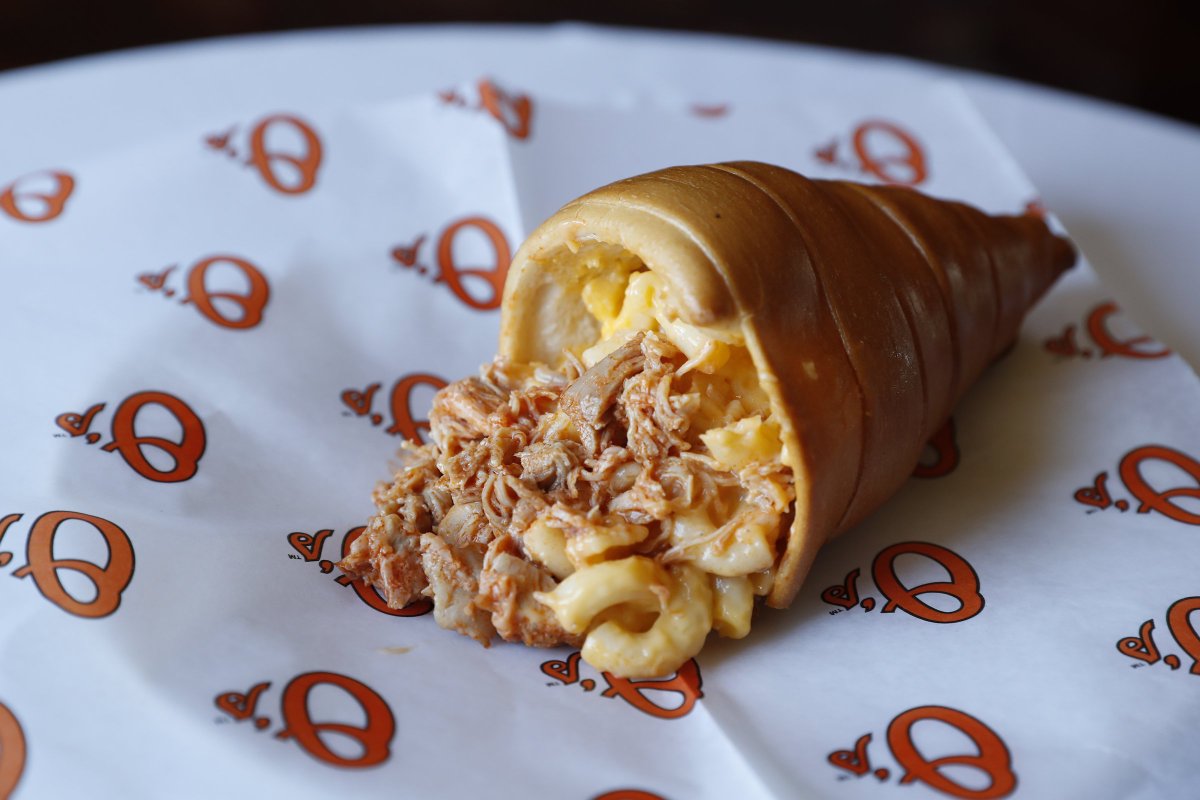 This twisted bread cone is filled with mac & cheese and your choice of crab meat, pulled pork, and buffalo chicken just about put me in a food coma, but for a different reason than The Boomstick. The combination of flavors was just perfect and put me in a state of bliss as the Blue Jays were getting a beatdown at the hands of the Orioles. Being in a Jays uniform, I took a lot of heat from the O's fans as the home team won the game handily, but I didn't even care because of how good my Mac & Cheese Twister was. I got the pulled pork, but I wish I had tried the crab. It just gives me another reason to visit Camden Yards for a Blue Jays road trip in the future.
3. Federal Donuts Chicken Sandwich – Philadelphia Phillies
Okay I lied, I haven't had the privilege of trying this ballpark food. But as soon as I travel next I'm heading to Citizens Bank Park because I absolutely have to have one of these suckers. Being one of the biggest Popeyes chicken sandwich enthusiasts you'll ever know, I have to try the Federal Donuts version, which consists of fried boneless chicken breast, buttermilk ranch seasoning, American cheese, a dill pickle, and spicy Rooster sauce on a potato roll. I wish it came on a donut, but they also obviously sell those at the Federal Donuts stand at the Phillies' park. Substitute the roll for a glazed donut cut and you'll get ballpark food I couldn't resist.
2. Frozen Rope Ice Cream Sandwich – Seattle Mariners
This isn't conventional ballpark food by any means, but that doesn't take away from the fact that it's one of the best desserts you can get around the big leagues. The Frozen Rope Sandwich Company concession behind first base at Safeco Field was on my radar when I was at a game there on the 4th of July in 2017, and the stand was a utopia for people who like a good ice cream sandwich. You can customize your sandwich using a variety of cookies, ice creams, and toppings. I got cookies and cream scoop sandwiched between two chocolate chip cookies with sprinkles, and I felt American as hell eating this incredible calorie-filled dessert while watching a ballgame on America's birthday. It was definitely much better than the toasted grasshoppers you could get in Seattle that set the MLB food scene ablaze when they first came out. I'll take sugar over bugs every day of the week.
1. Slider Dog – Cleveland Spiders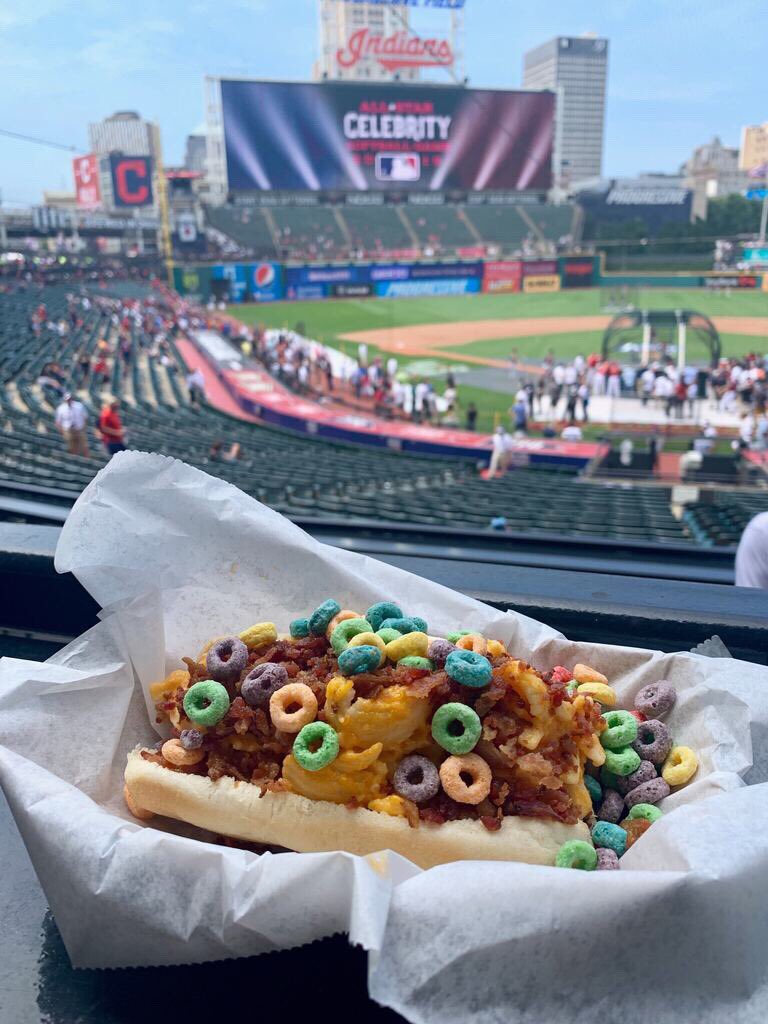 Now this, right here, is the quintessential EPIC ballpark food. The Slider Dog is a fifth-pound hotdog topped with mac & cheese, bacon, and fruit loops, all coming together to make an insane yet delicious concession offering that stands as my most memorable ballpark food experience yet. It's weird, unconventional, and downright awesome
We like our cereal best with hot dogs. And mac & cheese. And bacon. #NationalCerealDay 🤤🥣🌭 pic.twitter.com/G8Aogyy4Y4

— Cleveland Indians (@Indians) March 7, 2018
Nothing that I've had at any of the other 29 ballparks topped what I got in Cleveland, and I don't know if anything ever could because the Slider Dog is a thing of beauty. With all of the random, definitely healthy toppings this dog has, it's better suited for a museum rather than a restaurant. It's truly a work of art. You might argue that it's just crazy ballpark food that doesn't belong to the league's best handcrafted, chef-designed creations, but that's where you're wrong. The Slider Dog is as epic of a ballpark food as it gets and you have to get one of these if you ever go to Progressive Field, one of the honorable mentions within my top five MLB ballparks list. I really regret doing this article on an empty stomach.