My journey of visiting each and every Major League ballpark started at Comerica Park in 2007. I had been to Blue Jays games before that in Toronto, but this was the first baseball game I went to outside of the Rogers Centre. It took 13 years from start to finish and will forever be one of my greatest accomplishments as I was fortunate to cross it off my bucket list with the best company imaginable. It felt pretty surreal getting to #30 at Great American Ballpark in Cincinnati. We're talking about thirty damn parks. Getting there makes you realize what it took to get to all of 'em. All of those road trips, sometimes going back-to-back-to-back games in different states. All of the souvenirs I begged for, all of the wild concoction of calories I'd get at the various food concessions, and all of the great memories. It felt like a jersey retiring of sorts.
Can't believe I've now seen a game at all 30 MLB ballparks. Every single one was awesome in its own unique way. Pretty cool to have gotten to go to every one with my mom who got these sweet shirts made #BornToBaseball pic.twitter.com/aB0SqSQOZ3

— Nick Reid (@NicklausRe1d) August 7, 2019
To be fair, I haven't been to the new ballparks of the New York Mets, Atlanta Braves, and Texas Rangers. When I visited both Shea and Turner they were in their final season, and haven't had the chance to get to the new ones after accomplishing #30 for obvious reasons. Going back and visiting the new ones is how we'll keep the ballpark tour going.
Having been to each club's home park, I felt qualified to rank the five best in all of baseball. A little spoiler – the Rogers Centre isn't one of them. Maybe the novelty of the retractable dome has worn off because I've been to a couple hundred Jays games, but the concrete jungle is one of the bottom-three MLB venues in my opinion. It's an impressive structure, and without a doubt one of the best locations, but it doesn't have the same feel as 99% of the others.
While choosing the top five ballparks can be pretty subjective, I think this edition of The Friday Five is one every baseball fan can appreciate. Unless your favourite ballpark isn't on here. Sorry, but it just isn't the best. Or even the fifth-best, for that matter.
5. Minute Maid Park – Houston Astros
I know we're supposed to act like everything about the Astros is shameful and repulsive after their sign-stealing scandal, but asterisk-laden World Series championship aside they have a phenomenal ballpark. It's the only stadium with a retractable roof on this list, and that's because it does little to hinder the true ballpark feel it has to it. The sweat from walking to the park in hundred-degree weather that sticks with you inside the stadium and the Southern culture y'all get at Minute Maid also adds to it's aunthenticity.
The roof itself has glass paneling so even when it's closed you can see outside, and it looks even better when the roof is open. It was closed when I was there in 2016, but it still felt like a one-of-a-kind park. The arches that drape the Crawford Boxes is one of my favourite characteristics of any park. They've also got a train that chugs its way down the track above those seats when the Astros hit a home run. Roman architecture meets early 1800s transportation. That's Texas for ya.
Today in 2002, @Astros center fielder Lance Berkman makes his legendary catch on Tal's Hill. pic.twitter.com/8YYn1ZUXmD

— Houstorian (@Houstorian) May 18, 2021
One component of Minute Maid that I wish was still around was Tal's Hill. This raised appendix in deep centerfield is one of the most bananaland ballpark components ever, and I loved it. Before it was removed prior to the 2017 season it made centerfield a ridiculous 439 feet from home plate, and balls hit deep to center would force outfielders to have to sprint up a damn hill which definitely isn't natural in baseball nor very safe. Better yet, there was a pole on Tal's Hill that was IN the field of play. How crazy is that?! I don't know who Tal was but he must have been important considering the ballpark architects seemed to add whatever features he wanted.
4. Great American Ballpark – Cincinnati Reds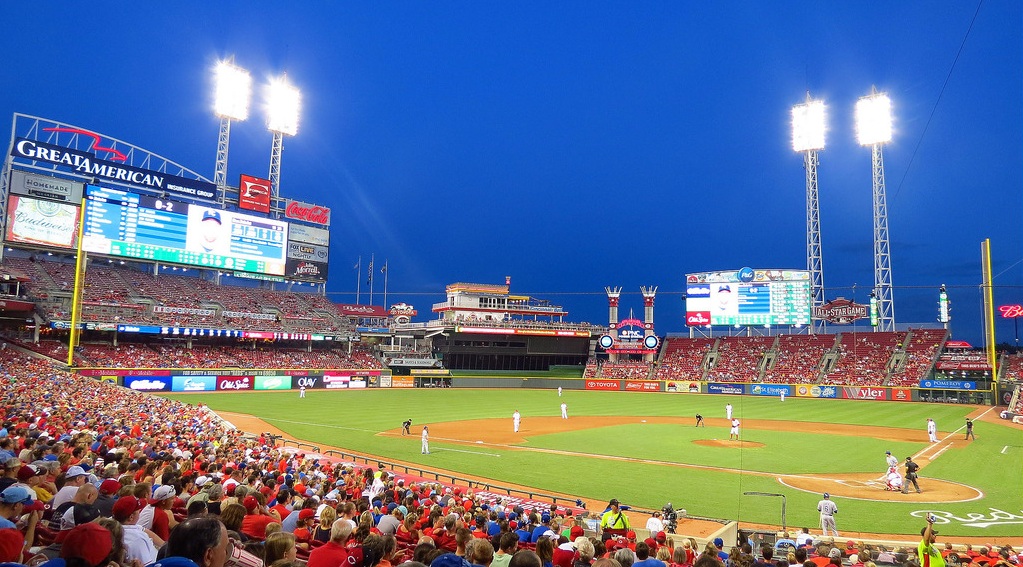 Nostalgia admittedly influenced how much I liked GABP given it was our 30th and final ballpark, but it really was a great venue. Baseball has so much history in Cincinnati, as the Reds were the first official franchise to be a part of the MLB, and you can really feel it walking through the park with so many mementos from the past. They have a ton of bronze statues of Redleg legends before you walk in. What will it take for Rogers to add a Blue Jays statue or two?
Great American Ballpark really embraces its history, with an elaborate Cincinnati Reds Hall of Fame on the second floor of its massive team store. They pay tribute to the all-time hit king Pete Rose with a 4912 mural on the other side of the scoreboard and a rose garden outside the park to mark where his record-breaking hit landed. Its atmosphere is everything you could want for a night at the diamond.
And I can't forget to mention that there's a Skyline Chili's restaurant a block away from the ballpark. GABP belongs in the top five based on that alone.
3. Petco Park – San Diego Padres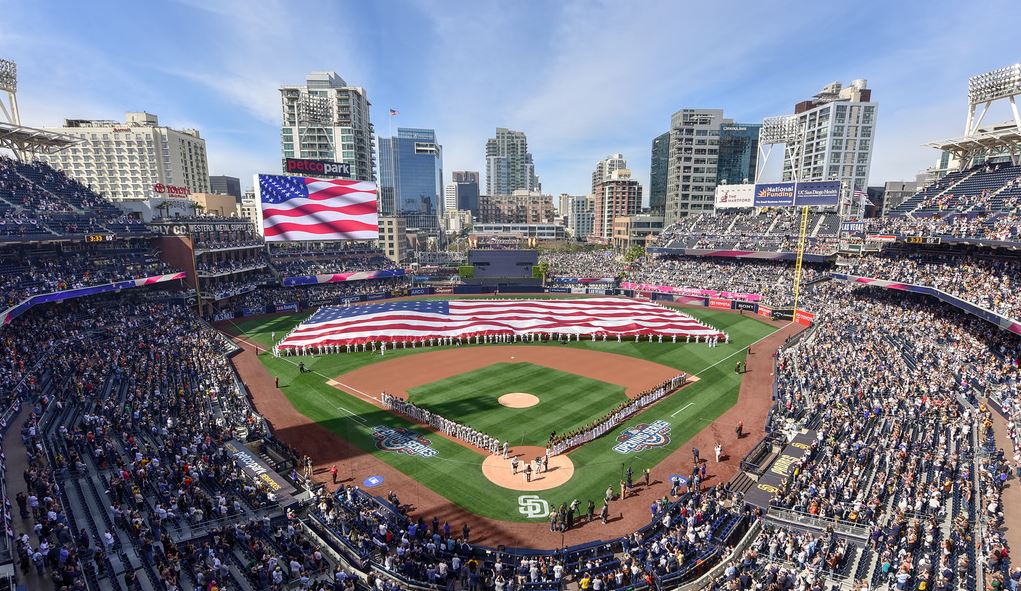 San Diego is one of the nicest places you can visit in the States, and their ballpark is definitely an attraction you gotta visit when you're there. Of all the ballparks I've been to, Petco is one of the best when it comes to the openness feel it has to it, and you could tour this place concourse for hours and not get sick of it. They have a three-acre grassy area behind centerfield called Park at the Park, where there's access to a ton of local concession and beer vendors. Someone should've gotten fired for approving that name, but the concept makes up for it as it's a great place to hang out once you get into the confines.
It was the 4th of July when I saw a Padres game there, and it's one of the best ballparks to go to on Independence Day since San Diego is home to a big military population. The Padres wore their digital camo jerseys and fighter pilots flew over the stadium during the national anthem. Real patriotic stuff.
My favourite feature of Petco is the Western Metal Supply Company building that also serves as the left field foul pole. It's still standing from 1909 and was incorporated into the ballpark when it was being constructed, and it's one of the coolest signature elements of any big league stadium. Petco is one of the first parks I'd want to revisit now that they have such a good team led by Fernando Tatis Jr.
2. Fenway Park – Boston Red Sox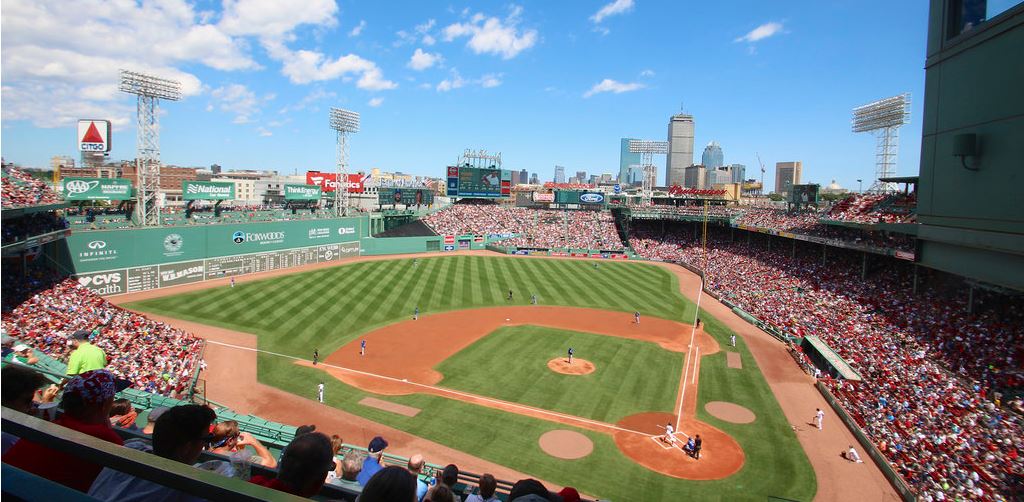 The oldest MLB stadium that's still up and running, I've heard people on both sides of the fence when it comes to how they liked Fenway Park. It's not like these new stadiums, which are designed with a 21st Century acumen for seating and comfort. Fenway is a museum in comparison to these new parks. You know its old when its inaugural Opening Day was outshadowed the gotdamn Titanic sinking. It was built in 1912, and you can tell that fast food wasn't a thing back then given how narrow the seats are. It's one of the smallest ballparks in the league with a capacity of 37,000 which gives it a cool sense of intimacy in the middle of dahntahn Bahston.
The age of this ballpark is pretty mind-blowing, and you can feel the history walking through those rows of seats and dimly lit hallways. It feels like highlights of Carlton Fisk waving the home run fair and the 2004 world series were preserved within those concourse walls. Beer stains at Fenway are to baseball fans what tree rings are to a botanist.
There are so many aspects of Fenway and its ancient state that make it feel special. The Green Monster's grandeur translates even better in-person complete with a manual scoreboard that hasn't changed one bit and has a door taking you inside of it. Pesky's Pole down the right field line is covered in thousands of fan signatures. The one red seat infiltrating the green bleachers in right field is where Red Sox legend Ted Williams hit a bomb that's still the longest home run in Fenway history at 502 feet 75 years later. Plus they have great concession offerings including fresh-caught lobster rolls with market prices hovering above 20 bucks. Easiest money I've ever spent at a game.
I've gone to three games at Fenway, and each one was electric. I went to Games 1 & 2 of the 2013 American League Championship Series, with the latter being one of the biggest games in franchise history and is known as the game where David Ortiz hit a grand slam in the 8th inning that tied the game and sent Torii Hunter into the bullpen just past the rightfield wall in what will forever be known as the Bullpen Cop game. The last time I was there, Mookie Betts hit three home runs as the Red Sox beat the Yankees on a Friday night in July, and it truly doesn't get any better than that. But the Bullpen Cop game was the best baseball game I had ever seen live until the Bat Flip game. Being there felt like a movie.
1. PNC Park – Pittsburgh Pirates
My favourite all-time ballpark might surprise some people since the Pittsburgh Pirates aren't a team you'd think would have a great ballpark of the top of your head. The Buccos are actually a complete dumpster fire which is such a shame since PNC Park is a gem. First off, it has the nicest view of any stadium in the Majors. The Roberto Clemente Bridge makes for an amazing backdrop and a target for home run hitters who launch balls into the Allegheny River, and while the Steel City isn't known for its beauty the skyline looks good from inside the park. If you go I recommend getting seats on the left-field side to get the best view of PNC's best attribute.
Walking across one of the three Sister Bridges to get to the game adds to the experience, it's got such a great baseball feel to it. Even though the on-field product likely won't be very good you won't even care because it's just a phenomenal place to hangout and enjoy the scenery while a game's going on in the background. PNC was one of the first parks I visited in 2011 and I can't wait to go back to this one.