Shamil Zavurov took on Mansour Barnaou in the main event of ROAD FC: Young Guns 41 this past Saturday.  Oh, I'm sorry, did that not get your juices flowing?  Well, what if I told you that Zavurov is the cousin of UFC Lightweight champion Khabib Nurmagomedov?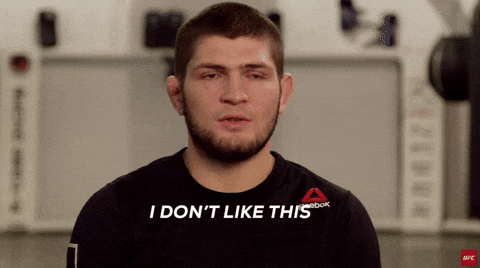 And what if I told you that said cousin got hit with a perfectly-placed knee strike that separated him from his consciousness, prompting Khabib to jump over the cage in an attempt to revive him?
In the final of a bracket spanning 2 years, former M-1/BAMMA champ Mansour Barnaoui KO's Shamil Zavurov in the 32-man ROAD $1M Lightweight tournament final. pic.twitter.com/rVHtxICBDA

— caposa (@Grabaka_Hitman) February 23, 2019
Road FC shares the moment of Khabib Nurmagomedov supports his teammate, Former M-1 Champ, Shamil Zavurov today in South Korea.

Zavurov loses by KO to Mansour Barnaoui and lost the opportunity to get 200k US Dollars and face the Champion, Kwon A-Sol in May to 1 Million prizes. pic.twitter.com/rMM7eettWp

— Bruno Massami (Бруно Массами) (@BrMassami) February 23, 2019
Ouch.  Apparently he hasn't learned anything after being fined $500K for jumping OUT of the cage last October.
It's no secret that we're homers here at DeanBlundell.com, but how can you like a guy who wants the government to censor women?
Actually, can we censor Captain Marvel?