Diego Sanchez (29-11) is the epitome of what people like to see out of their favorite MMA fighter.  Unmatched will and determination, a strong belief in self, and an incredible level of toughness, even for someone who fights in a cage for a living.  Most of us got introduced to Diego during the first season of "the Ultimate Fighter", and have been closely following his career since.  His fights against Karo Parisyan and Clay Guida are still talked about to this day despite happening over a decade ago, and while his body may finally be breaking down, his will to win remains intact.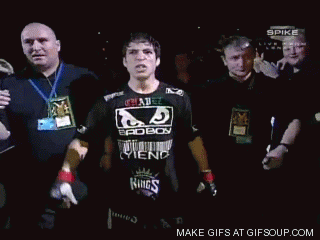 Saturday night at UFC 235, Diego "Nightmare" Sanchez found himself across the cage from young upstart Mickey Gall (5-2), who called him out by name for this fight.  I don't know if he felt slighted by the call-out, but he certainly fought like it, slicing through him in less than 2 rounds.  Mickey came out and hit Diego with a solid punch early, and it's almost like Mickey Gall has never seen Diego fight before, because he then started throwing some pretty reckless strikes that led to an easy takedown by the much more experienced fighter.  It was pretty great to watch his expression go from smug, to concerned, to bewildered within a matter of minutes.  Here are some highlights from twitter:
Diego Sanchez (29-11) scores his first finish since 2008, pummeling Mickey Gall into paste in round two! What a win for the original Ultimate Fighter in his 29th UFC bout. #UFC235 pic.twitter.com/6d2pqSJsnR

— Bulgogi Jones (@Hamderlei) March 3, 2019
Think he regrets calling out @DiegoSanchezUFC ??? 😅 #ufc235 pic.twitter.com/x4UL3JSxJY

— Jimmy the Prince 👑 (@jimmytheprince_) March 3, 2019
Turns out, that he actually bit his chest at one point in an attempt to get him off.  Dude, just learn how to wall-walk like everyone else.  Weirdo.