UFC 235 is going down tonight, live from the T-Mobile Arena in beautiful Las Vegas, where our good buddy Daren Millard now frequents.  Two titles are on the line as Jon "Bones" Jones defends his recently re-acquired Light-heavyweight title against heavy underdog Anthony Smith, while Tyron Woodley defends his Welterweight title for the 5th time; against Kamaru Usman, who is undefeated in the UFC.  Personally, I am most looking forward to the promotional debut of undefeated international MMA champion and former Olympian, Ben "Funky" Askren.  Here's how the Prince sees the fights playing out.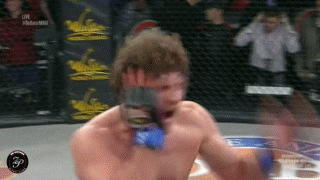 askren (18-0) VS. LAWLER (28-12-1)
Robbie Lawler has been kicking ass and taking names for nearly 20 years.  That's no hyperbole, Robbie has been crushing skulls since 2001 and made his UFC debut the following year at UFC 37.  Certainly no spring chicken, Robbie has shown few, if any signs of slowing down and his takedown defence has improved with age.  That's going to be key here, because despite having a large advantage in knockout power, he concedes that same disadvantage to Ben Askren in the wrestling department.  It's hard not to imagine "Funky" getting inside and implementing his game plan, which he has done 18 times while meeting almost zero resistance.  It is worth noting however, that Lawler has spent most of his career 15 pounds north at middleweight, so it is very possible he will enjoy a size and strength advantage.  Technique typically wins over brute strength, but Robbie might have enough tools to negate Ben's wrestling and pick him apart with punches.  I still see Askren biting down on his mouthpiece and grinding out a hard-fought decision.
Pick: Askren by decision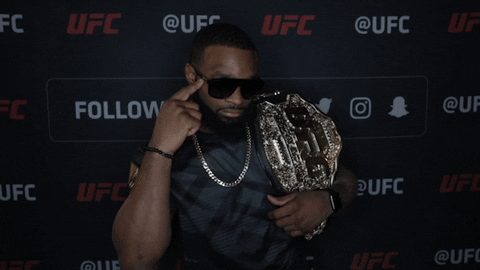 Woodley (19-3-1) vs. usman (14-1)
Tyron Woodley has made it well-known that he feels he deserves to start getting some bigger fights with more well-known opponents.  He doesn't exactly get that in Kamaru Usman, a relative unknown to the mainstream audience, who has compiled a perfect 9-0 record in the UFC.  The high-risk, low-reward match-up is the exact opposite of what he has been publicly asking for.  Don't expect Woodley to fight emotionally, as he has proven to be all business when he steps in the cage.  As far as the action itself, I see Woodley cruising to an easy 5-round decision.  Kamaru Usman is an extremely athletic and explosive wrestler, who has impressed many.  Only problem: his strengths, are also Woodley's strengths, and Woodley is better and has more experience at the top of the sport.  I see Tyron keeping Usman on the outside and threatening with his patented overhand right, in a fairly uneventful exhibition of what happens when you put Tyron against a grappler who can't take him down but is also unwilling to engage on the feet.
Pick: woodley by decision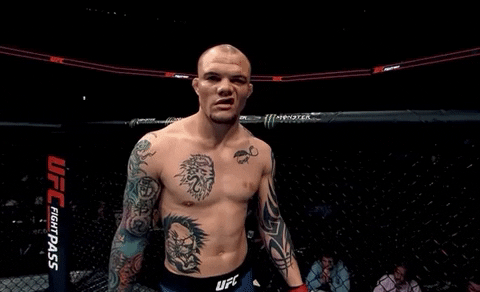 jones (23-1-1) vs. smith (31-13)
Call me crazy, but I'm starting to really fucking like this guy!  Anthony "Lionheart" Smith is not the most skilled fighter I've seen, but he's one of the more determined.  Hearing him speak this week, you can tell this guy knows he has nothing to lose and everything to gain Saturday night, and I'm rooting for him.  Jon Jones has such a cloud of mystery surrounding his P.E.D use, that it's hard to get behind him, despite the fact that he is easily the most gifted fight to ever grace the octagon.  Fights are not won on morale high-ground, but at least Anthony Smith doesn't appear to be afraid of Jon, or the moment.  Expect "Lionheart" to be aggressive and look to slay the king of the light-heavyweights in devastation fashion.  Something like this:
Smith certainly has the will and the mindset to pull off the upset, but I think Jon realizes that he has some serious power in his strikes and will use his insanely high fight-IQ to avoid those, and determine his best route of attack.  Although I'll be cheering for the dog, I see Jones feeling him out and playing mostly defensive, before taking him down and submitting him in the 3rd round.
pick: jones by submission – round 3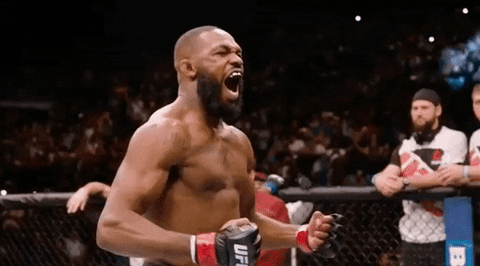 The action starts at 6:30 PM with the early prelims on UFC Fight Pass, followed by the television prelims on TSN starting at 8:00 PM, and the main card featuring these bouts on PPV tonight at 10:00 PM.  I will be live-tweeting the event so feel free to give a follow and let me know how much more you know about UFC than I do.  Hope to see you there.  Before I go, I would like to leave you with this awesome quote from Anthony "Lionheart" Smith:
If you're hitting me up about this, don't. I truly dont care. Picograms, no picograms, Olympic sized swimming pools, grains of salt 🤦🏽‍♂️… I couldn't care any less. I signed on the line and did it knowing what I was signing up for and with no expectations. I'm good, y'all. 🙅🏽‍♂️ https://t.co/GnQQ6diow6

— Anthony Smith (@lionheartasmith) January 24, 2019