UFC Fight Night 147: Till vs Masvidal took place in London, England this past Saturday night.  There were plenty of memorable moments in the cage, including this finish from the main event of the evening, which you can see around the 2:00 minute mark of this video:
But Jorge "Gamebred" Masvidal (33-13) wasn't done there.  After knocking out young prospect and former title challenger Darren Till (17-2), you'd think that Jorge would be happy to conduct another brief interview backstage and call it a night.  You would be wrong.  Jorge was apparently upset that fellow welterweight Leon Edwards had called him out on social media, as well as earlier in the night after his own victory in the co-main event.  According to an interview with ESPN, while Jorge was conducting the interview below, Leon was shouting  at "Gambred" off-camera.  Drama ensues:
I know that UFC fighters have fought long to avoid the stigmas that come with being a professional ass-kicker, but I think they deserve a little more leniency when it comes to stuff like this outside the cage.  NBA players scrimmage against players from other teams all summer, and if someone hits a step-back jumper in a star player's face, nobody gets upset.  Obviously that's not a fair comparison, I just wanted to highlight the fact that although we want UFC fighters to conduct themselves like professional athletes, I think we should also recognize that their profession is similar, but not identical to any other sports league.  You can't just run outside and do the MMA-equivalent of tossing a football or a baseball around without getting arrested, and rightfully so.  You can't go around beating up your neighbors, and punching the air just isn't all that satisfying.  Unless you're Bill Goldberg.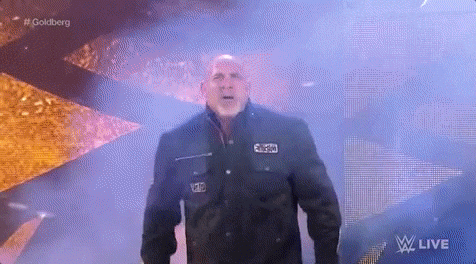 Piggybacking off a recent tweet from our very own Don Schram, sometimes I like it when cage fighters do cage fighter shit.  Imagine the pre-fight promotional packages for this.  Don't know who Jorge Masvidal is?  You will soon.
People getting mad at jungle cats for doing jungle cat shit. LOL

— Don Schram (@dschram34) March 11, 2019