Masai Ujiri went all-in last summer when he traded Demar DeRozan, Jakob Poeltl, and a first-round pick for Kawhi Leonard.  On paper, it was a no-brainer.  Trade a player in DeRozan who has repeatedly come up short in the playoffs, still  doesn't have a 3-point shot, and isn't a very good defender, for a player who is the exact opposite, and an elite talent when healthy.  DeRozan is great at creating contact and getting to the foul line, and he is capable of making heavily contested shots in the mid-range, but his weaknesses are becoming more and more glaring as versatility and spacing are taking over the league.  The most sought-after players at the wing position are typically referred to as "3 and D" guys, 2 skills that DeRozan does not display on a regular basis, yet Kawhi Leonard does.
One x-factor about the potential trade was the fact DeRozan had been a loyal Raptor for many years and is beloved by the city.  The other x-factor was that Kawhi had made it pretty clear he wanted to play basketball in California, and with only one year left on his contract, there was a good chance he was going to be one and done in the 6ix.  Which is exactly what happened.  Luckily enough for Raptors fans, he did lead them to their first-ever championship before he decided to take his talents to downtown Los Angeles.
Which brings us to today.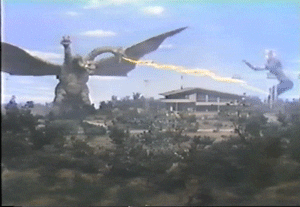 That's Ghidorah the Three-Headed Monster, by the way.  And while OG Anunoby and the recently signed Stanley Johnson and Rondae Hollis-Jefferson probably won't spend a lot of time on the court together , they will combine to try and make up for the production lost with Kawhi Leonard's departure.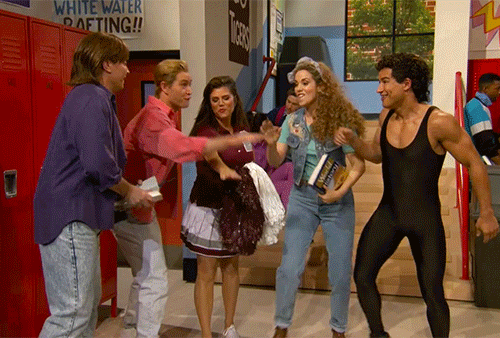 Offensively, it simply doesn't add up.  Even if all 3 players have career years on that side of the floor, it couldn't possibly make up for the elite efficiency shown by the "fun guy".  Defensively?  They have a chance.  A fresh, young, and healthy trifecta of defensive prowess and athleticism gives the Raptors confidence in their ability to defend at the small forward position.
OG Anunoby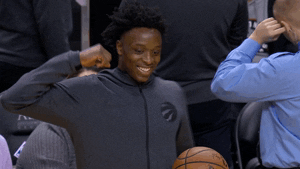 Starting with former 1st-round pick OG Anunoby, who was a likely lottery selection coming out of Indiana before an ACL injury allowed him to slip to the Raptors at #23 in the 2017 NBA Draft.  OG has an impressive physique: he stands 6'8″ tall, and weighs 235 lbs. with long arms and thick legs.  Offensively, he is confident using his body to absorb contact on the way to the rim, despite not being a great free-throw shooter.  He is also the most consistent spot-up shooter of the trio, and is an alley-oop threat in transition, as well as cutting backdoor.  An appendectomy put an early end to his 2019 campaign, but OG has already proven he can play at this level, and turns just 22 in July.
And apparently his ACL is just fine.
Stanley Johnson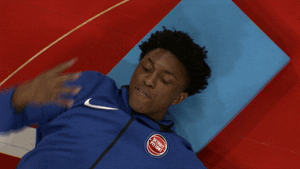 Stanley Johnson is probably much less-known to Raptors fans, spending the last three and a half seasons underachieving with the Pistons before they moved him to New Orleans at the deadline.  The former 8th overall pick is another big body at 6'7″, 245 lbs., and is not an easy man to back down.  He doesn't have the same explosiveness as Anunoby, and his impressive shooting at Arizona has not carried over to the NBA, but he will continue to find minutes even if he doesn't become more consistent with his shot, due to his defense and toughness.  If he can hit even 35% of his 3-pointers, he will be getting a major pay raise the next time he's a free agent.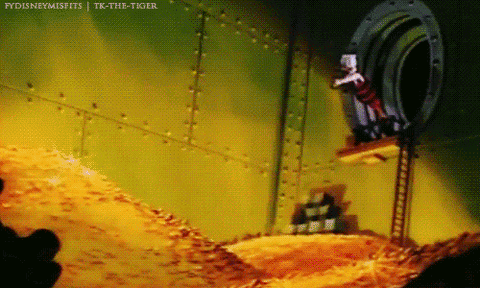 Remember that game against the Pistons when Kawhi had a chance to win it at the buzzer and dribbled the ball off of his foot out of bounds?  That was because Stanley Johnson was guarding him, and he was flustered due to the FOUR turnovers he already committed as a result of the pressure from Stanley in the 4th quarter.  See below:
Raptors fans have a whole new outlook on this game now, I'm sure.
Rondae Hollis-Jefferson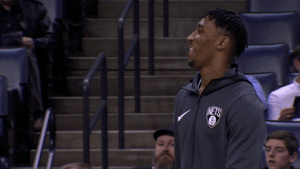 Selected 23rd overall in 2015, Rondae Hollis-Jefferson is coming off a disappointing season, in which he regressed in many major statistical categories.  Part of this was due to his role and minutes changing, but most concerning was that his field goal percentage dropped.  Hollis-Jefferson does not have a 3-point shot in his arsenal, and relies mostly on his elite athleticism to get to the basket and create easy opportunities.  He is also an above-average passer at the small forward position, and can find open teammates cutting to the basket.  Continuing with the defense-first theme, Hollis-Jefferson makes his mark on his own end of the floor.  Using his huge 7'2″ wingspan, he frustrates opponents as a constant threat to either swipe the ball out of your hands, or emphatically block your shot attempt.
In closing, the Raptors are going to be spreading the ball around a little more on offense, and their efficiency rating will probably drop after losing the best player in the NBA today.  However, I don't expect their top-5 defensive efficiency to go anywhere, and if one of these guys (or better yet two) can take a leap forward offensively, it might not be so cold in Toronto this season after all.