Kawhi Leonard was introduced as a Los Angeles Clipper today.
As a fan of the Raps, it sucks. Even worse having to write about it after but such is life. I'm just thankful for the platform. Speaking of being thankful, Kawhi Leonard spoke to the media today. A rare scene for #2 to be in front of the mic, as he points out, he doesn't have social media as he purposedly limits the opportunities for content. Today Leonard displayed how he was grateful for all aspects of his experience in Toronto and instead of naming names, which isn't something the two-time Larry O.B winner would ever do, Leonard touched on a few points to warm the crowd and get his LA experience off with a few laughs. Well played, Klaw.
I love how he shouts the fans out first. Perfect, as he should. The people who lined up to stand outside and watch TV in the streets of Toronto. The people who paid tons of money and were behind this team from the jump.
Unfortunately, not everybody was satisfied with Kawhi's exit interview. Shocker:
Four people Kawhi had to thank publicly and didnt
1) Masai
2) Larry Tanenbaum
3) Alex (load management) McKechnie
4) Nick Nurse
He did thank restaurants for giving him free food, though

— steve simmons (@simmonssteve) July 24, 2019
Had to? Ok now, bye-bye then.
As I mentioned Kawhi isn't one to stand up in front of the mic and list off a long list of names to then tell individual stories about each person.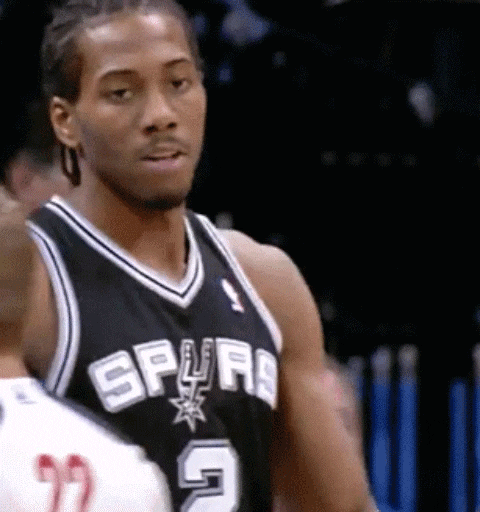 Instead, name the groups of people, and send the individual 'Thankin-Yas' over the phone at random times. Something a little more personal. I have nothing against Steve but, come on here. Why throw shade at Leonards reputation for a few clicks? It's a good thing Leonard doesn't have social media or according to Simmons, he would probably fire back at the tweet with a boomerang-cheers reply and retweet the shit out of it.
No chance, just like there's no chance you should be slamming a guy for saying thank you.
You're welcome.