As you wake up this morning to the truth that the Toronto Raptors are playing for their first NBA Championship in franchise history, Kawhi's sister took to Instagram to thank well-wishers.   She looks like him.
The voice in the background is apparently a 'Raptors Hater' and if you listen closely you can hear "it don't matter cuz he gone anyway"
@ItsDeanBlundell Kawhi's sister, but listen to the gentleman in the background, Kawhi is leaving. pic.twitter.com/wmLWnC9tYD

— Titofuentez (@Titofuentez78) May 26, 2019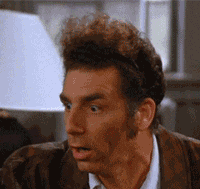 Thanks to @TitoFuentez78 for the heads up.  It's like waking up next to a really beautiful person you spent the night with only to find out you owe that person $1000 for the fun and they tell you to head to the clinic before they walk out the hotel room door.
No one likes it when Toronto has nice things.  We don't even get 24 hours to roast in the glory of what happened last night at the Scotiabank Arena.   Instead, assholes like the voice in the background and Skip Bayless have to take a giant steaming, post corn roast bbq picnic, shit on our heads.
I feel sorry for Toronto fans, chanting MVP at No. 2. He'll soon quit on them, too, as he ducks out in free agency, probably for Los Angeles.

— Skip Bayless (@RealSkipBayless) May 26, 2019
Well, I guess it worked for No. 2 to quit on the Spurs last season complaining of what Spurs doctors decided was no more than a thigh bruise. He wound up in the East, playing against a hobbled, sick Embiid and an overrated Giannis. "Crime" pays.

— Skip Bayless (@RealSkipBayless) May 26, 2019
Blah Blah Blah.
Don't listen to the outside noise.  Skip hates Kawhi's guts because he's a loser who's doing the Spurs an inside favor.  That's how Skip works.  He fortifies relationships by shitting on guys or propping certain guys up based on who he wants to curry favor.
The only thing Skip and I see eye to eye on?  His hatred for Drake who was fucking EMBARASSING last night.  His lint brush guy had to hold Drake back from pretend fighting with the Milwaukee bench.
Drake here providing Twitter with brand new gifs every Raptors game 👌👌 pic.twitter.com/r8bW6hlxoc

— LFC (@RockyKlopp) May 26, 2019
What a tool.  I hope Kendrick Perkins punches Drake's face off one day.