Kawhi returns to Toronto tomorrow for the first time this season.

The @Raptors put together a tribute video thanking him 🙌pic.twitter.com/4dRxrMXEw3

— The Crossover (@TheCrossover) December 11, 2019
Seriously.  Enough Kawhi already.  He was great, he's gone and every time you play 'the shot' or the video of him dancing with the Larry O.B. you lose me.  I've seen 50 different Kawhi jerk off videos this year alone during Raptor broadcasts and I'm seriously Kawhi'd out.  When you take your new wife to your parent's house for a nice macaroni salad/overcooked fish dinner, your parents don't use every break in the conversation to go on about how WONDERFUL your ex was, reliving that wonderful summer you all spent at the cottage when the grandkids were little.  Right?
He's the only NBA superstar this city has had in our only championship season but there were a few other pieces who get ignored in most emotional vignettes reliving that magic run.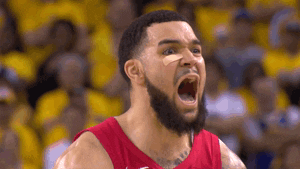 And here's another thing.  TSN and SN can stop with the boring-ass halftime pre-produced interview about ONE person (RJ Barrett and Kawhi night were vomitous).  Maybe do some league surfing instead.  Whip around the league and let us into what's happening with Mil, Philly, or Miami.  What's up in the Western Conference and what Jokic do in LA?  Report on some rumors and catch us up on some NHL scores.
And relax with the Kawhi stroke job.  Please.
He left us like a hooker with TB (as my dad would say) so a polite golf clap/tip of the cap is fine.  Save the good stuff for the guys who wanna be here.