Somebody may need to check on JR Smith after this news dropped as the NBA will not be testing for marijuana use during the 2020-21 NBA season.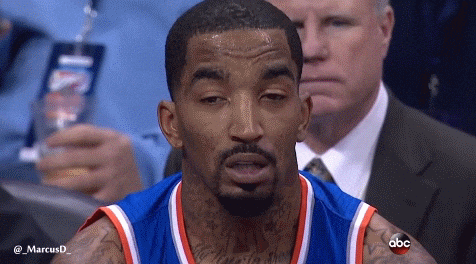 In case you didn't believe me, believe Marc: https://t.co/Lzc42ztN15

— Ben Dowsett (@Ben_Dowsett) December 4, 2020
So if you have used in the past and the team thinks it's getting out of hand, you can be subject to a 'random' test. Under the new halted program a player has to test positive three times before facing suspension.
NBA Commissioner Adam Silver spoke with Chris Haynes of Yahoo Sports on the topic and had this to say about his concerns:
But when I've talked to players about it, I think they have mixed feelings, some players. I think it's not as much about what guys do in the summer. If they want to smoke pot in the summer, whatever. It's legal in a lot of states, to your point. No issue. I do think there's a little bit of concern about some of the pot smoking in-season. I think it's a team sport, and I think part of the reason we have the rules in place, there was a time not so long ago when there were a group of players who felt – because, ultimately, the players association has to agree on any testing – that maybe there was too much pot being smoked in-season…

"On the other hand, there's also guys in the league who are smoking a lot of pot. And then the question is, why are you smoking a lot of pot? And that's where mental wellness comes in. Because I've also talked directly to players who say, "I'm smoking a lot of pot, because I have a lot of anxiety. And I'm struggling…

"Last part of this, I think when we change our policy, we have to be very careful, because clearly we're going to be sending a message to a lot of young people. And at the end of the day, I think we all agree that, whether or not marijuana is a legal substance, just like with alcohol, you still have to teach young people how to use a substance like that appropriately and responsibly and so it doesn't overwhelm your life. So, it's a complicated issue.
And as expected, NBA Twitter was fire after the news dropped:
"NBA not testing for weed this season"

Dion Waiters and JR Smith: pic.twitter.com/6A5ax6pkDj

— Josiah Johnson (@KingJosiah54) December 3, 2020
"NBA not testing for weed this season" the Bronny effect. pic.twitter.com/foy8I7x4cU

— ᴊᴡᴇᴘᴘ (@JWepp) December 4, 2020
NBA: Weed tests cancelled

NBA players: Say less pic.twitter.com/88Mp9SI908

— Andrew Ricketts aka Mensch Montana (@DrewBreez) December 4, 2020
Jr Smith and Dion Waiters when they find out there will be no Marijuana tests next season: pic.twitter.com/UpbruLK57u

— Lu Dort's Hairline 🌩 (@LuDortsHairline) December 3, 2020
JR Smith when he found out there's no drug test this season pic.twitter.com/Xbefcw437f

— A Real $moove Production (@Jayl0n1k) December 3, 2020