The Toronto Raptors are currently in a three-way tie for second place in the Eastern Conference with a record of 8 wins and 3 losses. 
They also have yet to lose a game at home.  They have managed this pace despite missing their leader Kyle Lowry (broken thumb), Serge Ibaka (sprained ankle), OG Anounoby (eye contusion), and Patrick McCaw (knee surgery).  I know it's ridiculously early in the season, but as you've seen with my,
Gonzo's Bold Predictions for the 2019/2020 Toronto Maple Leafs
I enjoy making bold predictions for fun at the start of the season.  So here are Gonzo's bold predictions about the Toronto Raptors 2019/2020 season. 
Fred Vanvleet will be the second consecutive Raptor to win "Most Improved Player" Award.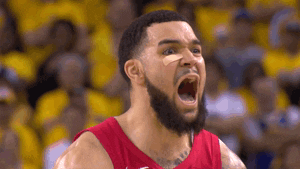 Last year Pascal Siakam received the honour.  This year, "Icy V" has elevated his game to another level.  The level which we caught a glimpse of after the birth of his son during last year's historic championship run.  Winning this award will rely on how much time he plays which will decrease when Lowry returns. 
But it shouldn't be so much so that it takes him out of contention for the MIP award with the way Freddie's been playing.  Dean and I have both said it before, Pascal and Fred are the future of this team.  So far, they're proving us right.  If Chris Boucher continues to play the way he has been playing, he might give his teammate a run for the MIP.   
The Raptors repeat as NBA Champions 
At the start of the season I stated on the Dean Blundell Show podcast that the Raptors would make the Eastern Conference Finals yet again this 2019/2020 season.  I'm going all in and taking it 2 steps further because what's a fan if not a faithful supporter of their team?  The moment that Kawhi left town many fans threw their arms up and said "well that was great but it's over now."  The fact of the matter is, that there are 4 teams competing for a spot in the finals from the East this year:  Milwaukee, Miami, Philly, Toronto. 
I know Boston is 9-1 after winning 9 straight right now, but that's not going to hold all year.   
Defence Wins Championships 
I'm not taking anything away from how significant Kawhi was to our run, but this current Raptors team is really, really, good.  They're currently ranked 6th in the league in defensive efficiency.  We saw them shut down Kawhi Leonard as they almost beat the Clippers the night after beating the Lakers in LA – except due to all of their injuries, they simply ran out of gas.  This team is well balanced, although they are missing key players. 
On the Offensive 
Spicy P and Freddie V have been beastly ballers so far this year, driving to the bucket at will, breaking ankles with crosses and spins, and raining 3's whenever they goddamn choose to.  Chris Boucher has been absolutely unreal on both ends of the court.  Rondae Hollis-Jefferson and Terence Davis have displayed their ability to hustle and desire to play the grinding defensive game that is the Raptors style of play. 
Matt Thomas's ability to drain 3's is reminiscent of Steve Kerr back during the Chicago Bulls dynasty.  Not to mention Gasol and Powell are still with the team.   
It's going to be a hard road to get back to the finals but the Raptors have what Lebron called "championship pedigree."  I agree, they know how to win games down the stretch when the pressure is on.  They know how to bounce off of the ropes to come back and win the fight.  Just look at the Eastern Conference Finals last year vs the Bucks.  These Raptors are gritty.  Furthermore, they play as a team.  They spread the ball around. Similar to that Golden State Warriors championship team prior to KD's inclusion. 
I'm banking on the Lakers and Clippers beating the p*ss out of each other to get to the finals against the Raptors who will be a little worse for wear, but hopefully not as bad as the team coming out of the West.  I have to put respect on the Rockets here too, but wouldn't it be awesome if it were Kawhi's team that made it and we beat them?