The Historic Allentown Art district has been changed to "Josh Allentown," the initials "JA" and the number "17" are etched into the windows of storefronts throughout the city, and thoughts of a ticker-tape parade slowly start to manifest in the minds of Bills fans. 
For the first time in 25 years, the Buffalo Bills are just one game, four quarters, and 60 minutes away from making its fifth super bowl appearance in franchise history as they head to Arrowhead Stadium to take on the reigning Super Bowl Champion Kansas City Chiefs in an AFC Championship matchup.
Led by Josh Allen, the Bills won their first AFC East Division title since 1995, earned their first 13-win season since 1991, and swept the AFC East for the first time in franchise history.
After finishing 14-2 this season, the Chiefs find themselves in familiar territory. Led by Patrick Mahomes, the Chiefs look to stymie the red-hot Bills for a shot at another Super Bowl title.
With the AFC Championship just one day away, here are a few things to look out for the in NFL's most anticipated game of the season.
1993 AFC Championship Game:
There was a lot of hype leading up to the 1993 AFC Championship game between the Buffalo Bills and the Kansas City Chiefs on Jan. 23, 1994.  
In the red corner was Chiefs quarterback and 49ers legend Joe Montana, and in the blue corner was Bills quarterback Jim Kelly, both were prepared to square off in a prize fight. But it was running back Thurman Thomas that stole the show. Behind the powerful legs of Thomas, Buffalo Bills cruised to a 30-13 victory over the Chiefs at Rich Stadium in Orchard Park, NY.   Thomas found the end zone three times and rushed for 186 yards as the Bills advanced to their fourth straight Super Bowl, a game they would go on to lose 52-17 to the Dallas Cowboys. 
He said It:
Players to Watch:
Kansas City Chiefs- Tyreek Hill
The speedy, lighting rod wide receiver is quick off the line and if you let him get behind you, good luck catching him.
Hill totaled 1,276 yards receiving in the 2020 regular season, eight-most in the league, and scored career-high 15 touchdowns on 87 catches. He also added 13 carries for 123 yards, and two touchdowns en route to his fifth consecutive Pro Bowl.
The Bills will have to be cognizant of Hill and watch him at all times. If they get beat deep by Hill early and often, it could be a long day.  
Tyreek Hill's speed is just unreal 😱 @cheetah @Chiefs

📺 #CLEvsKC on CBS pic.twitter.com/koHENwLlBs

— The Checkdown (@thecheckdown) January 17, 2021
Buffalo Bills– Stefon Diggs
Wide receiver Stefon Diggs thrives in big moments.
In 2017-18 as a member of the Minnesota Vikings, Diggs made one of the biggest plays in franchise history when he hauled in a 27-yard pass from quarterback Case Keenum; Saints safety Marcus Williams missed a tackle, and Diggs broke free to complete a game-winning 61-yard touchdown play.
You know about THAT catch. 🙏

Now educate yourself on the rest of @StefonDiggs' amazing reel. 🎥 @Vikings | #SKOL pic.twitter.com/oTtHgZHKoy

— NFL (@NFL) November 29, 2019
When he arrived in Buffalo, Diggs brought his marquee playmaking abilities with him and has been an integral part of the teams' success this season. Diggs finished the season as the NFL's leader in both receptions (127) and yards (1,535). He is the first player in Buffalo Bills history to lead the NFL in receptions and yards in a single season.
This weekend Diggs will go up against Chiefs cornerback Bashaud Breeland and could create unique mismatches and cause serious problems for the Chiefs secondary– especially in the red zone. The Chiefs ranked dead last in red zone defense during the 2020 season. Diggs is one of the more premier, versatile route runners in the NFL. Per Next Gen Stats, Diggs has 100-plus receiving yards on five different routes this season.
With a repertoire of routes combined with his ability to break a game wide open, I think this will be a huge statement game for Stefon Diggs.
Josh Allen magically turns nothing into TD #3 for Stefon Diggs and the rout continues

Bills 38, Patriots 9 #BUFvsNE pic.twitter.com/V1BIrC5EOw

— BetOnline.ag (@betonline_ag) December 29, 2020
Key Matchup: Kelce vs. Milano
Kelce is on the path of being one of, if not, the greatest tight ends of all-time.
The 2020 Walter Payton Man of the Year Award continues to be a matchup nightmare for opposing defenses. His incredible length and straight-line speed create significant matchups for the Chiefs' offense, as they can hammer soft spots and move down the field quickly and efficiently.
Kelce finished second in the league in receiving behind Bills' wide receiver Stefon Diggs with 105 receptions for 1,416 and 11 touchdowns. He became the first tight end in league history to post multiple 100-catch seasons, having done so in 2018, as well. He also set the record for most receiving yards in a single season for a tight end.  
The Bills will turn to linebacker Matt Milano to stop the powerful, tight end. He missed the last matchup between the two teams in Week 6 with a pectoral injury, and his absence was noticeable. He is outstanding in pass coverage and a very underrated linebacker and had no problem shutting down Baltimore Ravens tight end Mark Andrews. Milano held Andrews to four receptions for 28 yards.
 Can Milano and the Bills' defense stop Kelce? Or will Kelce feast on another AFC defense?  
Bills LB Matt Milano registered 7 total tkls + 2 PBUs (including the one below) in last night's AFC Divisional Round win over the Ravens.

Milano has logged 18 total tkls + 3 PBUs this postseason.

The Bills are 12-0 with the @BCFootball alum on the field this season. pic.twitter.com/yn9oxnyNKP

— Andy Backstrom (@andybackstrom) January 17, 2021
Predictions: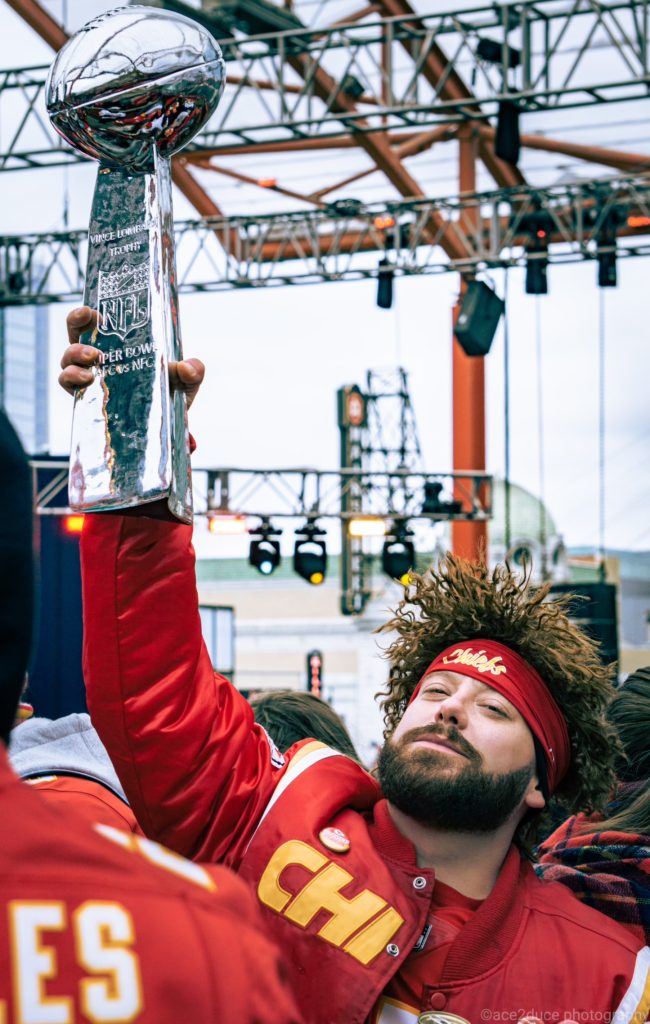 I think the recipe for the Chiefs to win on Sunday is very simple: control the line of scrimmage and limit how bad Stefon Diggs can hurt you, and they win. Relatively easy too. I think the Chiefs DL will cause Allen to get out of his comfort zone and cause him to make mistakes. Defensive Coordinator Steve Spagnuolo is creative. He can dial up blitzes, and Sunday will be no different. Look for cornerbacks Bashaud Breeland and L'Jarius Sneed to get help from defensive Swiss-Army knife Tyrann Mathieu in containing all-world WR Stefon Diggs. Offensively I expect the Chiefs to do what they do to every other team in the NFL, and that moves the ball and score. With all skill players expected to be a full go, I don't see the Bills being able to keep them under 30 points. That said, I expect the Chiefs to keep the Lamar Hunt trophy at home and win the game
Chiefs 34, Bills 24.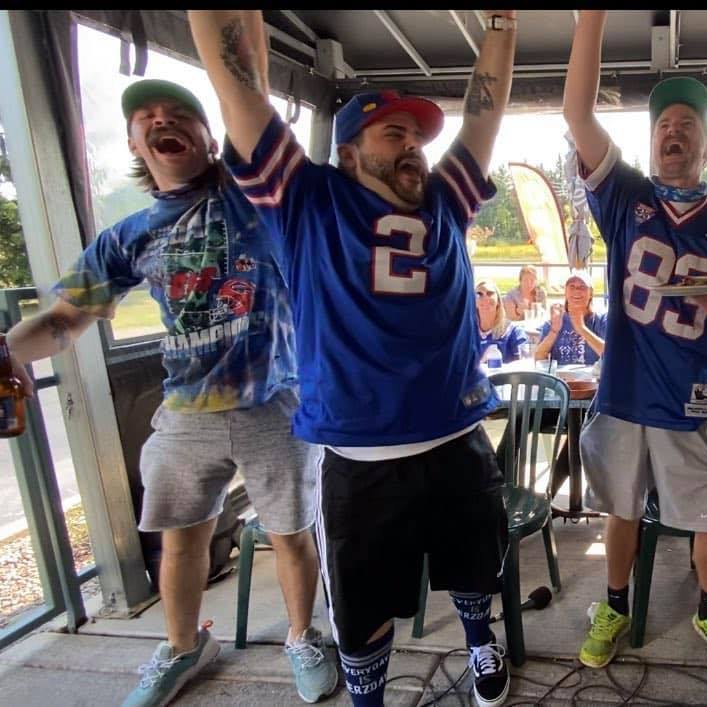 I've waited 25 years for this moment. Since 1995, all I've ever wanted was to witness with my own eyes a successful Buffalo Bills football team. My Bills' christening took place when I was five years old. My father, Joe Sr. and I were on our way to Rich Stadium in Orchard Park, NY, to watch the Bills take on the Dallas Cowboys in a preseason matchup. "Jim Kelly, Thurman Thomas, Bruce Smith, and Andre Reed. These are the players you have to know," he said to me as we rolled up to the stadium parking lot. That day led to the start of my Bills' fanhood.
As I grew, my love and passion for the Buffalo Bills grew. I didn't live through the four consecutive Super Bowl losses, but I lived through much worse. I lived through the Music City Miracle, a Week 17 loss to the Pittsburgh Steelers in 2004 that would have ended the playoff drought much sooner, the Monday Night Football collapses against the Dallas Cowboys (2007) and New England Patriots (2009). I lived through 17 years of failed promises and expectations, and I even had to walk the halls of my high school rocking a Trent Edwards jersey not because I had to because I WANTED to.
Enough is enough. The Bills are the best team in the AFC hands down. In just his third season, Allen set a number of franchise single-season records in Buffalo. He threw for 4,544 yards, 37 touchdowns, and 10 interceptions, while also completing 69.2 percent of his passes. He also accounted for a franchise-record 46 touchdowns this season.
Stefon Diggs has been a headache for everyone that has come in contact with him. Diggs finished the season as the NFL's leader in both receptions (127) and yards (1,535). He is the first player in Buffalo Bills history to lead the NFL in receptions and yards in a single season.
We finally have the team to win it all.   BRING IT ON KC.
Bills 34, Chiefs 21