The Manning Curse: Players are 0-6 after appearing on the ManningCast this season.

— Kelce on Week 1, lost Week 2
— Russ on Week 1, lost Week 2
— Gronk on Week 2, lost Week 3
— Stafford on Week 3, lost Week 4
— Brady on Week 7, lost Week 8
— Josh Allen on Week 8, lost Week 9 pic.twitter.com/NLKxqsxXmG

— StatMuse (@statmuse) November 7, 2021
I love me a good curse. Sports and sports donkeys are so superstitious. I can't wait to see fan bases go nuts when their players go on as a guest. I also wonder because sports guys are so superstitious if they refuse to go on the show because of it.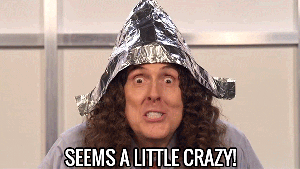 I mean how else can you explain The Buffalo Bills only scoring 6 points and losing to the Grinder Urban Meyers laughable Jacksonville Jaguars. This is definitely a storyline and theory I am here for and will follow.
HARD HITTING JOURNALISM PEOPLE. It's all the rage in 2021.
There are 6 players who have appeared on the ManningCast.

They are 0-6 in the game following the show and 26-9 in all other games this season.#ManningCurse pic.twitter.com/ZwQWK9RCJz

— StatMuse (@statmuse) November 7, 2021