Good evening Hockey fans from across the New England area, it's me Jack Edwards – the GOAT if you will.
Name another GOAT around these parts. Ya, you can't. First and foremost what a win by the Bruins the other night. The B's demonstrated what might have been the single-greatest display of hockey prowess one has ever seen.
Now you might say 'But Jack you blind sack of shit, the Bruins were outshot and outhit and were lucky to escape with a victory', and to that I say what do you know about hockey anyway bub? The Bruins victory the other night, reminded me of the time Milan Lucic absolutely beat the pants off of Colton Orr.
Orr barely made it out alive after having his face caved in by a bunch of Looch lefts, by god! I've included the video below so all you Leaf lovers can see Colton Orr get knocked unconscious by a series of Loud Lucic haymakers! Hit the showers Colton you pansy!
Lucic always was the toughest Bruin to ever lace them up. Name another tougher Bruin, I'll wait. Didn't think so Kemosabe.
Now some of you seem to have gotten your panties in a bunch because of a comment I made the other night while the Bruins were in the midst of their greatest game ever played.
If you haven't seen the video or heard the call consider yourselves lucky as my voice has often been compared to the sound a garbage truck makes when one of the hydraulic hoses springs a leak.
Anyway, you are upset because I had the decency and sense to suggest that Roman Polak, a man who had just hit the boards head first, was the victim of 'Bad hockey Karma.'
Now to start, I just have to mention that Brad Marchand is probably the best player to have ever laced em up. And yes I have heard of Lemieux and Gretzky, but they couldn't hold Marchy's jockstrap. Did I ever tell you about the time Brad Marchand hocked a loogey in the face of an old lady who was holding a door open for him? And then if that wasn't cool enough, he licked her face!! That was the kicker. Oh, man. You had to be there.
Anyway, back to Roman Polak. Now, when I said that it was some bad hockey juju, please keep in mind that I made that comment IMMEDIATELY after watching a grown man drive his head into the boards and then lay motionless on the ice like a lazy 4th line plug. I'll tell you one thing, Polak wouldn't cut it on the Bruins, buckaroo.
We don't reward that kind of lackadaisical effort here in Beantown. You break your neck, you better be ready to play the next shift buddy boy. But let's be honest Polak was lining up Wagner for a clean textbook hit, undoubtedly trying to remove the man from the puck.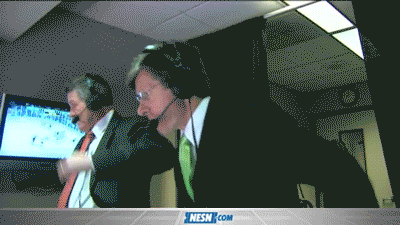 So ya, when I say that it's bad karma – it is! You don't do that. You don't take any pucks away from a Boston Bruin ever. That's some bush league crap they would try and get away with in Montreal or Toronto. Next, you're gonna try and tell me that Zdeno Chara ISN'T the greatest Bruins D-man to have ever tickled the twine. Pfft. Name a better Bruins Defenceman…ya buddy, you can't. Hit the bench stupid.
What's that sorry? No. That wasn't a shelter full of cats exploding, that was just me talking. Don't worry – happens all the time. Why just yesterday, a little boy came up to me and told me that he loves to listen to my broadcasts. Then his mother told me he was deaf. I was so honoured to have made a difference in that little boys life, even though he most likely was deaf because of some bad childhood karma. Sucks to suck kiddo!
But riddle me this you bunch of sour grapes. If what I said about Polak deserving to have his spine driven down into his kneecaps was so bad, then why am I getting so much love and support on Twitter?
Get this guy out of the @NHL. #JackEdwards is TERRIBLE for the sport. #NHL #Bruins @NHLBruins https://t.co/QF2VBZgz9m

— RyanSau15 (@RyanSau15) October 5, 2019
I have tremendous respect for the Bruin players that sent best wishes. All class. As for Jack Edwards, to say Roman's injury was "bad hockey karma" while he was laying on motionless on the ice, you are truly a piece of shit and an absolute disgrace. https://t.co/NiUyScZFW1

— Allan Walsh (@walsha) October 4, 2019
If there's actually such thing as "bad hockey karma", #JackEdwards broadcast booth will fall from the rafters and land on Brad Marchand and all the world will watch them bleed and struggle to death on live TV. #Bruins #Canucks #Karma

— Mike Kermode (@mikekermode) October 5, 2019
Suck on that you idiots. It's clear that the majority of the people out there are on #TeamJackEdwards, and why wouldn't they be. I call it like I see it. Polak was channelling some bad karma on that play and it finally caught up with him.
Just like when Karma caught up to Clint Malarchuk that one time. Rumour has it that ol' cheapskate Clint had tipped a waitress 15% instead of 20% the night previous to his little accident. Speaking of accidents. Remember the Fukushima nuclear meltdown caused by that big earthquake? You better believe that was karma. That was God saying stop sending us all of that piss-poor Sapporo beer. It's no Sam Adams, I can tell you that. Anyway, you hate to see it, but it happens.
Now if we're through here, I'm going to go have some 'me time' with a few Patrice Bergeron bobble-head dolls and some crab cakes.
This letter was intended as satire