The Toronto Maple Leafs are hoping Joe Thornton can turn back the clock this season and their head coach is sounding like he wants him to stay for a couple more.
The 41-year-old from a family of Maple Leaf fans received Patrick Marleau's approval to sign in Toronto, so it makes sense for Thornton to be playing with Marleau's kids.
Auston Matthews and Mitch Marner welcome Thornton on their line as head coach Sheldon Keefe loves what the trio can bring. Both Marner and Thornton are elite passers of the puck and Matthews will likely finish top-3 for the Rocket this season.
Coach Keefe may be on to something and he also thinks they'll be able to handle all 200-feet of the ice. Keefe spoke to the media recently to talk about what's surprised him:
One of the things that has really surprised me in this camp is watching Joe. We've done a ton of skating the first few days … and Joe is in the middle of the pack. He's not at the bottom. He's beating guys he's 20 years older than. People that don't watch him that much know that he plays a slow game. He's not as slow (as) you'd think.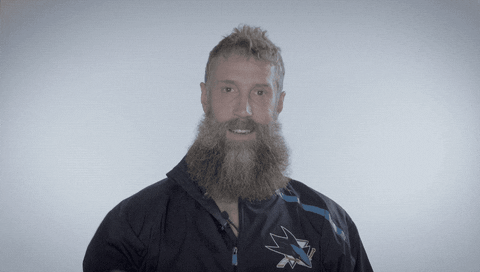 He's going to do his thing below the hash marks, and I've been up-front with him. We're going to give him a chance to see if this can work, acknowledging the fact those guys will play significant minutes and he won't be able to play that many. We're going to manage his offensive and defensive starts. You're still going to see Zach (Hyman) on that line. We're not just throwing Joe out there figuring he'll play 20-22 minutes. … This is what we want to give him a chance to do early on.
See Leafs Nation, Thornton isn't  going to play every single second with Matthews and Marner, Hyman is too good not to share. Plus the Leafs need to do their best to keep Thornton fresh for the playoffs.
Get ready for some excitement Leafs Nation. 34-16-97, your new favorite numbers.