The correct answer btw is "A shitload'.
My man ERIC FRANCIS from Sportsnet: At last word the NHLPA executive committee was mulling over okaying the aforementioned format, which would see the top four teams in each conference play one another for seeding, while teams ranked fifth-through-12th in each conference would have a best-of-five play in series to establish the top eight on each side. Would a modified system like that tarnish the integrity of winning the Stanley Cup, which is generally considered the hardest trophy in sports to win by virtue of its extended war of attrition?Fact is, such a format would actually be more onerous than that of the 1980s when 16 of the league's 21 teams opened the playoffs with a best-of-five series before finishing with four rounds of best of sevens.

The proposed format would also see four rounds of best of sevens, which would get (Brad) Treliving's approval.
When I read Eric's piece (which you should too,) I thought 'holy shit, that's going to be a lot of hockey.'  I'm not opposed to a lot of hockey and I'm not an NHL psycho but those psychos need to get ready to get permission to work from home for the next two months.
Let's do a little math.
If you have 24 teams playing a best of 5 (max) = 60 hockey games in two weeks.  Sixty. 6-0.
Followed by 12 series x best of 7 (max = is possible but unlikely 84 games in a little over two weeks.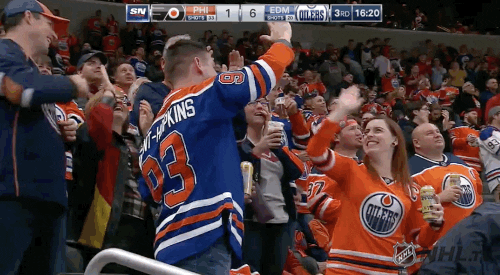 That is a fucking TON of hockey.
I'm not sure if this is confirmed yet but I thought the idea was to move to a march madness/European schedule by playing games at 1 pm, 4 pm, and 7 pm or SOMETHING along those lines (basically hockey all day almost every day.
I think it's incredible and people are gonna binge on the product so I hope the NHL uses this as an opportunity to A) light a fire in the US because they suck ass at supporting the sport and 2) highlight the fact Max Domi is getting to play playoff hockey for the first time despite his team winning 19 games in regulation this season.
*I realize there were no periods in that whole paragraph but the numbers count
I for one will be watching to see if the Leaf psychos can loosen the expectation surrounding this team now the 2020 Stanley cup is basically a pick-em.
Try not to choke on all the hockey. (if it happens and it's getting approved by the NHLPA this weekend so it looks like it's happening).
DB