As president Shanahan received his contract extension and Kyle Dubas leads the conversations with Mitch Marner's agent, I sit here pondering what happens next. What happens after Kyle Dubas delivers on his promise of signing everybody. We can and we will, right?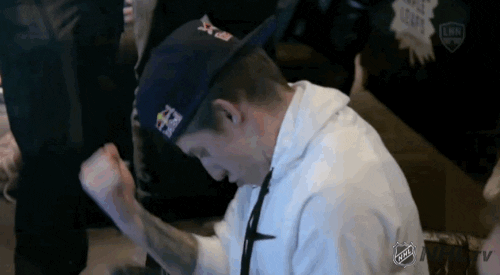 If you think Mitch Marner doesn't sign an extension with the Maple Leafs you need to donate your Leafs jersey to your local Value Village so Billy down the road can stumble across it before next season starts. He's coming back. And from there, let the games begin because money is tight, and decisions are going to be tough on who stays and who gets shipped overboard.
Regardless of who exactly is leaving, be it, Patty Marleau going back to California, Connor Brown heading to Edmonton or Nazem Kadri on his way to Columbus, the Maple Leafs are going to snoop around the value market of unrestricted free agents.
Expect to hear Dubas and company linked to the following:
1. Wayne Simmonds – word is the gritty winger who did nothing in Nashville wants to head back to Philly. If the Flyers can't work out a deal, Simmonds could end up in Blue and White.
2. Riley Sheahan – the 6'3 C would give the Leafs some depth down the middle and the Mike Babcock draft pick would be an upgrade to Freddie Gauthier at the 4 spot.
3. Michael Del Zotto – the latest guest on The Chirp with Daren Millard is a good Ontario boy, who could fill in for Travis Dermott while he rehabs after shoulder surgery. MDZ would provide the Leafs with an option for the bottom pairing, who can slide up your line up when need be. Expect the Maple Leafs back-end to look much different come the fall.
Some honourable mentions worth noting are the Wings' Niklas Kronwall, if he ever decides to leave Detroit, RHD journeyman Ben Lovejoy, RHD tough guy Adam McQuaid, ex-leaf Bryan Boyle, and big bodied Troy Brouwer.
With a top 6 forward group that includes John Tavares, Auston Matthews, Mitch Marner, William Nylander, Kasperi Kapanen and Andreas Johnsson, the Maple Leafs are in great shape heading into the 2019 season. Sure, 3 of these players need contracts, however, one deal is close, and the other two have limited leverage, so expect 'Kappy' and 'Mango' to sign once Marner is done.
I am as confident as I have ever been in the Maple Leafs management group as they prepare for an interesting offseason. The team has a variety of vital decisions to be made over the next several weeks which include kicking tires on the UFA market. You're only as good as your word and Kyle Dubas has done nothing but deliver on his.
In Duby We Trust, right Franchise?