The Toronto Maple Leafs opened training camp on Sunday and Leafs Nation is already freaking out over the news Joe Thornton will start on the first-line alongside Auston Matthews and Mitch Marner.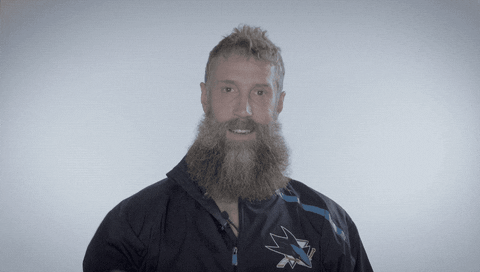 The news is certainly a bit of a shock considering the 41-year-old was hardly in the San Jose Sharks' top-six and the team was brutal. For the Leafs, they have some center depth with Matthews, John Tavares, Alexander Kerfoot and Jason Spezza, so this now answers the question how Spezza and Thornton were going to play together. Look for Spezza and Thornton to swap nights off on the back-end of back-to-backs. The over 40-club will be interesting to watch this season and head coach Sheldon Keefe will have his work cut out for him to keep both players fresh and healthy.
Auston Matthews on how Joe Thornton has looked in the time he has skated with him. pic.twitter.com/Vq2lOMawvO

— 𝐃𝐚𝐯𝐢𝐝 𝐀𝐥𝐭𝐞𝐫 (@dalter) January 3, 2021
It's great to see Matthews and Marner starting together, they should be playing together every single game, which wasn't always the case. Matthews has a chance to win the Rocket this year and Marner is looking to score more goals, so having Thornton feeding the kids makes a ton of sense the more you examine.
The training camp roster was released and the team is pretty deep at all positions so it will be interesting to see the internal competitions in camp over the course of the next ten days.
The squad 👊

Here's our roster for Training Camp Fuelled by @GatoradeCanada. #LeafsForever

📰 https://t.co/QErhOtTxbL pic.twitter.com/smlNsXmvcc

— Toronto Maple Leafs (@MapleLeafs) January 3, 2021
That's the thing with no preseason games and only a short time to get ready for the season, the coaching staff is going to play it safe with the lineup. This doesn't bode well for Nick Robertson and Rasmus Sandin but we'll see how they fair in camp. Robertson certainly has the leg up between the two youngsters to play more this season.
In ten days the season kicks off and god that feels good to type. It feels like forever since I watched a Leafs game and I can't wait to enjoy a little bit of 'normal'. Not having Cody Ceci and Kasperi Kapanen to yell at will also be a treat.
Can't wait and get ready for Maple Leafs coverage as good as any from the crew here.
Let's Go TO!