The Toronto Maple Leafs and Boston Bruins have enjoyed themselves a Jekyll and Hyde first two games, and Game Three tonight should bring forth a whole new character.
Speed and skill made the Bruins look old, slow, and rattled in Game One. Skill, quickness, and an upped size portion of nastiness left the Leafs battered, bruised, shorthanded and beaten after Game Two. It was a remarkable contrast between games, one that was caused by a combination of a sour Bruins squad and officials that let the teams play.
Toronto knew the former was a guarantee, now can they answer back? So we are clear, Nazem Kadri launched the first volley in his battle against Jake DeBrusk. Kadri's trip (slew foot) in the opening game did not go unnoticed by the Bruins' first-rounder. DeBrusk may produce more points than his dad, but there is more than enough Louie in Jake's game to make him nasty on the physical side. The payback was immediate and left one suspended and people wondering if the other should face his own discipline. Their individual battle has set the stage for the series. Kadri is gone and I have no doubt DeBrusk is hurting. They played hard and crossed the line.
If you thought for a second that DeBrusk was going to back down against the blue and white, you were wrong. In order to predict the future, start with the past.
Now the series moves to Toronto where Brad Marchand may not be the most boo'd Bruins' player at Scotiabank Arena. Actually, who am I kidding, Marchand will be the fans top target, but now he has company. Toronto hopes the series will be officiated tighter, that would allow an edge with either more room to operate or some more powerplay chances at the very least. But the Maple Leafs must also show this familiar opposition in the Bruins, that they have the ability to be successful on a muddy track.
Toronto and Boston join Vegas against San Jose as my favourite first-round series. Ironically, both met a year ago. I wonder if that has anything to do with it? Regardless, the Leafs have been pushed around and will now play minus Kadri. Coach Babcock experienced this last year, but he didn't have John Tavares in the lineup then. The Leafs are better positioned with personnel and should be able to use last years' experience to their advantage. Both teams have sent strong messages, now it's time for Game Three.
A race track, trenches, back yard, or the big stage, the onus is on the Leafs to take the reins, after all, it's pretty obvious Boston isn't going to hesitate.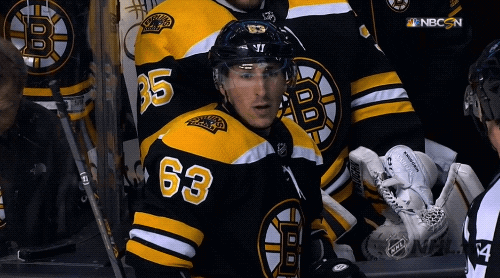 For the latest episode of The Chirp with Daren Millard, download from all the podcast platforms, or click right here for the latest episode with Jets' GM Kevin Cheveldayoff and Flames' GM Brad Treliving