The Nostalgia 9 will be a weekly post where I go back in time to uncover all of the things you wish you hadn't forgotten about from your past.  This is not necessarily a TOP 9, but more so just a collection of 9 things I hope you find as interesting as I do.  Gaming, music, film…I don't care.  As long as I have an excuse to write about the Attitude Era every couple of weeks, I'm in.  Feel free to hit me up on social media with suggestions for the next one!  Enjoy, dorks!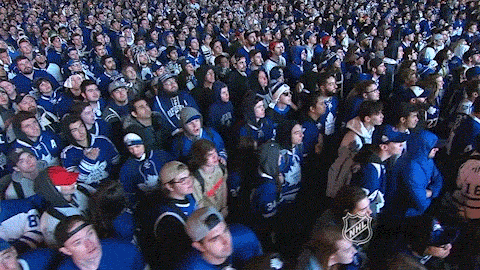 Are you ready?
For the second year in a row, the Leafs are facing the Bruins in the first round of the playoffs.  The main difference between this year and last?  Superstar centerman John Tavares comes to mind.  As do role players like Marcus Johansson and Charlie Coyle for the Bruins, and Jake Muzzin for the Leafs.  It takes all types of players working together towards a common goal in order to hoist Lord Stanley.  This list celebrates some unsung playoff heroes, some goons, some snipers and some random Leafs that I have fond memories of for one reason or another.  Go Leafs Go!
#9: Jonas Höglund – Right wing
I'm not sure why, but I always liked Jonas playing alongside Mats Sundin.  Having the two Swedish giants on the first line in the clutch-and-grab era was a formidable task for opponents.  Leafs faithful hated him because he disappeared in the playoffs, and after doing my research…holy shit they kinda had a point:
325 regular season games: 78 Goals, 184 points = .56 Ppg
49 playoff games: 6 goals, 17 Points = .35 ppg

#8: Sergei Berezin – left wing
Fraud accusations aside, Berezin was known during his time with the Leafs for losing his helmet on a regular basis due to keeping his chin strap so loose.  He should also be remembered for goals like this:
And this:
#7: Mike FOligno – Right wing
Remember this goal?
#6: nikolai borschevsky – Right wing
How about this one?
#5: Felix "The cat" potvin – Goalie
If you grew up in the 90's, Felix was the man.  If you don't remember collecting these as a kid, I'm so sorry for your loss.  Geek boner alert!
#4: Yanic perreault – centre
Having Yanic Perreault take a faceoff felt like a cheat code, and I don't mean just when you were playing NHL 2000.
He also had a knack for scoring timely goals, like this one here:
#3: Tie Domi – Right wing
Perhaps this is why Barnaby is so biased towards the blue and white:
#2: Darcy Tucker – Left wing
I figure I'll give Barnaby a break, as we'll probably meet one day and I would like to keep my million-dollar smile intact.  Tucker was a feisty leader for the Leafs and made his presence known every time he took the ice.  Listen to Darcy and the Unfiltered host relive their classic scrap, here:
#1: Steve "Stumpy" thomas – left wing
"Stumpy" played his first 3 seasons with the Leafs before playing for the Blackhawks, Islanders and Devils.  Thomas returned for another 3-season stint at the turn of the Willennium, I mean millennium, and won our hearts with plays like this:
So there you have it, 8 players who contributed to Maple Leafs playoff success…and Jonas Höglund.
See you tonight psychos!