Auston Matthews scored the biggest goal of his life Friday night in Boston and his number one fan could not have been more impressed. Patty Marleau was so impressed he's now wearing his limited edition Auston Matthews hoodie. The #34 Booster Club is alive and well.
Matthews broke a scoreless tie on the road in Game 5 as his snipe in the 3rd period helped propel the Leafs to a 3-2 series lead over their bitter rivals from Beantown. It wasn't all roses for the kid, as the opening goal was reviewed by the league. Nothing new for a Matthews tally to be questioned but it was eventually determined to be a legal move from Zach Hyman in front.
Leafs Nation got to celebrate twice!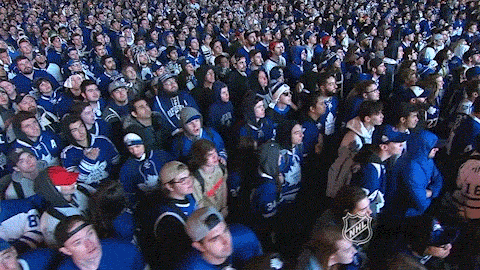 Confirmed, Patty's a BIG @AM34's guy.

You know, gotta support your kids. 😂 #StanleyCup Confidential pic.twitter.com/NJ73U13fMd

— NHL (@NHL) April 20, 2019
What a win for the boys in blue as the Leafs saved their best 60 minutes of the year for the most important game of their season. Matthews snipe was off a dirty pass from Jake Muzzin, then Kappy finished off a crisp feed from Andreas Johnsson, which turned out to be the game winner. Talk about waking up, Kappy was in beast mode all night in Game 5, which was exactly what his team needed.
The Maple Leafs have a chance to close it out on home ice as tomorrow's matinee sets up to be quite the event at Scotiabank Arena. If you are heading down for the game, please bring your outside voice, inside.
It certainly feels like Auston Matthews is going to carry the load once again, as 'The Franchise' looks untouchable. But let's be honest, even if you wanted to touch him, there's a chance Patty Marleau wouldn't let you get close enough.
That win was for Luna:
Auston: "Alright Muzz, that one's for Luna". This is so wholesome pic.twitter.com/1zgnX4zD34

— juno (@junotheleafs) April 20, 2019