Mitch Marner, his infamous dad Paul, and his agent Darren Ferris have one message for the Maple Leafs and Kyle Dubas – SHOW ME THE MONEY!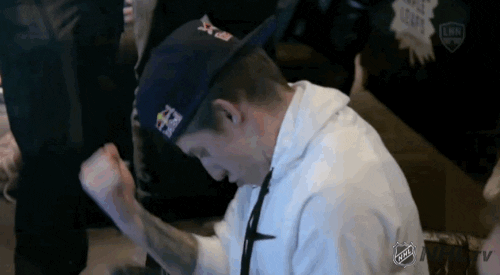 It's been widely speculated, almost to an exhausting level, on how the talks are going with the Maple Leafs and if Marner is actually seeking over $11 million per season. Guess what, only Marner knows exactly what he wants, so stop trying to soak in the gravy train, you're making yourself look bad. The talks have been as private as they come, we're talking almost at a Kawhi-level.
Great photobomb from the little man on the right, and not Mitch, I mean the kid in the Blue Jays cap.
Nobody knows if Marner believes he's worth Matthews money because Mitch hasn't come public once about any of his demands. The Maple Leafs know they need to get creative to make this work, so anything is on the table as we speak. Short term deals, long term deals, and the potential of making another big trade to free up a few bucks, although unlikely and here's why.
Once Nathan Horton is placed on LTIR, his $5.3 million dollar deal 'off the books' gives the Leafs roughly $9,065,031 in cap space. That's enough to sign Marner and increase his AAV year over year from there. It's not a matter of IF it's a matter of WHEN. Mitch Marner will be a Toronto Maple Leaf for a very long time. Fill your damn boots with it if you choose.
Lastly, for all the members of Leafs Nation who have done nothing but throw eggs at the kid and his Dad over the business of the sport, take a lap. Nobody cares about your flux of emotions as you go from the edge of your seat during the season where the kid puts up almost 100 points to then standing in the peanut gallery blasting away cause you're pissed Marner is going through a process which is a major component of sports.
Contract negotiations.
They bring out true colours faster than a life and death emergency and it appears half of Leafs Nation is showing theirs while Marner is ready to remind people his colours are and always will be, Blue and White.
Sure looks like Mitch hates his teammates and never wants to play in Toronto again….Smell ya.
Word is Bill played Benny and the Jets after this photo and dedicated it to Mitch. #LeafsForever pic.twitter.com/jH5rHZZlJA

— Shug McSween (@ShugMcSween) July 6, 2019
Which was more impressive: the 360 or the dance moves? 🤣 (🎥 @Marner93) pic.twitter.com/grDYaXZbLb

— NHL (@NHL) July 8, 2019