Auston Matthews has some silky mitts and they were front and centre at Leafs practice in Vancouver. Matthews, who loves to try out new moves on his own teammates to get the stamp of approval for the game, displayed his extremely talented hand-eye coordination and his teammates were left speechless. Before Matthews got injured in late October, he was on pace for roughly 76 goals and over 140 points. It would have been a storybook season for the 21-year-old franchise player, but even with the frustrating start, he's been able to light the lamp consistently throughout the year. After the Maple Leafs 6-2 thumping of the Flames, Matthews currently sits at 60 points in 52 games, and even though his numbers won't necessarily be where he wants them to be, because of the games missed, he is still on pace for a career year.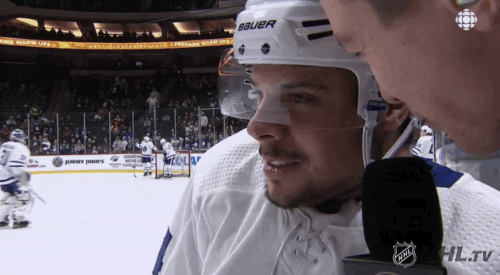 The Maple Leafs franchise player has some of the softest hands in the league and can pull off moves in games, that some fans even miss, because of how fast he lifts a stick and retrieves a puck, or how he's able to thread needles like your neighbourhood grandmother who loves to sew for everyone on the block. From the overtime goal in Buffalo to the gesture at the All-Star game, Matthews will leave you nothing short of entertained, every time he touches the ice.
Even in practice…….
Warning – you will need to watch this 5 times to wrap your head around what just happened:
Off the glass and out of the air by @AM34. #LeafsForever pic.twitter.com/L1x3yntWjS

— Toronto Maple Leafs (@MapleLeafs) March 5, 2019
Saying the Maple Leafs won the lottery, is both factual and an understatement when it comes to Auston Matthews. He's 21 years old, already over 100 goals, and ready to take the Leafs deep into the playoffs. With moves like that, he may need to pick up his teammate's jaws off the ice before they drop the puck Wednesday in Van City.