When Mike Babcock starts walking down the tunnel before the game is even finished, you know it's been a good night for the Maple Leafs.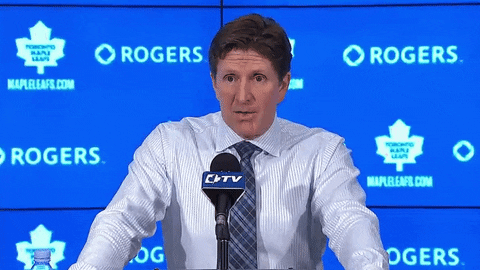 John Tavares got the ball rolling early in the second period with his 31st of the year. JT is on pace for a career-high in snipes and considering all the pressure that came along with the process of his decision, that's quite impressive. Andreas Johnsson had a huge night with a 2 and 2 performance. Once Tyler Ennis returns to the lineup it appears that Par Lindholm or the Goat will be the odd man out as Johnsson has been solid as of late.
The story of the game was the sequence by Jake Muzzin late in the 2nd period. A huge hit on Corey Perry, discipline on display not to retaliate on a cross-check received from Nick Ritchie, drawing a penalty, to then clap one home on the power play with only 2.2 seconds left in the period. Muzzin has been everything as advertised early on into his Leafs tenure, chalk another smart move up for Kyle Dubas.
In 'Duby' we trust, enjoy the show kids.