The Maple Leafs were suited up in their lovely greens Friday night to honour St Paddy's Day and William Nylander used the night to honor every single one of his critics. Haters gonna hate, nothing he can do about that, but one thing he can control is his jaw-dropping ability to make plays like the pass he made to Auston Matthews. Bill in one magical play displayed his strength, balance, vision, effort level, hands, IQ, and chemistry with AM34. Talk about killing two birds with one stone.
Once he arrived in Leaf Land, it took 'Bill Ny'  a few weeks to pick up to the pace of play. To say he started slow is a bit of an understatement, it was very very slow. It was like pouring molasses in the winter.
It wasn't what he wanted of course, or the Maple Leafs for that matter, however, the slow start was to be expected. Nothing compares to playing with NHL class talent and Bill was missing out on the fun for months. A contract dispute isn't fun for anyone involved. How it dragged longer than expected, wasn't an outcome either side wanted but, in the end, everyone was happy with the result.
One guy who was happy to have Nylander back in the fold is Auston Matthews. And, now that Mike Babcock has finally reunited the dynamic duo, the sky is the limit for the duo who have the potential to one day become the new-age Selanne and Kariya. Also, it's kinda funny how Nylander and Kapanen are connected in all of this. One's absence is the other's opportunity.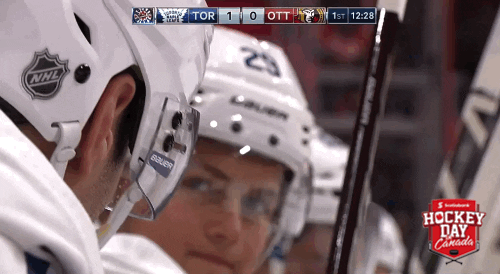 Once Nylander arrived in Leaf Land everyone and their mother started throwing eggs.  Sure, it took him a month or so to get his legs, but again, what's wrong with that? He didn't sign a 6-week contract, he signed a 312-week contract. Why even worry about this year? Worry about him chipping in with some scoring in the playoffs and let him carry on his development curve once training camp opens next season. 61 points both of his last two seasons, and since the Maple Leafs are likely headed for the postseason every year for the next several, all Leafs Nation should be worried about is that he becomes a solid playoff performer whose skill-level gives other teams fits. Stop worrying about what he didn't do the first few weeks he came back after missing several months of NHL action.
The Maple Leafs showed their character on Friday night, not only from the shiny green uni's but more so the fact they battled back and stole two points from the Flyers. William Nylander was no different, as this one sequence should shut up anyone who chirps 'Bill Ny' over being too soft to produce. Watch closely – fends off the D, one-handed dangle, falling down tape-to-tape backhand pass.
By the way, the D-Man was no slouch as Robert Hagg is 6'2, 204lbs, and has 238 hits this year. William Nylander flexed on Hagg last night and he flexed on every single one of his critics.