Leafs Nation frustration for Mike Babcock has surfaced almost since day one and things are only getting worse for our $10M/year coach.
Last year it was Matthews not getting enough minutes on the power-play.
Then it was Bab's inability or refusal to make in-game adjustments to secure the win against the Buds' playoffs foes the Bruins:
I.e.
1). Rotating all 4 lines normally in the final 10 minutes of game 7 when trailing.
2). Playing an injured Zack Hyman on the Tavares/Marner line instead of throwing Matthews (the best player for the Leafs in that series) up on that line, or at the very least Trevor Moore who had a real spark in game 7.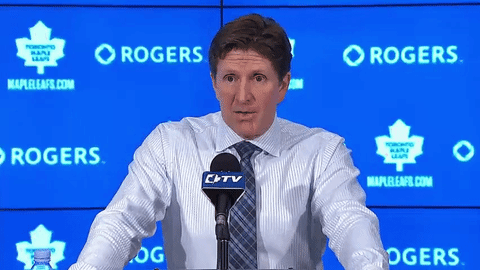 So far this season it's been Babcock's petty benching of veteran Jason Spezza, who took less money than he could've gotten to play here in his hometown, at Scotiabank arena, in the inaugural game of the season, against the team that drafted him.
Yesterday Babcock said of the Tampa Bay Lightning's top line prior to puck drop that,
"There's too much skill on that line.  I like to have a grinder with a pair of skilled guys, someone to go get the puck for those guys.  I think that line (Lightning's top line) has too much quality talent, and maybe there's not enough puck to go around for everyone."
Well, the Lightning's top line proved that Babcock has no idea what he's talking about by combining for 11 points between the three of them.  Steven Stamkos had a goal and three assists, The reigning Hart trophy/Art Ross winner Nikita Kucherov had two goals and two assists, and Brayden Point finished with two goals and one assist in his return to the lineup.
Looks like there was plenty of puck to go around for those guys last night Mike Babcock, you Willem Dafoe-looking, Green Goblin, know-it-all bafoon!
How about another one of Gonzo's BOLD predictions:
Mike Bab-CUCK gets canned by American Thanksgiving!!!
Dave Hakstol or Sheldon Keefe gets the gig, and the Leafs win their first playoff series since 2004