@RickCarpiniello – funny story from last night's game. Guy sitting next to penalty box was lighting up Sid all game with some fantastic chirps. A trainer delivered this to him after the final buzzer. pic.twitter.com/4DZf9ZtlxF

— MG35 (@pickledotcom) January 3, 2019
Have you ever chirped an athlete so good they gave you props?
That's a Drew Doughty, as this does not happen a lot in sports. Professional athletes hate being chirped, am I right Kevin Durant?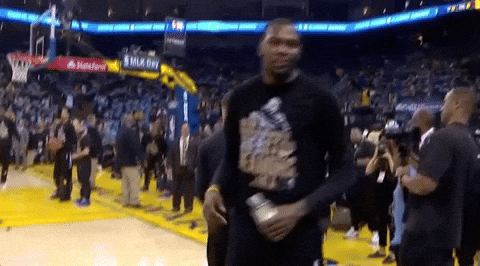 I remember attending a Raptors game and my buddy chirped Eric Snow of the Sixers so bad in shootaround that Snow challenged him to a one-on-one game, which the security guard wouldn't allow. My buddy would have laid a smackdown too.  I once sat right behind John Gibbons and the KC Royals at a Spring Training game, and the Royals 2nd basemen booted the ball in the 1st inning. I went on to chirp him that Aaron Hill would have made that look routine, Gibby loved it so much he fed us snacks all game and took a pic with us after the game.
Have to wonder what this fan was saying to actually get Sid's attention, as Sid from afar, appears to be one player who is so intense and focused on the ice, he wouldn't pay attention to shit like this.
Cindy Crosby? That's the best I got, which Sid can easily respond to that he can't hear me because his Stanley Cup rings are pluggin' his ear'.
Where is Barnaby when you need him?
ICYMI – you can read Bam Bam's best chirps here.
Speaking of chirps, this gentleman goes by the handle NELK, and he is the king of chirps. Check out his piece as he attends a local arena and chirps some fellas who are full of the most pride in the building – hockey dads.