Scott Sabourin colliding with David Backes. Sabourin was knocked out cold. Scary stuff. pic.twitter.com/VEzjcmPKaV

— Flintor (@TheFlintor) November 2, 2019

Welcome to CTE, Scott. Jesus.

I'm not sure I've seen a hit where the guy who's delivering gets KO'd, goes tabletop and lifeless like that before a 4-foot face plant. David Backes is a goddamned rock.
And BTW he felt TERRIBLE for Scott.
Really scary scene in Boston as Scott Sabourin appears to lose consciousness after colliding with David Backes pic.twitter.com/fwzS2Bv9r1

— Brady Trettenero (@BradyTrett) November 2, 2019

I feel for Scott. After toiling in the minors for 5 years, people we just getting to know him.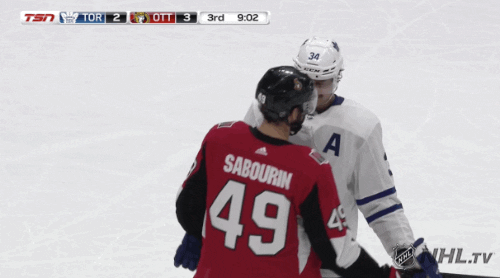 He was stretchered off and gave us the old thumbs up.  I feel for Backers too who was visibly upset after the hit.  That's the beauty of the NHL and the players in the game especially throwbacks like Backes.
T's and P's Scott.  You may be part of Leaf Meme's history, but no one likes to see this.
God Speed.