The Nostalgia 9  is a weekly post where I go back in time to uncover all of the things you wish you hadn't forgotten about from your past.  This is not necessarily a TOP 9, but more so just a collection of 9 things I hope you find as interesting as I do.  Gaming, music, film…I don't care.  As long as I have an excuse to write about the Attitude Era every couple of weeks, I'm in.  Feel free to hit me up on social media with suggestions for the next one!  Enjoy, dorks!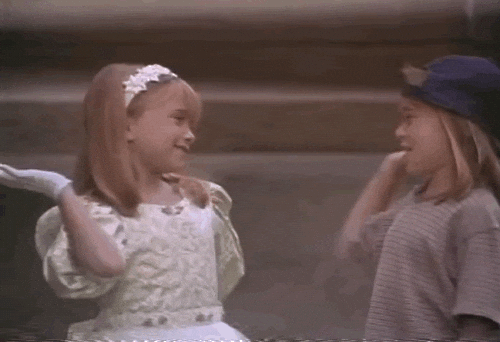 Ladies and gentleman, the so-called "Superteam" era is officially over.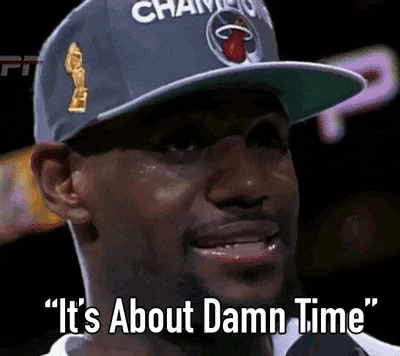 Kevin Durant's Achilles and Klay Thompson's ACL will never be the same, and neither will the NBA after the craziest summer in NBA history in regards to player movement.  And while a lot of star players are still teaming up together, there is a distinct difference in the way talent is being distributed on the average title-contending NBA roster.  Kawhi Leonard reminded the world how fun basketball can be when you don't already know who's going to win it all before the season has even started, and with the dismantling of the Monstars – I mean the Warriors, this upcoming NBA season has as many questions, as it does answers.
Teams with 3, 4, or even 5 current All-Star caliber players is a thing of the past- at least for now, and there are a number of exciting twosomes that have formed this offseason, which has given the league a fresh new look:
Kevin Durant and Kyrie Irving
Russell Westbrook and James Harden
Paul George and Kawhi Leonard
Lebron James and Anthony Davis
Not to mention some of the duos who already have made the playoffs and figure to have continued success this upcoming season:
Nikola Jokic and Jamal Murray
Damian Lillard and CJ McCollum
DeMar DeRozan and LaMarcus Aldridge
Giannis Antetokounmpo and Khris Middleton 
It reminds me of a lot of all the great duos that played together during the 1990s, including many that were playable characters in the popular video game NBA Jam.  And with that being said, here are 9 dynamic duos of the 1990s:
#9: John Stockton and Karl Malone – Utah jazz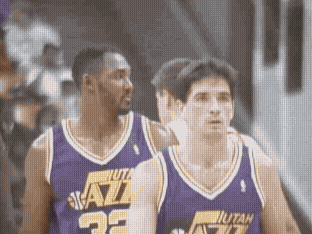 Stockton and Malone were like peanut butter and jelly.  Their games went together seamlessly as they ran the pick and roll with insane efficiency.  Both Stockton and Malone's numbers look gaudy even against today's standards where every team gets more possessions due to the high pace the game is played at now.  Like many great teams from their era, the Jazz were ultimately defeated by the Bulls in back-to-back seasons in the NBA Finals.  Safe to say had it not been for Jordan and Scottie, there's a damn good chance they are 2-time NBA Champions.
#8: Michael Jordan and Scottie Pippen – Chicago bulls

Speak of the devil, do I really need to explain how great these 2 were together?  Jordan and Pippen are responsible for more broken hearts than *NSYNC and Backstreet Boys COMBINED.  Their hit list of great players and teams that were denied the privilege of telling their grandkids about how they won an NBA Championship is massive and depressing.  But also kinda awesome.
#7: Shawn Kemp and Gary Payton – Seattle supersonics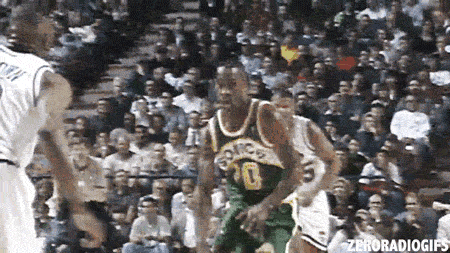 Another one of the Bull's Finals victims, Gary Payton and Shawn Kemp terrorized the league with their attitude and ferocity on the court.  If you were a fan of the "Lob City" Clippers from a few years ago, you would have loved the 90s Sonics.
#6: Alonzo mourning and Tim Hardaway – miami heat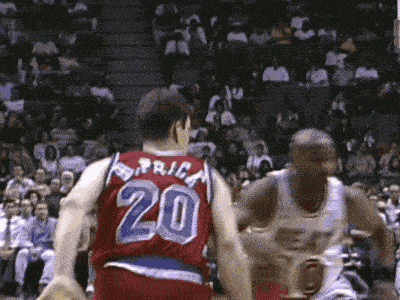 The Heat and Knicks were entangled in a fierce rivalry during the late 90s that included 4 years in a row of meeting in the playoffs.  Highlights from those series include late-game heroics, bench-clearing brawls, and Jeff Van Gundy holding onto Alonzo Mourning's leg for dear life…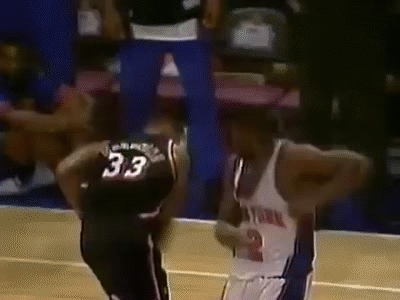 Sometimes the drama overshadowed the games, but when it came to game time, Hardaway and Mourning were 2 of the best.  Hardaway would cross em' over and Zo would throw down slam dunks (and haymakers.)  The Bulls also proved to be a thorn in the side of these 2 and the rest of the Heat, as the Bulls eliminated them from contention in back-to-back seasons with the second coming in the Conference Finals.
#5: Patrick Ewing and John Starks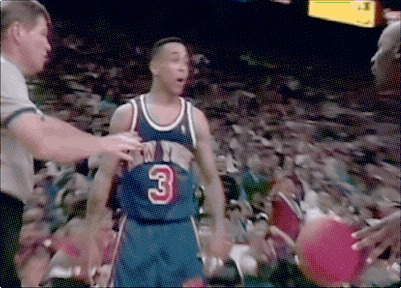 Those damn Bulls are intertwined with literally every great team from this era, the prestigious New York Knicks franchise being no exception.  The Knicks and Bulls saw each other 5 times in the playoff during the 1990s and had their fair share of on-court fights, so the Knicks beefed with basically everyone in the 90s.  Patrick Ewing was a menacing force down low and is criminally underrated at this point, mostly due to his lack of a ring, but that's nonsense.
Ewing has 9 consecutive seasons averaging at least 20 points, 10 rebounds and 2 blocks per game.  You know how many other guys have done that?  Just one.  Hakeem "The Dream" Olajuwon.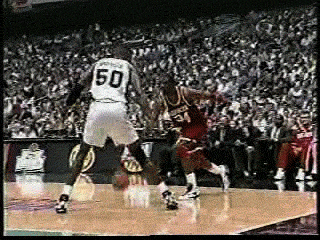 John Starks doesn't have half the resume that Ewing does, but he had heaps of swagger and wasn't afraid of trying to dunk on anyone, including his own teammate Patrick Ewing, which is how he came to be an NBA player:
#4: Shaquille O'Neal and Penny Hardaway – Orlando Magic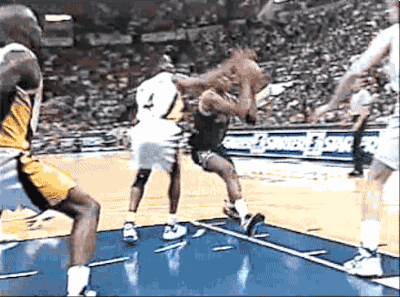 In case you lived under a rock, the Orlando Magic were the coolest team of the 90s.  With their pinstripe black and white (and sometimes blue) jerseys, and two of the most talented prospects the league had seen in years, the Magic were supposed to have multiple banners in the rafters by now.  Some blown free throws by Nick Anderson and a low-ball offer from the Magic in free agency made sure that never happened.  At least we have the memories.
#3: Glenn Robinson and Ray Allen – Milwaukee Bucks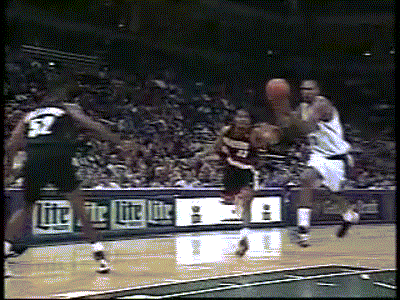 What?  You don't have love for the Big Dog Glenn Robinson?  That's a shame because he and Ray Allen were formed a 1-2 punch that…well…I do remember them beating the Raptors a lot, but that's essentially it.  Ray Allen went on to have a hall-of-fame career while Robinson's career was cut short due to injuries.  Also, shout out to Vin Baker, who formed the original 1-2 punch of the Bucks in the 1990s with Mr. Robinson.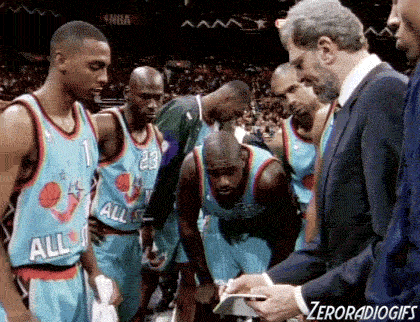 (That's him in the green and purple jacket)
#2: Tim Duncan and David Robinson – San Antonio Spurs
When the San Antonio Spurs had the great fortune of drafting Tim Duncan to pair alongside David Robinson, the Spurs quickly established themselves as a team to reckon with heading into the new millennium.  Robinson and Duncan represent the last time a team that was centered around two big men won a championship.
#1: Damon Stoudamire and Zan Tabak
Look at that teamwork!  Look, I realize that Tracy Murray and Oliver Miller put up more points, but the real heart and soul of the Raptors, was Damon and Zan!
See ya next week.
ZAAAAAAAAAN TABAAAAAAAAAAAK!