And the man deserves every, single, penny.
Fred VanVleet has agreed to a four-year, $85M deal to re-sign with the Toronto Raptors, agent Brian Jungreis of @ParLay_SE told @TheAthleticNBA @Stadium.

— Shams Charania (@ShamsCharania) November 21, 2020
And this money bag emoji flex Tweet/RT of his 'Bet On Yourself' Tweet was an absolute power Tweet.
— Fred VanVleet (@FredVanVleet) November 21, 2020

That's $21.25 million a yer to continue to develop into the elite QB of this team post Kyle Lowry.
Fred became one of my all time Raps the year they won.  Fred was such a massive part of their post season run and his face after hitting that dagger late in game six is permanently seared into my Raptors championship run memory bank.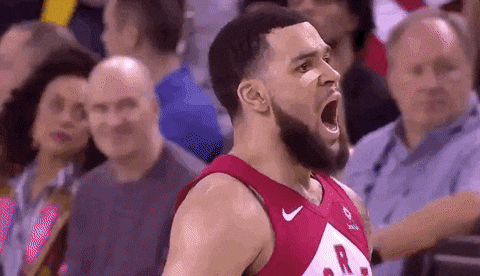 I have always loved athletes like Freddy.  They have this innate ability to tune out the world along with a singular focus on their craft due to a quiet confidence with zero excuses along the way.
Freddy's being rewarded for betting on himself but he's also been a BARGAIN so let's consider some of this dough back pay for a championship.  A bonus for being a model of professional development and bastion of how to conduct yourself in the NBA.
At 26, he's become part of the fabric of this city because he just flat out gets better every single year while managing to be a tremendous citizen/ambassador/example.
Fans won't blink at Fred's new found wealth.  At least I won't.  His wasted draft party speech after going underrated remains one of the great premonitions in sports history.  Like if Rudy Ruettiger was black and played basketball at Wichita State, before becoming and elite NBA point guard and NBA Champion.
If you have't seen this video yet, Freddy's 100 mil makes it that much more incredible.
Get paid, young man.  Get paid.