Here is Zack Greinke's entire press conference. It lasted 2 minutes. pic.twitter.com/ZMtZ9oRwr1

— SNY (@SNYtv) October 11, 2019
Before you crap on the man know he's been diagnosed with and is medicated for severe social anxiety disorder.
Source: "I don't really think about it ever anymore," Greinke said. "It never really bothered me on the mound."

Greinke said he had the problem since high school, and it only got worse the better he got with baseball. But he didn't know another way.

"The thing that I was always worried about was that went I went home in the offseason I didn't want to be followed around everywhere I go," Greinke said. "When it's all you ever knew, it seems normal I guess."

The anxiety for Greinke came to a head in the spring of 2006, when he left Royals camp. "It was like having anxiety every day," he said.

Greinke said he thought about quitting baseball. That's when Greinke was diagnosed with social anxiety disorder.

"In life you have to do things you don't want to do, but I was raised to do what you enjoy doing, whether you are making several hundreds of thousands of dollars per year, or $30,000 per year," Greinke said. "That was my thought, why am I putting myself through torture when I didn't really want to do it?. I mean, I enjoyed playing but everything else that went with it I didn't."
The closest word I can use to properly try to describe anxiety is 'worry'.  At least that's what it was called when I was a kid.  I worried about everything.  I worried about dying in my sleep and my parents dying in their sleep.  I worried about my dad coming home if he was pissed off or I did something that day I thought he might find out about.  I worried about my kids so much it broke me and still sometimes does.  I can't tell you where it comes from but I can tell you it sucks ASS to deal with. That's why people prefer to 'preform'.  They control that area of their life and that's home.
When you experience failure in your adult years it can be crippling.  Enough to make a guy like Greinke wanna retire.  He did 10 years ago before getting help.  Now he makes 31 million a year playing baseball and he's on the verge of winning the World Series.  He just hates doing shit like this.  Good trade if you ask some.
I can tell you right now what's going through Greinke's brain in every frame. "I'm fucking ready to kill someone right now, for some reason I can't explain and I hate this ball of anger in my chest so let's get this over with, stat."
That last frame is 'Sorry guys, whish I was capable of giving you more; don't take it personally.'
Anxiety is born of fear, fear is usually of something unknown or out of your control.  We fixate on worry and fear, run from resolving that fear and in most cases that fear becomes anxiety.  At least that's how I was and still am to an extent.  That's why I drank which makes it a BAZILLION times worse.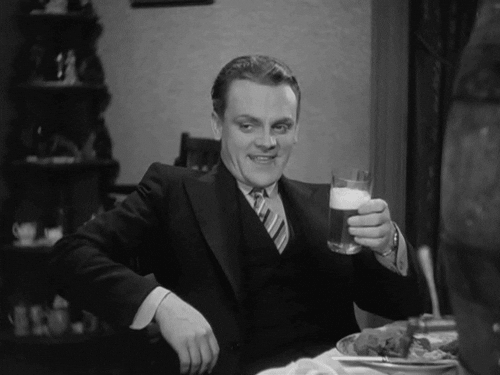 Dopamine is a neurotransmitter that makes you feel good.  Booze and street drugs make your brain produce massive amounts of the stuff.  Those levels drop and your body doesn't produce em when you're wasted and the next day, your crash.  The Booze Blues.
Explaining the psychopathology behind anxiety wasn't what I had planned for my Friday night but I promised myself when I started this blog I wouldn't be a selfish knob about sharing and normalizing my experience for others.
I've seen a ton of tweet taking steaming hot self-righteous dumps on Zack Greinke for being a 'Loser' or 'Weirdo' he deals with it with a prescription and doesn't shit on you for being fat, or lazy, or more importantly, stupid.
If you hate going to parties, you're not weird.
If you're uncomfortable being the center of attention, it's normal.
If you think there's something wrong with you, there probably isn't.
And when you can't regulate that thinking you need help understanding the feeling.
I'm on a pill a day.  I meditate and do a bucket full of therapy to understand me.  I bring fear close to get it instead of running away from it.  Time and accountability are undefeated and you'll end up losing anyway so I surrender to inevitability.
I don't care if I get beat up for being "soft". I've suffered from anxiety and depression for years now, and I'll defend Zack Greinke to the end of time. He shouldn't be forced to try and give long, articulate answers to questions he is clinically proven to be unable to answer!

— Spooky SZN Fuzzy 🎃👻🧟‍♂️🧛🏼‍♂️ (@fuzzyfromyt) October 11, 2019
I'm actually pleased with the response I've seen on SM about Greinke's presser.
Here's a question; If people in an office setting get special consideration for their illness, why can't Greinke skip these press conferences.  Seriously, Rob Manfred.  Get the fucking net and realize this is a shitty thing to do to a human being who clinically and psychologically not supposed to do press conferences.  He takes medication to navigate life so this, to me, seems like it should be on a list the commish keeps in his back pocket for humanity's sake.  Just because it's the right thing to do.
Why is he subjected to this, @MLB? What can he possibly say that makes you think we absolutely need to hear him before he pitches?

Also, everyone in here bashing the guy, get a freaking grip.

— Techno Gatsby (@Daoish8) October 11, 2019
'Remember, everyone you meet is fighting a battle you can't see, so be kind.'
It's one of my faves.  Sometimes I add 'Unless they asked for it and they are an undisputed bag of shit'.
It's the best I can do.