After the horendous summer the Toronto Blue Jays put its endearing fans through, I could not wait any longer for some new meaningful sports to take its place. All of those lonely Sunday's, not knowing what to do with my time. The NFL season could not have arrived at a better time.
There's a shit ton that happened week one, and I'm here to give you a recap of a few key games, what fantasy implications certain issues will bring, and a quick power rankings because fuck it. If you make it with me until the end, I'll leave you with a nice gift.
Without further adieu, let's begin.
Kansas City Chiefs vs. New England Patriots
The NFL graced us with a beauty of a game Thursday night, and I for one could not have asked for more. This game had controversy, back and forth scoring, and a Patriots choke right at the end. Where are all the Pats fans that said "16-0! 16-0! We will run this league!" So glad I don't have to hear about that shit anymore. Well done Chiefs, you 'deflated' this pipe dream before it even started. Hahaha, get it? Cause Brady cheated?! Dad joke of the day, share that one with your buds.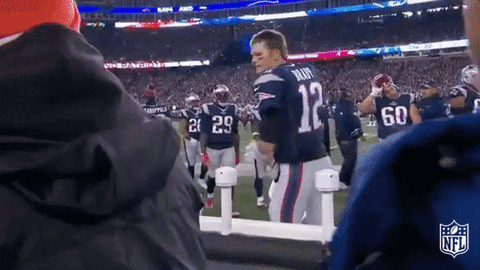 On the other side of the field, Kareem Hunt and Alex Smith looked unstoppable. There are always some draft regrets come the conclusion of week one of the NFL season. Mine was that I passed on Hunt. Kid looks poised and ready to lead this Chiefs squad. Yeah I know I fucked up, roast me in the comments.
Side note: If Alex Smith is still available in your fantasy leagues and you need a solid QB2, grab him now. This guy made the Pats D look limp.
Indianapolis Colts vs Los Angeles Rams
I want to make something very clear. The Rams are NOT a good team. They are still some ways off. But holy shit did they ever demolish the Colts. I don't understand how a guy like Scott Tolzien has a job over Colin Kaepernick. I guess teams would rather take fat L's than deal with his "distractions", but I digress. Conversation for another time.
Here's a live look-in at the Colts locker room without Andrew Luck: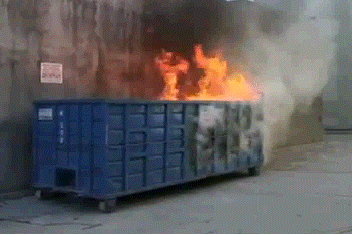 First Manning, and now Luck. I don't remember a team ever being so dependent on QB's in my life. Colts fans better hope that they get 'lucky' and get Luck back ASAP, otherwise it's going to be a long and painful season.
Goff looked like God out there, and while he may have a better year than last (that's not saying much…), I still wouldn't trust him. Just played a shitty excuse for a team in the Colts. Maybe the Rams are just a better team without that loser Jeff Fisher at the helm? What a concept. Also, did you see the turnout for the SEASON OPENER in LA? I'm pretty sure I had more people turn out for my birthday last year than this crowd (I have an Italian family, so now you understand).
Rams announce 60,128 paid attendance. Crowd more sparse than that, but it'll change if they keep playing like this. pic.twitter.com/h8GshWiDiK

— Alden Gonzalez (@Alden_Gonzalez) September 10, 2017
Embarrassing. Especially when tickets were as low as $6. Give your head a shake NFL. Los Angeles relocations are doomed. RIP Rams and Chargers.
Baltimore Ravens vs Cincinnati Bengals
Disclaimer: I couldn't give a shit about either of these teams. Saying this, the Bengals got humiliated at home against the Ravens. Why did I not like this result? I have AJ Green in my long-time keeper fantasy league. Dalton has been the bane of my existence for years.
This guy is pure junk, yet time and time again the Bengals put their idiotic faith in this guy to get the job done.
ZERO POINTS. AT HOME. WAKE UP CINCY.
In the same breath, kudos to the Ravens D. They stood up strong and smothered Dalton, Green and the run game. Still think Flacco is the most overpaid player in the league, but if they keep putting up W's it doesn't really matter I guess. Keep tabs on the Ravens this year as they look to disrupt the Steelers claim to the AFC North.
Power Rankings
Alright, let's give this a go…
1. Green Bay Packers (1-0)
The Pack did a great job neutralizing the Seahawks on both sides of the field. Aaron Rodgers shows that he will probably win another MVP, as he continues to carry this team on his back and pick up right where they left off from last year.
2. Pittsburgh Steelers (1-0)
The whole NFL universe thought that the Steelers would have their way with the Browns, but with Bell having a terrible game by his standards, Steelers fans were caught sitting in a tiny pool of sweat, stuck to their fake leather couches. Nobody expects Bell to have another game like that this season, so combine that with a fuego Brown and you got the killer B's back.
3. Dallas Cowboys (1-0)
Dak and Zeke don't seem to have any sophomore slump. Dominated an OBJ-less Giants, but a good Giants team nonetheless. Look for them to keep eating all year long.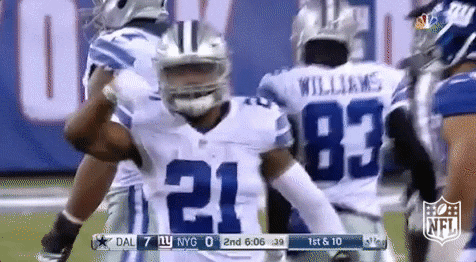 4. Kansas City Chiefs (1-0)
The Chiefs blew me away on Thursday, and they would have been higher on my list, maybe even number 1, but they lost Eric Berry for what appears to be the season, and that's a massive blow.
5. Oakland Raiders (1-0)
Carr is showing why he deserves those fat stacks. With a good WR core, a solid D and Beast Mode running the back field, look for these guys to be a sneaky Super Bowl contender.
6. Atlanta Falcons (1-0)
I really don't know what to say here…28-3? Good solid game from the Falcons, with Ryan leading the charge once again.
7. New England Patriots (0-1)
Yeah most other lists have the Pats higher. But I'm not most other lists. The Pats did the unthinkable and choked. I can't have chokers even sniffing the top 5 of my power rankings list.
8. Minnesota Vikings (1-0)
This team surprised me the most this week. The Vikings seem to have revamped their O-line for the better, and if they can keep protecting Bradford like they did week 1, he might just be worth that first round pick after all. Also, peep Dalvin Cook. Great rookie debut. AP who?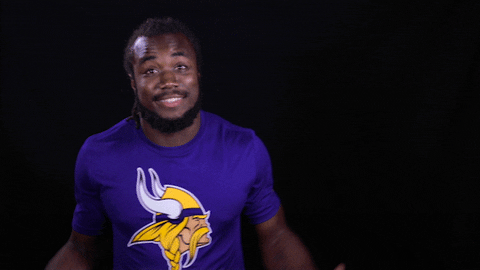 9. Seattle Seahawks (0-1)
A really good team with a tough loss. A couple of bounces and calls go the other way, and it could be a 1-0 record instead of 0-1. Russell Wilson shouldn't be that bad again all year, and with a healthy Rawls in the backfield against the 49ers, look for them to get back to .500.
10. Detroit Lions (1-0)
Even at home, the Lions were not favoured by Vegas lines to beat the Cardinals. Stafford shows why he's a valuable QB (one of the most underrated in the league in my opinion) and threw for just under 300 yards with 4 TD's. Efficient.
11. Baltimore Ravens (1-0)
Like I mentioned above, they absolutely man-handled the Bengals in the season opener on the road. Shutting out a home team that has weapons like AJ Green is not something that should be overlooked. Flacco is an early MVP candidate with an impressive stat line of 9 of 17 for 121 yards and a TD. Those are Tebow-esque numbers baby.
12. Denver Broncos (1-0)
I was prepared to have the Broncos in my top 10, but they let the Chargers make a game out of something that should have been sealed in the third quarter. Siemian gave me more than I was expecting, and that's a good sign for Broncos fans who are praying they don't have to see Osweiler be the man behind center.
13. Tampa Bay Buccaneers (0-0)
Thanks for fucking everything up Hurricane Irma. We will just have to wait until week 2 to see Winston shine.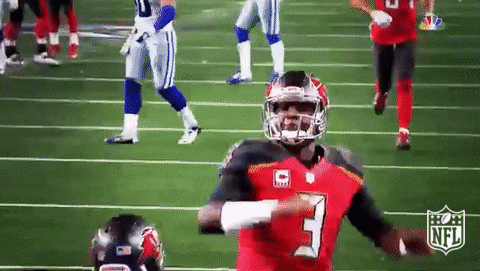 14. Philadelphia Eagles (1-0)
Wentz and the Eagles soar again, beating division rival Redskins in a controversial game. One of the more enjoyable games to watch this week. I like what Wentz brings to this team. In a tough crowded division, look for this team to at least make some noise.
15. New York Giants (0-1)
Sticking with this tough crowded division, the Giants were dealt a big blow with the loss of OBJ, ultimately sealing their fate against the Cowboys. OBJ must be doing a little dance regarding his contract negotiation after seeing that brutal loss this week.
16. Carolina Panthers (1-0)
Yes they won in a convincing fashion during their week 1 matchup, but they played the 49ers. I'm still a little skeptical about the Panthers, but they have the pieces of a playoff team if everything comes together. Don't expect Stewart to out-snap McCaffrey for much longer. The kid needs to eat, Ron Rivera. Let him feast.
17. Tennessee Titans (0-1)
Tough start for the Titans as they had a hard matchup week 1 versus the Raiders. Even with that loss, they are still my dark horse pick to win the AFC South. Keep eyes on Mariota this year as he continues to show growth in his game year after year.
18. Los Angeles Chargers (0-1)
You might be sitting here thinking "he surely meant the Rams, this must be a typo." Well my fellow reader, it is not. While the Chargers took the L in week 1, they did mount an impressive comeback against a top-notch defense, and if the young hoe didn't get his kick blocked, who knows what would have happened in that game. Here's a clip of what he's capable of doing when he just fucks around.
#TBT pic.twitter.com/lpsIsZ3XEK

— Younghoe Koo (@YounghoeKoo) December 1, 2016
Hoe-Lee-Shit Younghoe Koo.
19. Miami Dolphins (0-0)
Read my blurb about the Bucs, then copy and paste into here. Minus the stellar season from the team's QB, because Cutler is a bum.
The face of a man with instant regret after inking his contract. The sad part about all of this is that the Dolphins will probably finish 2nd in their weak ass division.
20. Washington Redskins (0-1)
I feel like time and time again, the Redskins always get hyped up before the season starts, and then they do something to destroy their fanbase faster than Taco Bell running through your digestive system. When your leading rusher is Kirk Cousins with 30 yards, it's time to make some serious decisions, week 1 or not.
21. Los Angeles Rams (1-0)
I did most of my explaining on this team earlier, and even though I think they are still junk, they caught my eye. If Goff and Gurley can keep this pace up offensively, and if their D can hold up, they could be playing meaningful games down the stretch. But I doubt it because, you know, it's the Rams.
22. Buffalo Bills (1-0)
I never thought I would be sitting here writing that the Bills are the sole leaders of the AFC East after week 1, but here we are. Should have blown the Jets out by more, but good start for a team who is in rebuild mode. Fantasy owners: look for LeSean McCoy to get a heavy workload, as stated by head coach Sean McDermott. Congrats on your first ever NFL head coaching win.
https://giphy.com/gifs/buffalo-bills-L4Nna9EpRqMi4
23. Jacksonville Jaguars (1-0)
If you had Jacksonville destroying the Texans on the road by 22 points, put your hand up. Nobody? Remember the controversy surrounding their starting QB? While Bortles is still dog shit, Fournette is helping to bring the attention upon himself, rushing for 100 yards along with a TD. Nice debut, rookie.
24. New Orleans Saints (0-1)
When Brees doesn't have a good game, the whole team crumbles. That's exactly what happened this week, as Brees and Co. were unable to convert three red zone opportunities in a row until they finally broke through in the 4th quarter. Head coach Sean Payton is going to have his hands full trying to balance the workload between backs Adrian Peterson, Mark Ingram and the rookie Alvin Kamara, who happened to out-touch the two veteran backs. Interesting.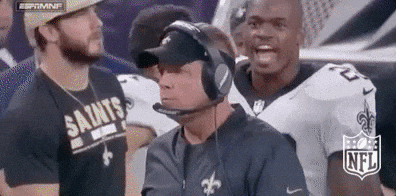 25. Arizona Cardinals (0-1)
What a fall from grace for the Cards this week. Not only did they get slapped around by the Lions, but they lost David Johnson for 8-12 weeks. Fantasy owners everywhere with DJ shared a collective cry when news broke. Hope you're in a keeper league then…
Side note: Palmer has really gone down the shitter. Maybe the Cards call the Pats and try to swing a deal for Garoppolo? Hell, even Kaepernick might be a better option at this point. Hang 'em up already Palmer.
Side side note: I feel bad for Larry Fitz.
26. Cleveland Browns (0-1)
Everybody expected the Browns to take yet another season opening L, but they held their own against a Super Bowl contending division opponent. It's a young team with promise, and will take a few years to develop, but if they all reach their collective potential, watch out…the Browns may become good again.
27. Chicago Bears (0-1)
They kept it relatively close against a solid Falcons squad who just came off a Super Bowl loss. Keep your eyes peeled on rookie RB Tarik Cohen, who lead the team in rushing and receiving yards, taking touches and yards away from lead back Jordan Howard. If he's still available in your fantasy league, pick him up NOW.
28. Cincinnati Bengals (0-1)
Wow does Dalton ever suck. Can't put up a single point at home for a season opener. Should be embarrassed.
Side note: I feel bad for AJ Green.
29. Houston Texans (0-1)
Their matchup against the Jags was setting up to be the perfect movie script. Devastating Hurricane Harvey rolls through and fucks the city up, and who's there to pick them back off their feet with a spirited win? The Texans!
Except they got smacked.
Tom Savage sucks. Their D got exposed by a rookie RB and a garbage QB. It was arguably the biggest game in franchise history, story wise, and it wasn't even close. They let their people down and they should all be ashamed.
30. San Francisco 49ers (0-1)
If only they had a QB like Colin Kaepernick to help get them some wins.
31. New York Jets (0-1)
While I still believe they are the league's worst team by a mile, and may not win a game all year, they showed some fight against the Bills and that accounts for something when you're deciding between rank 31 and 32 on this list.
32. Indianapolis Colts (0-1)
Going off my last point with the Jets, this is why the Colts take the throne as the worst team in my week 1 power rankings list. No competitiveness from them at all. Conceded the game after the first quarter. Without Luck in the locker room, they are a bunch of misfits. They are not the worst team in the league, but they sure looked like it last week.
Bonus: Sergio Dipp Made MNF Cringy
If you are one of those people who refuse to spend your time on social media, you don't know what you're missing. Sergio Dipp has been making his rounds across all of the major social media platforms, and it never gets any less funny.
Here's the clip in case you forgot:
I bet you Sergio is not having the time of his life today.
He responded to the criticism he has received with a video on Twitter:
Thank you…

And God bless America.🇺🇸✔️ pic.twitter.com/mYXwBNFB6g

— Sergio Dipp (@SergioADippW) September 12, 2017
Listen, to me it doesn't matter of you're American, Mexican, European, African, Chinese, male or female. If you can't properly read what is written out for you on a teleprompter, you shouldn't be in that kind of field for work. Sorry mate, I get that you were nervous, but that was so cringe it wasn't even funny (well it kinda was but yeah).
Also, check out how he seems to reference 9/11 and his heritage as some sort of excuse. Don't play those cards man.
Well, that's it for now. Thanks for sticking with me. Virtual hugs for all.