This is Whit Merrifield. We just traded for him. He led the MLB in hits in 2018 and 2019. His only flaw is he legally cannot enter the country our home stadium is in pic.twitter.com/DdxfOwM4ZV

— Keith (@keithps22) August 2, 2022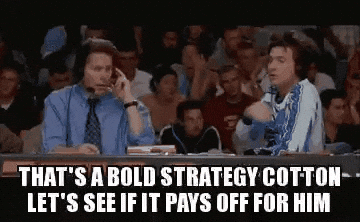 Hahahahah whoops. Good job front office, acquire a guy that can't play in the country or even get into the country due to his current vaccine status. Just a little bit of an oversight. The Jays are leaving his decision to get vaccinated up to him and his family.
As for Whit Merrifield, John Schneider says, "nothing new," re vax status. "Obviously we know he wasn't there in Toronto, but totally up to him. And I'm sure that he's had conversations with his family and other people. So, you know, we're leaving that decision up to him."

— Shi Davidi (@ShiDavidi) August 3, 2022
I am sure the Toronto Blue Jays front office dotted their I's and crossed their T's before making this deal. MLB insider GOAT Jeff Passan believes he will get the jab.
Whit Merrifield has been traded to the Toronto Blue Jays, sources tell ESPN.

One has to believe he'll be getting vaccinated.

— Jeff Passan (@JeffPassan) August 2, 2022
It's still a bit of a red flag. The Jays just traded for a guy who forfeited hundreds of thousands of dollars to not come to Canada to play in Jay's 4-game home stand against KC. However, winning does change a lot of things. To join a world-class organization that wins will make a man do a lot of things, but if he doesn't this may go down as the funniest trade in sports history.
Live footage of Mark Shapiro and Ross Atkins if he doesn't get the jab.