Happy 3:16 Day!  March 16th to most, is the much-celebrated holiday of wrestling fans of the late 90's superstar Stone Cold Steve Austin.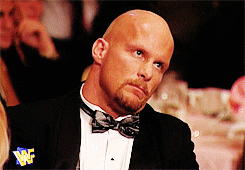 Okay, maybe you're not one for celebrations.  I'll try to be brief.  3:16 Day celebrates perhaps the most iconic and important member of the WWF's Attitude Era.  From his unforgettable promo where he initially uttered the phrase, to just this past year when he was still giving out stunners; here are some of Austin's greatest moments, courtesy of WWE.com:
Happy 3:16 Day!  And Happy St. Patrick's Day to those who are celebrating that tonight as well!  Cheers.