The Nostalgia 9 will be a weekly post where I go back in time to uncover all of the things you wish you hadn't forgotten about from your past.  This is not necessarily a TOP 9, but more so just a collection of 9 things I hope you find as interesting as I do.  Gaming, music, film…I don't care.  As long as I have an excuse to write about the Attitude Era every couple of weeks, I'm in.  Feel free to hit me up on social media with suggestions for the next one!  Enjoy, dorks!
As I have mentioned before, I will be convering the cable ratings war between Ted Turner's WCW and Vince McMahon's WWF extensively.  Last week I posted an article highlighting some of the major players in the world of professional wrestling who defected from the WCW to the WWF.  If you have ever left the house before or have any female friends however, you probably missed it.  You can check it out here or just make your way down this list, as I highlight the wrestlers who defected from WWF to WCW, and the impact it made on the business.  Dubya Cee Dubya!
#9: Lex Luger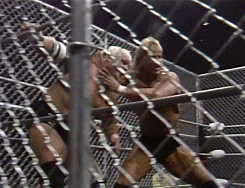 The Lex Express was failing to captivate the WWF audience the same way that Hulk Hogan had as the company's number one babyface. Transitioning from an over-the-top narcissist character, to an all-American hero didn't go as smooth as Mr. McMahon would have hoped.  Lex Luger was upset that the WWF did not put the championship on him despite his big promotional push.  He reached out to good friend and WCW stalwart Sting (happy belated), and made his debut on the very first episode of WCW's Monday Nitro.  Consider this the first blow landed in the Monday Night Wars.  Scandalous!
#8: "hollywood" hulk hogan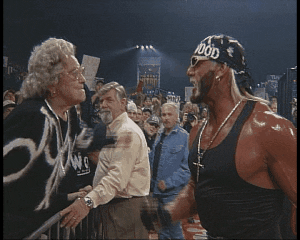 One of the best heels ever in professional wrestling, the amount of heat that Hogan could generate once he switched to the dark side was pretty impressive.  Loved by many for over a decade, Hogan left the WWF for greener pastures with Ted Turner.  Initially bringing over his clean-cut Hulkamania character, Hogan was able to extend his reign atop the sport due to his ability to play the bad guy in his later years in WCW.  Hogan also had creative control in his contract which he was rumored to wield around at the most inopportune times, leading many to say he was one of the biggest reasons for the company's demise.
#7: "Macho Man" Randy Savage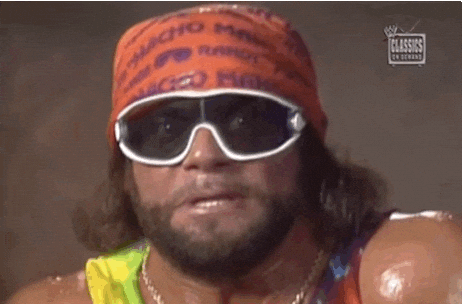 OOOOOOOOOHHH YEAH!  The Macho Man is the greatest, and after his good buddy Hulk Hogan made the move to the Southern wrestling promotion, Savage jumped ship too.  Fed up with being relegated to mostly a commentating role in the WWF, the Macho Man felt he still had plenty in the tank, and he was right to bet on himself.  The Macho Man went on to become a 4-time world champion with the organization, and brought his ultra-lucrative Slim Jim advertisement with him!
#6: Ric Flair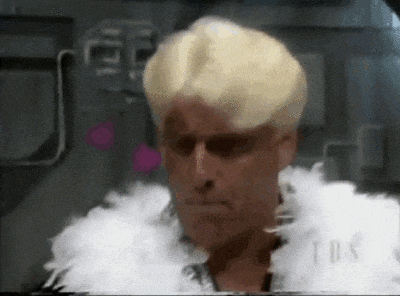 WOOOOOOOOO!  Wrestlers make a lot of sounds, eh?  Most people think of Ric Flair as a WCW original, as he spent many years with the promotion that would eventually become known as World Championship Wrestling, the NWA.  1991-1993 however, saw Flair waving the flag of the Stamford, Connecticut based company instead.  While he became the champ and won a Royal Rumble match in his time with the WWF, Flair came back home in Feburary of 1993.  Due to a non-compete in his contract, he was not allowed to wrestle right away, and hosted the short-lived but AMAZING talk show A Flair for the Gold.  Flair was allowed to wrestle again, and stayed with the company until its final days in March of 2001.
#5: "Big poppa pump" Scott Steiner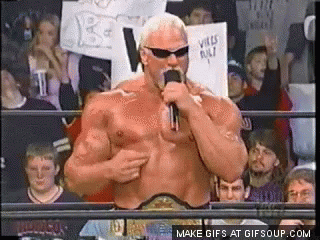 Scott and his brother Rick were both standout amateur wrestlers in college.  They transitioned naturally to the squared circle partly due to that, but also because they were absolutely huge.  The competed as a tag team and became the tag team champions in the WWF before making the switch.  While Rick's career was respectable, his brother Scott ended up as one of WCW's biggest stars after they split up as a team.  "Big Poppa Pump" had probably the most impressive physique and a boastful attitude that made him popular (and unpopular) with fans alike.  Love him or hate him, Scott Steiner stuck around and was rewarded with multiple solo championship runs.
#4: Konnan (max moon)
Konnan is widely known for his time as an NWO member, who used his signature Spanish-language catchphrases to rile up the crowd.  Wait.  Konnan wasn't in the WWF, was he?  Well no, not as Konnan, but Charles Ashenoff spent time in the early 90s as Max Moon.  The less you know about Max Moon, the better, but here's a photo:
#3: Scott Hall (Razor Ramon)

Razor Ramon appearing in the crowd in street clothes on the May 27th, 1996 episode of Nitro, and changed wrestling forever.  Appearing as an "outsider", they never referred to him by name and many viewers were confused to see a WWF wrestler on WCW television.  Signed to a contract a month earlier, a masterful story line featuring himself, Hulk Hogan and the next entry on this list, was the catalyst of the overtaking of the WWF in the ratings war.  Plagued with personal demons during this time, Scott Hall was never able to reach the heights his partners did, but is still recognized as one of the most important figures in wrestling history.
#2: Kevin Nash (diesel)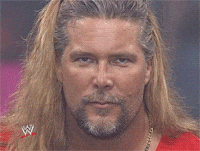 When it was revealed that "the outsider" had a 7-ft tall friend that was also coming over to WCW, the wrestling community was buzzing.  Ditching the outdated Diesel gimmick that he had become known for, Kevin Nash arguably had an even better run in WCW.  As one of 3 founding members of the NWO, Nash's legacy was cemented long before he power-bombed the Giant or ended Goldberg's undefeated streak.  Another beneficiary of creative control, Kevin Nash was admittedly a difficult person to work with at the time, and a contributor to the company's failure.
#1: Bret "the hitman" Hart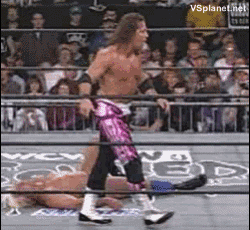 Canadian hero Bret "the Hitman" Hart made his way to WCW after the most infamous moment in wrestling history, the Montreal Screwjob.  After many years of service with the WWF, Vince McMahon encouraged Bret to sign elsewhere when he was offered a lucrative deal, as Vince knew his company was struggling financially.  After some bad business in Montreal, Bret came into the WCW as the hottest wrestling star on the planet.  Due to a combination of mismanagement, an admitted lack of care on Bret's part, and an unfortunate career-ending injury, Bret Hart never catapulted WCW the way he potentially could have.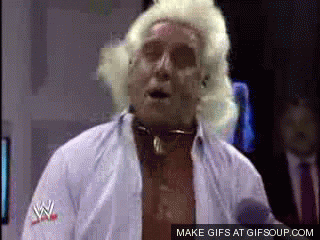 It's crazy to think that a company with so much talent, lost so much money and went out of business.  Big contracts, non-wrestling businessmen, and an overall stench of entitlement ultimately ruined the one company who had legitimately come close to putting the McMahon's out of business.  This quote from Eric Bischoff sums up some of the mess:
"A lot of people think WCW unraveled because of things like 'guaranteed contracts' for wrestlers and the decision to give Hulk Hogan creative control over his matches. The fact that we overpaid some wrestlers WAS one reason WCW ended up in a position that was difficult to recover from. But it had nothing to do with why WCW failed. The company failed because of what happened inside Turner Broadcasting after it was bought by Time Warner. Turner's merger with Time Warner, and Time Warner's ultimate merger with AOL, was the single largest disaster in modern business history. WCW was just one of many casualties…"
See ya next week.
jimmy out.