The Nostalgia 9  is a weekly post where I go back in time to uncover all of the things you wish you hadn't forgotten about from your past.  This is not necessarily a TOP 9, but more so just a collection of 9 things I hope you find as interesting as I do.  Gaming, music, film…I don't care.  As long as I have an excuse to write about the Attitude Era every couple of weeks, I'm in.  Feel free to hit me up on social media with suggestions for the next one!  Enjoy, dorks!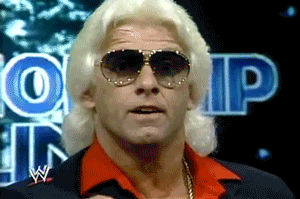 Wooooooo!
Is there anything better than old school pro wrestling?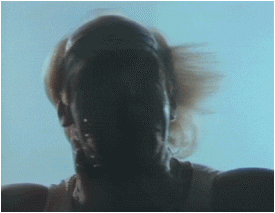 No.
No, there is not.
And one of the best elements of old school wrestling was the promos.  Larger-than-life superstars such as Hulk Hogan, Randy Savage, and of course 'The Nature Boy' Ric Flair, would go red and blue in the face while describing their career accomplishments or how they were going to pulverize their next opponent and it was THE BEST.  If you're not a wrestling fan this might seem a little confusing to you, but that's ok.  Just pretend you're watching your drunk uncle at family Christmas.  But for those of you in the know, let's go for a ride.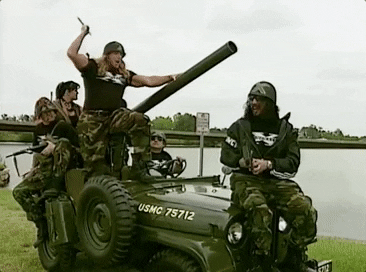 #9: Ric Flair – Rolex wearin'…
Ric Flair is atop many fans, critics, and fellow wrestlers list of the greatest wrestlers of all time, and a large portion of that admiration was for his promo work.  Ric Flair is the walking epitome of 0-100, as he could turn the charisma on and have the entire room in the palm of his hand within a few moments.  This particular promo is one of his best.
#8: Steve Austin – Austin 3:16
Stone Cold Steve Austin is another wrestler that many people mention as one of the greatest of all time (a common theme on this list).  His popularity skyrocketed in the late 90s behind his beer-drinking, expletive-wielding, Texas redneck character.  This promo was essentially the launching point for Stone Cold, who verbally assaulted his opponent Jake the Snake with references to his real-life alcohol abuse and subsequent turn to Christianity.  Stone Cold, indeed.
 #7: The Rock – Painus in Your Anus
Before The Rock was the most likeable guy on the planet and your mom's favourite actor, he was a hilarious and outrageously talented wrestler who had absolutely zero chill when it came to verbal jabs.  In this clip, he runs through 5 impressions in an over-the-top display of the same comedic acting chops that we would see years later on the big screen.
#6: Randy Savage – Cream of the Crop
Cocaine's a hell of a drug.  Enough said.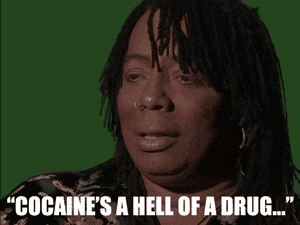 #5: Vince McMahon – Life Sucks
Rarely is the head of an entertainment company such an important on-screen character as well, but Vince McMahon is not ordinary by any standards.  His work ethic is legendary and the dedication to his evil corporate character is on full display here.
#4: Steve Austin – dry county
Fans who checked out after The Attitude Era might not recognize this goofier version of Stone Cold, and although he wasn't as menacing as the guy we had gotten used to seeing in years prior, he still had some great comedic moments like this one here.
WHAT?
#3: Legion of Doom – SOur and Gory
Hawk and Animal are two of the most intense dudes of all time in wrestling.  They had one of the coolest looks and seemed legitimately angry all the time.  Mean Gene is in rare form here, and Hawk gets so incensed he spits all over himself.
#2: Randy Savage and Hulk Hogan – The Mega Powers
A backstage segment that has had somewhat of a resurgence in recent years, as many non-wrestling fans will recognize this clip as a meme that has been circulating for a little while.  It's hard to put this into words, so just watch and enjoy it.
#1: Jake Roberts – We All Do Things Differently
Jake the Snake was one of the absolute best in his day, and everything about this promo is so indicative of the times.  The mullet, the thick mustache, the gold rings, the clothing…everything about this is SO 80s.  And it's awesome.
See ya next week.