The Nostalgia 9  is a weekly post where I go back in time to uncover all of the things you wish you hadn't forgotten about from your past.  This is not necessarily a TOP 9, but more so just a collection of 9 things I hope you find as interesting as I do.  Gaming, music, film…I don't care.  As long as I have an excuse to write about the Attitude Era every couple of weeks, I'm in.  Feel free to hit me up on social media with suggestions for the next one!  Enjoy, dorks!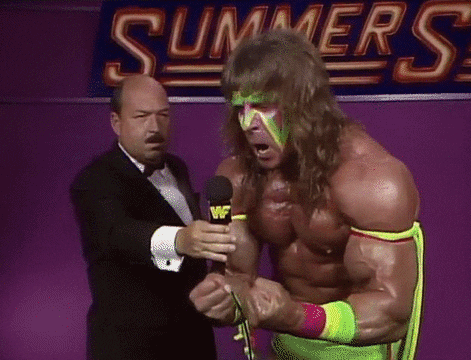 SummerSlam is coming to Toronto in 4 short days, but I have to admit I will not be attending.  Trying to watch WWE programming these days is not even worth coming up with a funny metaphor for.  It just sucks.  Especially when you compare it to days past, as while I was compiling this list I immediately recognized the need for a part 2 (and probably 3 to be fair) due to the sheer volume of good content.  So with that in mind, here are 9 matches that are actually watchable from past SummerSlam events.  All of which are available in their entirety with a WWE Network subscription.
#9: Shawn Michaels vs. Razor Ramon – SummerSlam 1995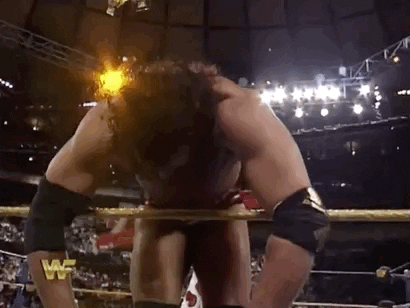 HBK vs. Razor is on here don't worry!  There is a pretty cool clip below of the two legends watching their classic match back together so many years later.  And yeah, I like to get the obvious ones out of the way here on the Nostalgia 9 so you don't have to keep reading in suspense thinking "he better have the ladder match on here."
#8: Shawn Michaels Vs. Triple H – SummerSlam 2002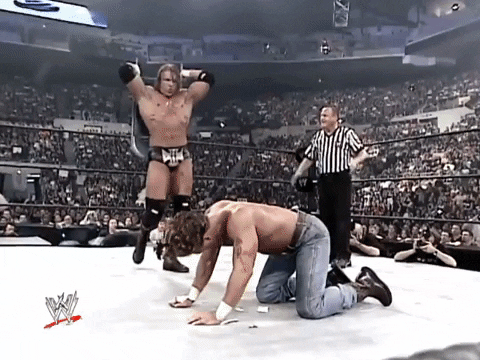 The storytelling going into this was almost perfect, with themes of friendship, betrayal, and revenge.  Triple H and Shawn Michaels bloodied each other in an unsanctioned street fight for nearly 30 minutes, and when it was all said and done, Shawn Michaels was officially back after a 4-year retirement.
#7: Bret Hart Vs. Owen Hart – SummerSlam 1994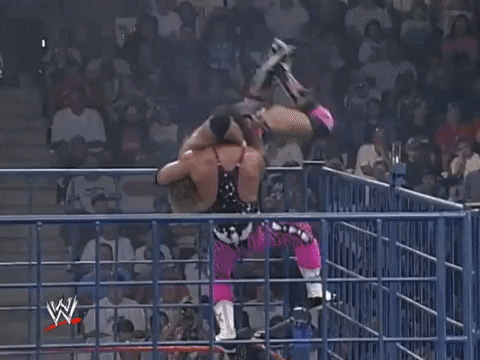 Brother vs. Brother.  Two of the best to ever do it in a steel cage.  Need I say more?
#6: Brock Lesnar Vs. John Cena – SummerSlam 2014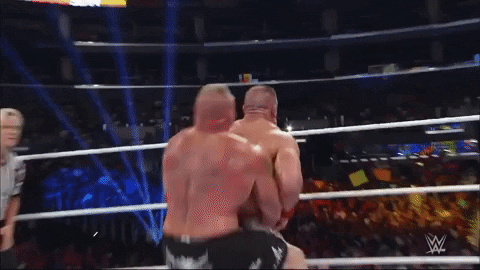 Probably the most intriguing squash match you'll ever see.  John Cena gets slammed around the ring in brutal fashion, making you feel like he's truly helpless against the "Beast Incarnate".  Quite possibly the most one-sided championship match in history that didn't end in the first few minutes.
#5: Bret hART vS. The Undertaker – SummerSlam 1997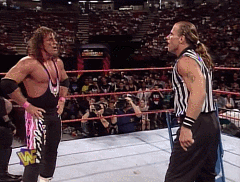 This WWF Title match is all about special guest referee Shawn Michaels and his disdain for Bret.  Despite this, Shawn does a pretty good job of calling it down the middle.  In the end, this match was integral in forming the most infamous moment in wrestling history: The Montreal Screwjob.
#4: Kurt Angle vs. Stone Cold Steve Austin – SummerSlam 2001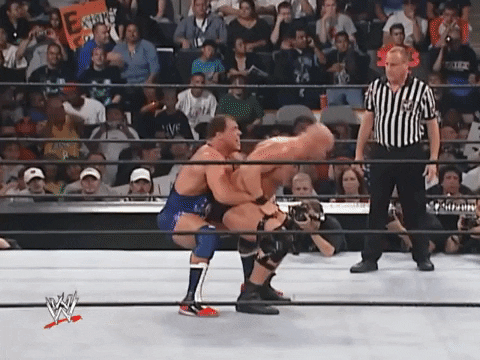 One of the few bright spots during the Invasion era, the crowd is absolutely on fire for this title match.  Seeing the pre-match promo reminds fans of the potential that the Vince McMahon/Kurt Angle/Stone Cold could have had if done properly.  Either way, it's cool to see Austin do some really good work as a true heel for once.
#3: The HArdy BOYZ Vs. The Dudley Boyz Vs. Edge and Christian – SUmmerSlam 2000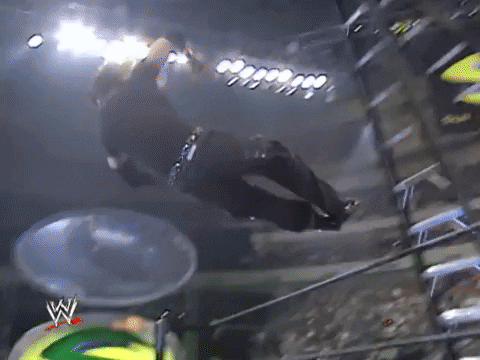 It's kinda like that ladder match we started with.  Only with tables and chairs and a lot more competitors.  These guys put their bodies on the line for our entertainment, and from the sounds of things in the clip below, it was all worth it.
#2: Stone Cold Steve Austin Vs. THE Undertaker – SummerSlam 1998
A very good WWF Title match, with some cool moments including this top-rope leg drop through a table by the nearly 7-foot tall Undertaker.  With a complicated backstory also involving Vince McMahon, Kane, Mankind, and Paul Bearer, thankfully this match is minimal on run-ins, as Austin and 'Taker have one of their more memorable matches together.
#1: The Rock Vs. Triple H – SummerSlam 1998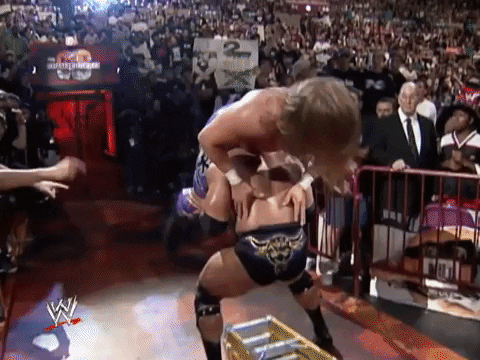 The OTHER great ladder match from SummerSlam was the match directly before #2, an Intercontinental Title Match between The Rock and Triple H.  Two men who were well on their way, but had yet to achieve stardom.  This match helped their cause in bunches.
Keep an eye out for Part 2.