The Nostalgia 9  is a weekly post where I go back in time to uncover all of the things you wish you hadn't forgotten about from your past.  This is not necessarily a TOP 9, but more so just a collection of 9 things I hope you find as interesting as I do.  Gaming, music, film…I don't care.  As long as I have an excuse to write about the Attitude Era every couple of weeks, I'm in.  Feel free to hit me up on social media with suggestions for the next one!  Enjoy, dorks!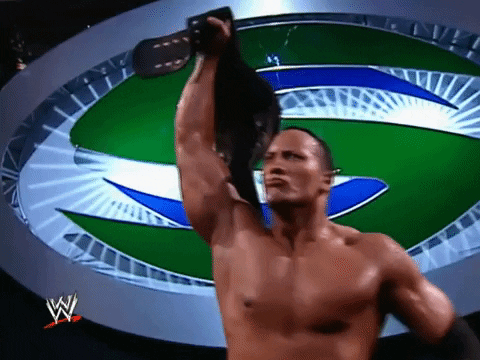 More SummerSlam classics for your inner 10-year old.  Part one here.  Enjoy!
#9: John Cena Vs. A.J. Styles – SummerSlam 2016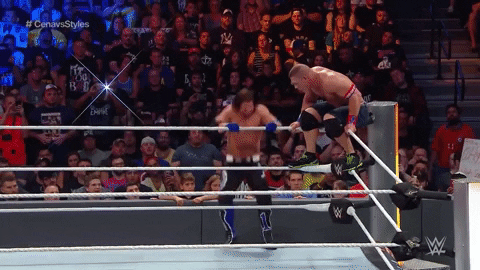 An obvious omission from the first list, Styles and Cena never fail to create magic when they occupy a ring together.  Full match available below:
#8: Triple H Vs. The Rock Vs. Kurt Angle – SummerSlam 2000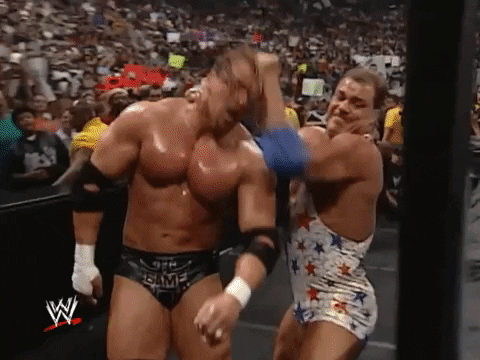 This match is sooooo the year 2000.  Triple H and Angle brawl on the outside and put each other through the announcer's table before the match even gets started, a sledgehammer is used as a weapon, and a cheesy storyline involving Triple H's wife Stephanie McMahon provides the narrative.  The Rock comes out to a huge ovation, and more than anything this match is a fun reminder of when The Rock was merely a wrestler.
#7: Brock Lesnar Vs. Samoa Joe Vs. Roman Reigns Vs. Braun Strowman – SummerSlam 2017
Four huge dudes pounding on each other?  Sounds like my kinda night.  Non-stop action in this one.
#6: Bret Hart Vs. Mr. Perfect – SummerSlam 1991
Two of the best ever have a technical wrestling match that everyone should appreciate.  If you don't like this, you might not like wrestling.  It's that good.
#5: Bret Hart Vs. British Bulldog – SummerSlam 1992
Hart followed that performance up with this the following Summer.  This match does a great job of storytelling and working off the crowd.  Two things that seem to be lost on most wrestlers these days.
#4: The Undertaker Vs. Edge – SummerSlam 2008
Undertaker put an emphatic end to his incredible feud with Edge with their 2008 Hell in a Cell match.
#3: Brock Lesnar Vs. The Rock – SummerSlam 2002
I forgot how much I enjoyed this match when I watched it again for this list.  Not only is it a good match and a great way to cap off possibly the greatest SummerSlam ever, but it marks a very important shift in the direction of the company.  The Rock was no longer a full-time wrestler after this night, and Brock Lesnar was definitely the Next Big Thing as he was so appropriately called.
#2: Daniel Bryan Vs. John Cena – SummerSlam 2013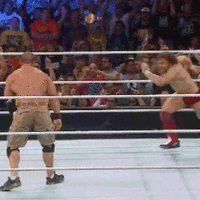 Somewhat ruined by what happened immediately afterward, but before any of the post-match nonsense, this is one of the best feel-good moments from the WWE.  Daniel Bryan – the perennial underdog finally getting his chance to shine by beating the top guy in the company…again only to be ruined by what happened after but you can just turn it off right after the 3-count.
#1: Goldberg Vs. Triple H Vs. Chris Jericho Vs. Shawn Michaels Vs. Kevin Nash Vs. Randy Orton – SummerSlam 2013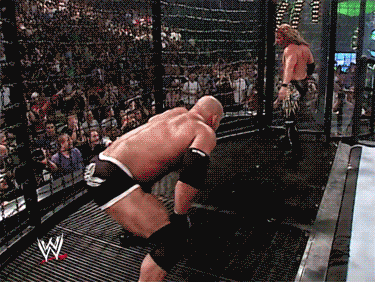 Sorry to end with another match that has a shitty ending, but I literally just put these in order that I remember them, and if you ignore everything that happened with the sledgehammer eye roll this was exactly what every single human in that arena wanted to see.  Goldberg lays waste to the field before…well let's just pretend it ended there.
Well, I hope you enjoyed this stroll down memory lane, and I hope you all enjoy watching SummerSlam tonight, although it's gonna be tough now that you remember how good wrestling used to be.