The Nostalgia 9 will be a weekly post where I go back in time to uncover all of the things you wish you hadn't forgotten about from your past.  This is not necessarily a TOP 9, but more so just a collection of 9 things I hope you find as interesting as I do.  Gaming, music, film…I don't care.  As long as I have an excuse to write about the Attitude Era every couple of weeks, I'm in.  Feel free to hit me up on social media with suggestions for the next one!  Enjoy, dorks!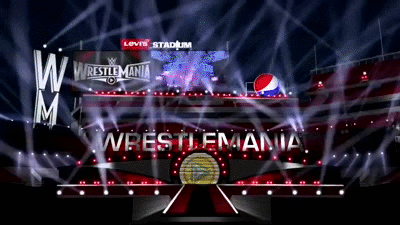 a friendly reminder that this isn't a TOP 9, and these don't go in chronological order.  There will be no honorable mentions on this list.  If you're looking for that fluffy top 10 shit, then take your candy ass somewhere else, jabroni.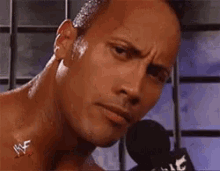 With Wrestlemania 35 taking place this Sunday, I figured it was only appropriate to have a Wrestlemania-inspired post.  I don't know about the rest of you, but I am rather underwhelmed by the lack of intrigue this card provides.  Even when WWE writers and producers have seemingly lost their mind with how bad the booking can be, they can usually generate enough excitement between the Royal Rumble PPV in January and the "Showcase of Immortals" in late March/early April, to help us forget about what happened from April to December of the previous year.  This year?  Not so much.  Unimaginative booking, boring story lines, and repetitive matches have watered down what used to be a great product.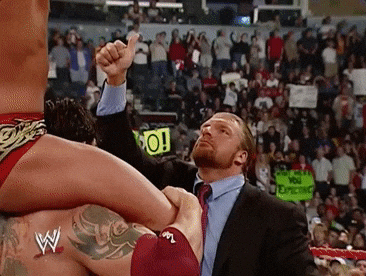 So without further ado, here are 9 matches you can watch either in the lead-up to Sunday's 10,000 hour-long event, or instead of.  All matches are available for streaming on the WWE network.  Which you already have, right?  Cause you're cool.
#9: edge & Christian vs. the dudley boys vs. the hardy boys – Wrestlemania 17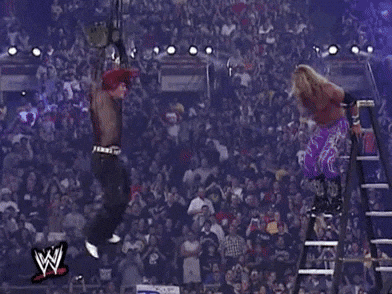 I hate it when I read an article on "old wrestling matches you should check out", but then they tell you how the match ends.  It really defeats the purpose of going and checking out an old match you haven't seen or don't remember.  It kills any suspense or drama you may have felt watching it.  Anyways, let me just say that Edge spearing Jeff Hardy from 20 feet in the air or so, is one of several crazy spots in this match.  I know most people would expect to see the Razor Ramon vs. Shawn Michaels ladder match on a list like this, but I don't think most fans have the attention span to really appreciate the storytelling in that match.  This one is better suited for the social media era that can hardly sit through a 15 second YouTube commercial.  PLUS, this has tables and chairs to go along with the ladder(s)…go watch this NOW!
#8: "rowdy" Roddy Piper vs. goldust – Wrestlemania 12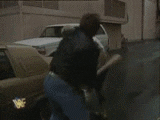 Talk about being ahead of your time.  Goldust was an androgynous figure who would use wrestler's own homophobia against them in an attempt to win.  I'm dead-ass serious.  If he came out (no pun) today, people would say it's a "groundbreaking" character.  Goldust, the son of wrestling legend Dusty Rhodes, was doing this all the way back in 1996.  In this "Hollywood Backlot Brawl", these 2 men have a match that hardly resembles wrestling, and looks more like something you would of seen on Cops or Jerry Springer.  Did I mention this was 1996?
#7: Goldberg Vs. Brock Lesnar –  Wrestlemania 33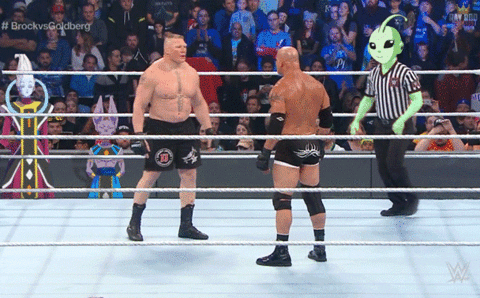 Make sure you don't accidentally watch their Wrestlemania match from years prior.  It sucked.  THIS one however, was fucking awesome.  And those aren't special effects, Goldberg is truly that powerful.  You go tell him he isn't.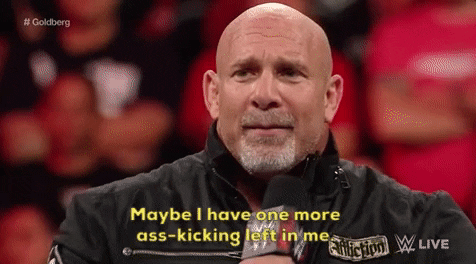 #6: The Rock vs. "Hollywood" Hulk hogan – wrestlemania 18

Goosebumps.
 #5: THe ULtimate warrior vs. "macho man" randy savage – Wrestlemania 7

A great match featuring 2 of wrestling's wildest characters, followed by some of the most emotional post-match theatrics you will ever see.  This match makes me believe in love again.  Skip if you don't feel like crying.
#4: Triple H Vs. BAtista – Wrestlemania 21
An example of long-term booking done right, WWE told a story of the master and the apprentice, nearly to perfection in the leadup to HHH and Batista's Wrestlemania showdown.  A bloody affair that saw both men taken to their limits, this match does not disappoint.  These gentleman are actually having a rematch all these years later, this Sunday at Wrestlemania 35.
#3: ric flair vs. shawn michaels – wrestlemania 24
Still don't feel like crying?  Skip this one too.  It's hard for me not to ruin the ending by saying much more, but know that Ric Flair's 40-year career is on the line, and you'll probably tear up if you have a soul.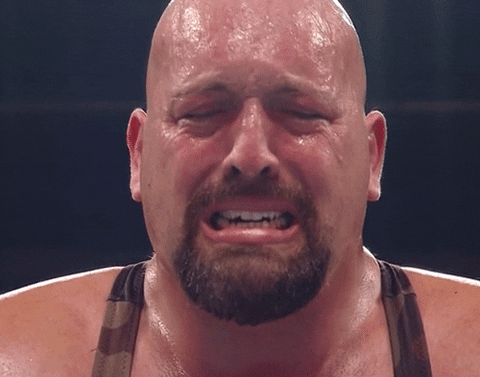 #2: Shawn Michaels Vs. The Undertaker – Wrestlemania 25
The match they had the following year was also excellent, but that was another sappy one and wrestling is about being tough!  Yeah!  These 2 legends put on one of greatest Wrestlemania matches of all time.  If you don't like this, you don't like wrestling.
#1: "Stone cold" steve austin vs. the rock – wrestlemania 17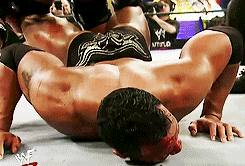 We started with Wrestlemania 17 (or X-Seven), and we are ending off with it, as well.  I thought it was fitting, as many fans do consider this to be the greatest Wrestlemania of all time.  It also marked the end of the Attitude Era in most fans eyes, as it was pretty much all downhill from here.  Enjoy 2 of the best ever putting on one of the most incredible performances you'll see, and wait for the plot twist at the end.
There have already been 34 of these events, so obviously there are way more matches that you could indulge in between now and then, but these are the matches I  watched in an effort to get hype for this Sunday's event.  I will be live-tweeting the event as usual, so expect to see DeanBlundell.com plastered over someone getting powerbombed.
That was fun. #WWEFastlane pic.twitter.com/PiuIuWVChM

— Jimmy the Prince 👑 (@jimmytheprince_) March 11, 2019
See ya Sunday.