This is a Ryanair flight from Barcelona to London the racist old man didn't not want to sit next to this elderly woman Because she was black & to him black People are dirty
Instead of them escorting him off the flight or moving him they fulfilled his wishes and moved the woman😕 pic.twitter.com/g7k7M2S0rB

— 🇯🇲✨ || Nickisha ||✨🇯🇲 (@NickiPlayhouse_) October 20, 2018
It's funny at first because it's two old people fighting and old people fighting is the best fighting.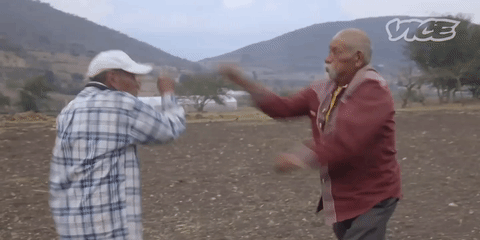 I think old people being racist is way easier to take and understand too.  They've both lived through a time when racism was pervasive so the racists didn't know any better and people of color just rolled their eyes.  Not saying it's right but, the least offended people on that flight are the racist old white guy and the feisty black lady he's scrapping with.
Its still gross to see but I can't help but laugh at the old guy when he calls her an ugly, black whatever he called her, looking over his glasses.  It's his cheeks that do it.  They explode and he looks like his head's gonna pop off.