Via Deadline EXCLUSIVE, UPDATED: With statement from NATO CinemaCon Managing Director Like something out of a hackneyed Hollywood plot, the mysterious envelope picked up by Don't Worry Darling director and star Olivia Wilde during her CinemaCon presentation last night for the New Line movie were legal documents from Ted Lasso star Jason Sudeikis.

It is our understanding that the manila envelope marked "personal and confidential," which was placed onstage, were custody papers from the Emmy winner.

Separated since late 2020, Wilde and Sudeikis share two children. The couple was engaged but never formally tied the knot.

While reps are quiet, what happened on Tuesday was a very loud display, at least figuratively.

Olivia Wilde was stunned to be served custody papers by ex Jason Sudeikis while onstage at CinemaCon Tuesday night.

The "Ted Lasso" star's lawyers hired a process server to hand crucial documents over to Wilde concerning their two young children.

But Wilde was left shocked when the server tracked her down to Caesars Palace's in Las Vegas Tuesday night, where she was promoting her new movie, "Don't Worry Darling."

However, sources tell Page Six that Sudeikis had no knowledge of the plans — and would "never condone" Wilde being served in such an "inappropriate manner."

"Mr. Sudeikis had no prior knowledge of the time or place that the envelope would have been delivered as this would solely be up to the process service company involved and he would never condone her being served in such an inappropriate manner."
This has to be in the hall of fame for one of the pettiest moves of all time right?
Jason had "no knowledge" that the papers would be served in such an inappropriate manner. Sure Jan. Jason says that but there is no way he wasn't aware. This is too good of a story for him not to be aware of. I imagine it going like. Hey Jason do you want to serve your ex-wife custody papers on stage while she is presenting her new movie with heartthrob boyfriend Harry Styles in it?
Jason: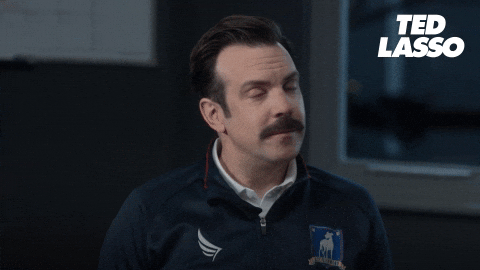 However, on the other side of the coin is the lengths the bastards will go to in order to get a court summons in front of their target. It's a rush for them. We've all heard stories of the hilarious places people have been served.
This one has to take the cake though.
According to the New York Post, Wilde was handed an envelope from a woman who slid it on stage in the middle of the presentation, asking her: "This is for me?"
After opening the documents, Wilde carried on without blinking.
Sadly there is no video of this but we can only imagine how cringe it was.
Well played Ted Lasso, well played.