Another Sunday, another day where fantasy teams (and actual NFL teams) crumble everywhere as key injuries take its toll. I've had readers ask me to help them try to win them a couple of bucks while they sit their asses on the couch. Ask and you shall receive.
To the power rankings we go!
Week 6 NFL Power Rankings
1) Kansas City Chiefs: 5-0 (Last week: 1)
I've had the Chiefs as my top dog since week 3, and there really hasn't been a time this season where I have thought they weren't one of the best NFL teams. Shocking the Pats week 1 may have led to a letdown in the weeks following, but they have kept a solid momentum led by QB Alex Smith and rookie RB Kareem Hunt.
2) Green Bay Packers: 4-1 (Last week: 3)
Is there a better player in the NFL right now than Aaron Rodgers? Shut the hell up Brady bunch, because the answer is no. This guy is Captain Clutch.
Which leads me to my hilarious cold take of the day, from way back in 2011 by none other than sports moron of the century Skip Bayless:
You'd better believe I'm taking Tebow over ARodg in last 2 mins. I've SEEN Tebow do it again/again/again. ARodg hasn't had many chances.

— Skip Bayless (@RealSkipBayless) November 25, 2011
3) Denver Broncos: 3-1 (Last week: 2)
Not that Denver did anything wrong on a bye week…just that the Pack flexed their muscles against the Cowboys. Look for them to absolutely demolish a Giants team that's been crippled with injuries.
4) Atlanta Falcons: 3-1 (Last week: 4)
Not much to add to from last week on a team that's coming off the bye. We know what they can do. With a juicy matchup against the Dolphins this week, look for them to add another W to the win column.
5) Philadelphia Eagles: 4-1 (Last week: 8)
The Eagles keep soaring up my power rankings list every week. It's hard not to be a believer in this team, and Carson Wentz. The NFC East is theirs to lose, in my opinion. Also, I love their homage to Mike Trout, who was present at the game Sunday.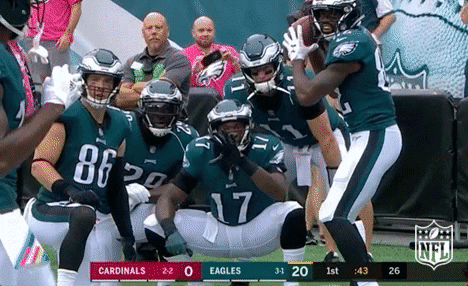 6) Carolina Panthers: 4-1 (Last week: 7)
I still can't quite figure out what version of Cam Newton we can expect to see for the rest of this season. So far we have seen him at his best and at his worst, but recency bias tells me he might just have his swagger back.
7) Detroit Lions: 3-2 (Last week: 6)
The only real reason why Carolina is 6th and Detroit is 7th is because of Carolina's win over the Lions. While the Lions took the L on Sunday, they mounted together an impressive comeback. Should be a tight game against a rested Saints team coming off the bye.
8) New England Patriots: 3-2 (Last week: 11)
Who would have thought after I chirped their defence in last week's rankings that they would have responded in a big way versus the Bucs? Not me. Good team win, gotta tip the cap.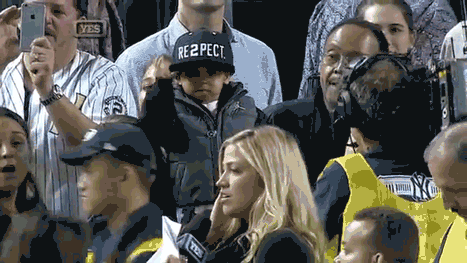 9) Seattle Seahawks: 3-2 (Last week: 14)
Why does this team always seem to start off shit and give their fan base a heart attack, then play well the rest of the way? Some teams are just like that, and it seems like the Seahawks and gonna do that for another season.
10) Washington Redskins: 2-2 (Last week: 15)
How does a bye week team jump this much without even playing? Maybe because those teams in front of them last week played like dog shit, pushing them all below the Skins. They really can't mess up in a matchup against the terrible 49ers…right?
11) Pittsburgh Steelers: 3-2 (Last week: 5)
The Steelers pissed me off last week, as I doubled down on them with my bets as I thought the -7.5 points against the Jags was a lock. Cost me some big money, and that cost you rankings. Sorry, that's just how it works. Also, Big Ben looked like Little Ben out there, throwing more turnovers that Eli Manning could ever dream of.
12) Buffalo Bills: 3-2 (Last week: 9)
Again, I thought the +3 on the road versus a 1-3 team was too juicy to pass up, but I was wrong. Whatever. Taylor scares me every time he has the football, and would rather see a guy like Kaepernick out there. Thank god for the defence, otherwise who knows where this team would be.
13) Los Angeles Rams: 3-2 (Last week: 10)
The Rams were actually favoured to beat the Seahawks in their matchup last Sunday, which seemed like an overreaction for me. Listen, if you told Rams fans that they would be 3-2 after the fifth week, I guarantee you they would have all taken that in a heartbeat. So congrats Rams fans. Please fill up your stadium now.
14) Dallas Cowboys: 2-3 (Last week: 12)
The steady decline of the Cowboys in my rankings has been a trend since the second week. On paper, this is a good team, but they keep finding ways to not win and hand the game over to their opponents. Not a good trait to have, especially come playoff time, if they get there…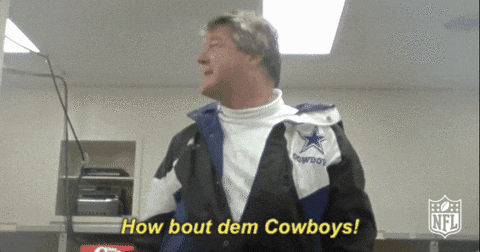 Dem Cowboys shit.
15) Minnesota Vikings: 3-2 (Last week: 17)
In what looked like a god awful MNF game turned into a really entertaining second half football game. The Vikings pulled out another W with Keenum under centre. Not having Bradford healthy sucks, and if Diggs is hurt, along with Cook sidelined for the season, it will become tough for this team to battle for a playoff spot.
16) Houston Texans: 2-3 (Last week: 13)
How impressive has DeShawn Watson been this year? He's cemented himself in the ROTY conversation along with Kareem Hunt. The loss of J.J. Watt for the year is massive, arguably the biggest loss to a team this season along with Beckham (more on that later). Look for the Texans to be back at .500 after their matchup versus the Browns.
17) New Orleans Saints: 2-2 (Last week: 19)
The Saints are another team coming off the bye. With a well rested core, and the return of a (somewhat) healthy and not-suspended Willie Snead, this offense just got a lot more scarier. Should be a good throwdown against the Lions this week.
18) Jacksonville Jaguars: 3-2 (Last week: 24)
After losing to the Jets the week before, the Jags came out and embarrassed the Steelers at home. That defence is, dare I say, elite? While I still think they would benefit from an upgrade at the QB position (hello Eli Manning), that D can keep them in games. Case in point: Jags won 30-9 with Bortles going 8 for 14 for 95 yards and 0 TDs. AND THEY SCORED 30 POINTS!!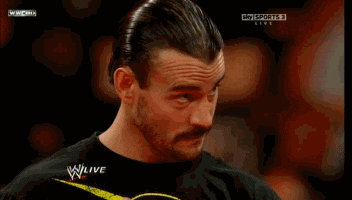 19) Tampa Bay Buccaneers: 2-2 (Last week: 18)
They have the offense to go out there and compete every week, but it didn't show against a terrible Pats D. In what I thought could have been a 40-36 game turned out to be a defensive battle. They get a very winnable matchup versus the Cardinals this week.
20) Baltimore Ravens: 3-2 (Last week: 22)
While the Ravens held a Carr-less Raiders in check, it was an impressive win regardless. They came flying out of the gate, which was wonderful for my +3 bet I put down for the Ravens. With the Steelers struggling right now, look for Baltimore to make a sneaky play for the top spot in the AFC North.
21) Oakland Raiders: 2-3 (Last week: 16)
Wow do the Raiders ever look bad without Carr. Doesn't help that Lynch has been a pile of dog shit over his last four games, amasing 118 yards on 39 carries. Maybe he should have stayed retired? Regardless, the longer Carr is out, the worse my bet of Oakland to win the Super Bowl looks……
22) Cincinnati Bengals: 2-3 (Last week: 23)
Don't look now, but here come the Bengals. After many wrote them off (myself included), they have put together a nice little winning streak and head into the bye on a high (I know I got rhymes, don't have to remind me). After the Steelers looked to have locked up the AFC North, it just got a little more interesting. Also, AJ Green fantasy owners like me are incredibly happy about the rebirth of Dalton.
23) Tennessee Titans: 2-3 (Last week: 20)
That loss of Mariota hurts way more than even I could have anticipated. With Matt Cassel behind centre, they look god awful. It's a shame that there wasn't a better quarterback than Cassel just sitting at home waiting to be signed…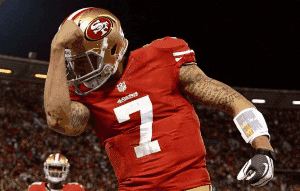 24) Los Angeles Chargers: 1-4 (Last week: 25)
THEY FINALLY DID IT! They finally managed to get a W after all those close losses. It was only a matter of time, and with offensive weapons such as Rivers, Gordon and Allen, and guys like Bosa on the defensive end, you would expect a better record than 1-4. Oh well, there's always next year Chargers fans.
25) New York Jets: 3-2 (Last week: 26)
If you thought that the Jets would have 3 more wins than the Giants by the end of week 5 put up your hand. I sure as hell didn't. I still think this team is pretty awful, but that's the way she goes sometimes. Expect the Brady bunch to absolutely violate the Jets this week.
26) Arizona Cardinals: 2-3 (Last week: 21)
I have no idea what to expect from Palmer these days. I still think he should have hung up the cleets at the end of last season, but money talks I guess. They got absolutely shredded by Wentz and the Eagles, and they face another high powered offense in the Bucs.
27) Miami Dolphins: 2-2 (Last week: 28)
I'm still not a believer in this team. Doesn't matter if it's Cutler or Moore or the bum off the street. Nobody can help quarterback this offense. They beat a Titans team that would have scored more than 10 points if Mariota was on the field, so I don't put much stock in their win. Look for the Falcons to swoop in and tear them apart.
28) Indianapolis Colts: 2-3 (Last week: 29)
A win is a win, even if it is against the 49ers. Still, the glory days of Manning are way behind them, and without any real weapons to work with, Colts fans will be dreaming of those days for years to come. A snooze fest of a Monday nighter versus the Titans is next up for the Colts.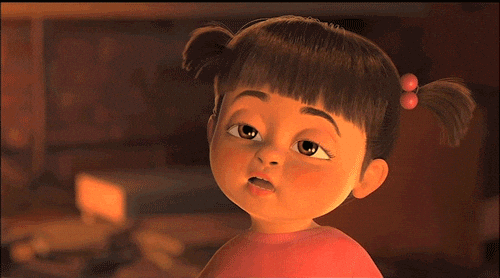 29) Chicago Bears: 1-4 (Last week: 30)
Hey, Trubisky doesn't look too bad! His stat lines weren't overly impressive, and he did throw a game-sealing INT, but he did a pretty good job managing the game in his first NFL start. Bears fans should be excited about the future, just not about this season.
30) San Francisco 49ers: 0-5 (Last week: 31)
They put up a pretty decent fight against the Colts I guess? To be honest I don't really pay attention to this team because they are a hella boring team with no real future or promise. Hard pass.
31) Cleveland Browns: 0-5 (Last week: 32)
THE BROWNS ARE OUT OF THE BASEMENT! It was actually challenging trying to figure out who belonged there, but at least the Browns have been able to maintain a bit of health, and Myles Garrett showcased why he was chosen first overall. Kid is a stud.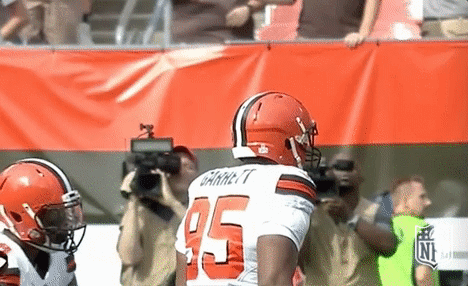 32) New York Giants: 0-5 (Last week: 27)
I believe that I am the only power rankings that has the Giants in the basement, but I have my argument. Their whole WR core went down with season ending injuries in a matter of a week. Couple that horrible luck with the lack of any mojo with Manning and his squad, and you have arguably the worst team in football.
At least JPP was optimistic about this squad at the beginning of the year…
Yeah, that didn't age well.
Week 6 Betting Lines
Lines are always going to change, and since it is Thursday, injuries and other events beyond my control occur. If you want, I can always make this a segment to be released Sunday morning. As always, just let me know, but wanted to add a little something to the article.
Here are some can't miss lines for this week. (All lines courtesy of my favourite betting site, Bodog).
Game 1: LOS ANGELES RAMS @ JACKSONVILLE JAGUARS (JAX -2.5)
My pick: RAMS +2.5
This is a classic case of Vegas overvaluing the Jags win versus the Steelers. Just remember that the week before, they lost to the Jets. The Rams have been pretty consistent. Take consistency.
Game 2: GREEN BAY PACKERS @ MINNESOTA VIKINGS (GB -3)
My pick: PACKERS -3
Another game, another road team pick. Road teams are always tricky, but the Vikings only beat the Bears by 3 points, and that game could have been different if not for a Trubisky INT. The Packers beat the Bears by 21. Even on the road, expect Rodgers to keep being that MVP player that he is. Take Packers and the points.
Game 3: CHICAGO BEARS @ BALTIMORE RAVENS (BAL -6.5)
My pick: RAVENS -6.5
Ahh finally, a home team pick. I expect this one to go down to the wire in terms of points, but I just don't see how Turbisky can go into a brutal Ravens home and either win or lose by 6 or less. Look for the Ravens D to be incredibly aggressive towards him.
Game 4: TAMPA BAY BUCCANEERS @ ARIZONA CARDINALS (TB – 2)
My pick: BUCCANEERS -2
Yep, back to the road team. I'm normally not this high on road teams but the lines just seem too juicy. Tampa kept it close against the Pats, and they should expose a Cardinals D that gave up a ton of points against Wentz and the Eagles. Tampa can't go down 2-3. Take them and the points on the road.
Game 5: CLEVELAND BROWNS @ HOUSTON TEXANS (HOU -10)
My pick: TEXANS -10
I HATE huge lines, anything that is double digits scares me because it is a lot of points. However, I couldn't resist taking Watson and the Texans at home against the Browns. The Browns again have started the yearly carousel at QB, and even though the Texans defense is without Watt, I expect them to feast on the Browns.
Well, that's all for this week. Good luck in all your fantasy and betting endeavours. May you all be successful thanks to me!